2019 Diono Radian 3RXT Review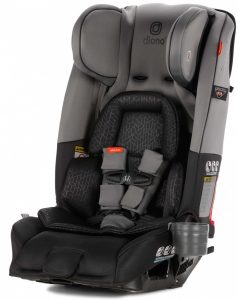 Like its predecessor, the Radian RXT, the Diono 3RXT fills a niche for parents and caregivers looking for a narrow carseat that will grow with their child. The Radian line of seats has always been known for being 3-across friendly. Families with mid-sized vehicles and 3 kids are often well-served by Radians; I had one in my Civic for years when I had to fit a toddler and two teenagers in the back regularly. The current Radian series, the 3R, 3RX, 3RXT, and 3RXT JMC (Just My Color, a customizable fashion scheme) all share the Radian platform but extra features distinguish them from each other. We have a previous review of the recently discontinued RXT and the basic features and functions are very similar. This review will cover the basics and point out the updates to the new Diono 3RXT.
Radian 3RXT Weight and Height Limits
◦ Rear-facing: 5-45 lbs., height 44″ or less, and at least 1.5" of carseat above the child's head*
◦ Forward-facing: 20-65 lbs., at least 1-year-old†, height 57″ or less, child's shoulders are not above top harness slots
◦ Highback booster: 50-120 lbs., 40-57" tall, and child's shoulders must be at or above the 4th set of harness slots
*See Fit to Child section
†some state laws have higher minimum age or weight requirements for riding forward-facing – find your state law here.
Radian 3RXT Overview
◦ 5 harness slot heights
◦ 12-position headrest
◦ 3 crotch/buckle strap positions
◦ Safe Stop Load Limiter
◦ Full steel reinforced frame and aluminum reinforced sides
◦ Folds flat for travel and storage
◦ Lined with EPS foam
◦ Rear-facing tether capability
◦ Deluxe push-on latch connectors
◦ One of the narrowest convertibles on the market: makes 3-across much easier
◦ Low profile makes loading and unloading child easier
3RXT Updates:
◦ 65 lb. weight limit for the harness (this is more realistic than the previous 90 lb. weight limit)
◦ Full wrap cover makes for neat and tidy storage of unused straps and accessories on the back of the seat