DEALS TRACKER: We find the best deals for April 2020 on car seats, strollers & baby gear. Bookmark this deals page and check back frequently for the latest bargains and promo code offers, so you find them here first before they sell out!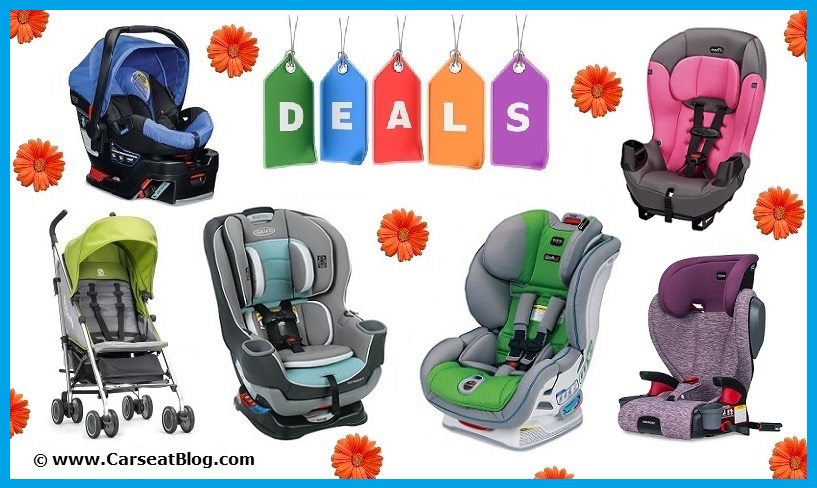 We're the baby gear deal experts, so we know where the best deals are on the stuff consumers actually want to buy. We scour Amazon and other retailers to find the best bargains. We don't just rely on automated tools and other deals pages, so we find the best deals for you, our valued readers, first. This is the resource other deal pages use to find deals so please feel free to share* our links!
Have you considered an Amazon baby registry? What do you get when you register? A free gift box valued at $35, a 90-day return policy for most items purchased from your registry, group gifting so multiple people can contribute to gifts, and more. Check it out!
What you need to know about Amazon pricing: it's FICKLE. When a product's price is reduced we rarely know how long it will remain at that price. Sometimes it's a few days, sometimes it's a few hours. The best advice we can offer you is to ACT QUICKLY if you see a great deal on something you really need or just seriously want. Just adding something to your cart does not guarantee you that item at that price – you must complete the checkout process to seal the deal. Most items on our list offer FREE SHIPPING & FREE RETURNS to Prime members but always double-check this before you put the item in your cart and checkout. Not a Prime member*? There's a 30-day FREE trial. It's a no-brainer! Try it out and score some great deals. You can always cancel before the 30 days is up if you're not sold on the many benefits of an Amazon Prime membership.
Coronavirus update: Due to COVID-19, Amazon is shipping only essential items. Essential means feeding items like breast pumps, breast milk bags, and baby monitors. Carseats and strollers may have delayed shipping. If you need a carseat before then, we appreciate your support by using our links in the paragraph directly below.
Looking for more info on a certain carseat or booster? Check out our REVIEWS page. We have in-depth reviews of over 100 carseats and boosters. Prefer to shop at other stores? If you received great advice from us or discovered a good deal here and share it with friends, please mention us and share* our links to Amazon, Albee Baby, Target.com, Walmart.com, Kohl's, and BuyBuyBaby. Thank you!
This post and others at CarseatBlog contain affiliate links. Please read About CarseatBlog for our affiliate policy and see our Marketing Disclosure.
Select Editors' Picks:
These carseats are among our Editor's Picks and are reader favorites, too!
Infant (Rear-Facing Only) Car Seat Deals:
☆ Indicates a CarseatBlog Recommended Carseat 
Britax B-Safe 35 in all fashions for $199.99 ☆
Chicco KeyFit 30 in all fashions for $199.99 ☆
Chicco KeyFit 30 Magic (with cold-weather boot) in "Coal" or "Isle" for $179.99 ☆ 14% Off  No Free Returns
Evenflo LiteMax DLX (with Load Leg) in "Mallard" or "Meteorite" for $169.99
Evenflo LiteMax DLX (with Load Leg) in "Meteorite" for $152.49 10% Off 
Graco SnugRide SnugLock 30 in "Balancing Act" or "Tasha" for $127.71 ☆
Graco SnugRide SnugLock 35 DLX in "Binx" for $169.99 ☆
Graco SnugRide SnugLock 35 Platinum XT in "Bryant" for $199.99 ☆ 20% Off
Graco SnugRide SnugLock *Extra Base* for $31.99 
Graco SnugRide SnugLock DLX *Extra Base* for $59.35
UnbuckleMe – Easy Buckle Release Tool for Parents & Grandparents $14.99
 
Convertible & All-in-One Deals: