2019-2020 Graco TrioGrow SnugLock LX Review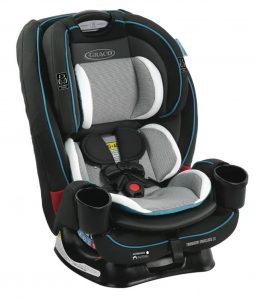 Graco took one 4Ever All-in-One carseat, threw it in a container with a lock-off that spins 360°, shook everything up really well, and out popped a TrioGrow SnugLock. Well, not really, but that's what a crazy carseat geek with a wild imagination comes up with! In all seriousness, Graco has a winning formula with the 4Ever platform: it's easy to install, easy to use, and fits a wide variety of children. The TrioGrow SnugLock 3-in-1 is a different carseat, though, so as its name suggests, it only offers 3 modes of use: rear-facing, forward-facing, and highback booster. The version reviewed here is the TrioGrow SnugLock LX.
Weight and Height Limits:
Rear-facing: 5-40 lbs. AND child's head is 1" below height adjustment handle
Forward-facing: 22-65 lbs., 49" or less
Highback booster: 40-100 lbs., 43-57", at least 4 years old
TrioGrow SnugLock Overview:
360° spinning SnugLock lockoff that acts as a tensioning device for both rear- and forward-facing installations
Adjustable base with 3 rear-facing recline positions, 3 forward-facing recline positions, 1 booster recline position
No re-thread harness with 10 position headrest
Easy-to-read ball level indicator
Energy-absorbing EPS foam
On-board harness storage for booster mode
Steel reinforced frame
Two cup holders
Machine-washable cover
10 yr lifespan before seat expires
MSRP $179.99
LX Version Adds:
InRight™ (push-on) LATCH
Fuss Free harness pockets
Rapid Remove cover
MSRP $239.99
TrioGrow Measurements:
Harness height: ~6 ¼" with infant insert*/8" without insert-17 ½ "
Shoulder belt guide height: 18 ½ "
External widest point: 19"
Shell height with headrest: 30"
Shoulder width: 14"
Crotch strap depth: inner slot: 2" with padding*, 3 ½" without padding; outer slot: 5 ½"
Seat depth: 12"
Seat weight: 18 lbs. with padding, 17.7 lbs. without padding
*Because of the shape of the infant insert, it was difficult to get an accurate measurement. I chose a spot in about the middle of the padded area from which to measure.
Don't forget about our comparison database!
Installation:
The TrioGrow installs like a dream: super easy and doesn't take up a whole lot of room in your back seat. However,