New & Improved Carseats & Boosters for 2017
We've already brought you detailed posts highlighting many new products that debuted at the 2016 ABC Kids Expo. Here's the roundup of what else is new and coming soon from Baby Trend, Britax, Cardiff, gb, Evenflo, Hauck, Maxi-Cosi, Nuna & UPPAbaby.
Baby Trend
A running change on Baby Trend infant seats includes a redesigned lower anchor system. A different webbing design will allow connectors to fit better in cars with more prominent anchors, and a
new routing of the strap's "tail" will allow users to pull upward, giving more leverage and making the strap easier to tighten.
Infant seats will also start shipping with a foam wedge to allow smaller babies to fit better in the harness. The insert goes under the cover and can be used until the baby fits well without it. Seats will start shipping with the insert at the beginning of the year, but existing owners who find they need one can call the company to order one.
Currently the Hybrid combination seat has dual splitter plates to hold the harness at the back of the seat. Soon that will be changing to a single splitter plate, which should eliminate some confusion. The Hybrid will also start shipping with a dual-length crotch strap to allow for more room for larger kids.
Finally, the Yumi folding booster will also feature a backless mode.
Britax
I've been in the car seat world for a long time now, and I knew the "Brit" in "Britax" had something to do with Britain, but I didn't know what the "ax" was for…until now. Britax is celebrating its 50th anniversary this year. Back in 1966, the company launched as British Accessories: Brit-ax… (cue lightbulb-moment). We're glad the company made its way across the pond and is now making amazing car seats for the U.S. market. Happy birthday, Britax!
In other news, Britax is reviewing its inflatable seatbelt policy. The company will likely add the B-Safe 35/35 Elite and the ClickTight convertibles to its list of seats that can be installed with Ford's inflatable seatbelts. That would mean that all Britax seats could be used with those belts. Look for that change to occur in the next few weeks.
Britax will also be introducing some new fashions: Poole, Static, Mosaic, Venti, Confetti, Baxter, Oasis, Vue, Vector, and Kate.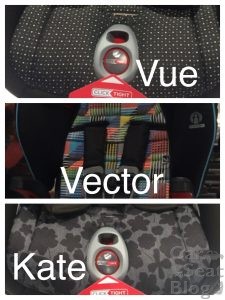 A few fashions will be going away, including the popular Kaleidoscope and Onyx. Cowmoo is here to stay, though, so don't worry about that.
There are now ClickTight Boulevards and ClickTight Advocates shipping with the anti-rebound bar in the box, although consumers can still purchase them separately, too. Purchasing them together as a boxed set will save $10 off the MSRP vs. purchasing them separately.
Cardiff
Heather recently wrote a review of the Cardiff Travel Headrest, so there's not too much new to report. They do have some new fashions, though: Camo, Polka Dot, and Melange.
Cybex
See our full update on the new Cybex Sirona M convertible seat.
Diono