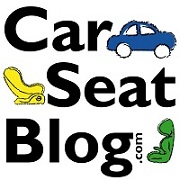 Welcome to CarseatBlog.com, the first internet magazine focusing on carseats!  Since 2007, we are the most trusted source for the most thorough and professional carseat reviews on the Internet.  Our insightful and balanced reviews give you just what you need in your quest for what's safest for your child.  Unlike many baby gear guides and blogs, we will never sugarcoat our reviews.  If there is something we don't like about a product, we say it!  We don't just talk about cars and carseats we've seen online and recommend them all to promote sales in an online affiliate store.  So many websites and blogs today are simple shopping portals that only provide information and images from manufacturers, with no expert commentary whatsoever.  CarseatBlog reviews are always hands-on and based on decades of experience.  We only recommend those products we'd prefer to use with our own children!
CarseatBlog is also your leading source of information in the challenging, technical field of Child Passenger Safety. We actively cover all aspects of the field from product updates to regulatory changes to vehicle safety. Here at CarseatBlog.com we believe that all parents and caregivers deserve an expert guide as they navigate their way through the ever-growing and confusing world of child restraints. We aim to provide you with all the information you need to make well-educated choices and decisions for the safety of your children. We understand the challenges, the choices, and the quest for that elusive "perfect" carseat.   We understand because we're not just CPS professionals and industry experts — we're parents too!
Unlike those websites you find on search engines that are just disguised amazon stores with no expertise or useful information, our team of experts and certified technicians actively respond to questions in responses to comments on our blog, at our Facebook page and on our community discussion forum.  We strive to educate.  We do not dictate what a parent must or must not do.  We do not humiliate or shame parents for choices they have made.  Instead, we want to explain best practices and options and help a parent make the best choice for the safety of their child.
You must read your carseat and vehicle owner's manual and understand any relevant state laws. These are the rules you must follow to restrain your children safely. All opinions at CarseatBlog are those of the individual author for informational purposes only, and do not necessarily reflect any policy or position of Carseat Media LLC.
CarseatBlog makes no representations as to accuracy, completeness, currentness, suitability, or validity of any information on this site and will not be liable for any errors, omissions, or delays in this information or any losses, injuries, or damages arising from its display or use. All information is provided on an as-is basis.
All content and images Copyright ©2007-2017, by the authors and Carseat Media, LLC, dba Car-Seat.Org. All Rights Reserved.