Graco Contender 65 Convertible Review
Updated May 2017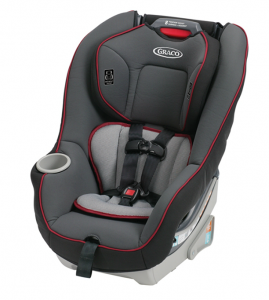 The Graco Contender has been on the market now for a while and has proved to be a solid, easy-to-use convertible worthy of a look by parents considering that next-step carseat. It has great rear-facing capabilities, turns into a forward-facing carseat that will take most kids to booster age, easily installs, and has that ubiquitous cup holder. The Contender's lower price point than its cousins, the Size4Me/My Size/Head Wise (aka "Clones") puts it in that desirable position of being nice enough to be a main carseat yet inexpensive enough to be a backup seat.
Weight and Height Limits:
Rear-facing: 5-40 lbs. AND child's head is 1" below red adjustment handle
Forward-facing: 22-65 lbs., 49″ or less, at least 1 year old*
*We recommend following the American Academy of Pediatrics minimum guidelines of rear-facing to at least age 2 before turning your child forward-facing. It's safest to rear-face past the minimum of age 2.
Contender Overview:
8-position headrest with no re-thread harness
2 crotch strap/buckle positions
Color-coded recline flip-foot takes guesswork out of reclining carseat
FAA approved for use on aircraft
7 yr lifespan before seat expires