Rollover Tested Infant Carseat with ARB
I
n recent years, Evenflo has been pushing the boundaries of carseat safety. They were an early adopter of side-impact testing and they were the first in the industry to implement rollover testing of their carseats. Their new SafeMax Infant Carseat with anti-rebound bar has passed all their arduous crash testing and features advanced safety and convenience features that will surely endear it to new parents all over the country.
Evenflo SafeMax Infant Specs & Features:
Rear-facing only
4-35 lbs.
17-32 inches, at least 1" shell above head
4 harness height positions
3 crotch buckle positions
3 hip width positions
Anti-rebound bar on base
Lockoff for easy seatbelt installs
Thick energy-absorbing EPS foam
Cover and soft goods (strap and buckle covers) are machine washable
Dual zone weight recline indicator
FAA-approved for use in an airplane
6 year lifespan before expiration
Made in China
MSRP $179.99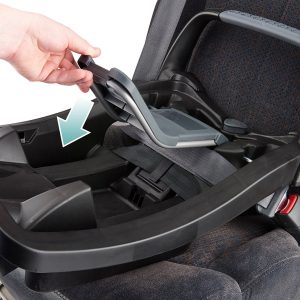 SafeMax Infant Measurements:
Harness slot heights: 5", 7", 9", 11" without the insert
Lowest harness slot height with body insert: approximately 4" (the curved nature of the insert makes it a little tough to measure)
Crotch strap/buckle positions (without insert): 4", 5.5"*
Hip width positions: 5", 8"**
Internal shell height: 19"
Length of seat with base with handle in car position: 30"
Length of carrier without base: 28.5"
Width of base at widest point: 15"
Width of carrier at widest point: 17.5"(outside of handles)
Carrier weight: 7 pounds (on my home scale)
* There are 3 crotch buckle positions, but only 2 spots in the cover for it to emerge. So while you can make the buckle a little bit shorter for a newborn, it will still be emerging 4 inches from the back of the seat.
**There are 3 hip widths, but again, only 2 slots in the fabric. So once again, you can get the harness a little shorter by routing through the inner most hip slot, but they will still emerge 5" apart.
Fashions:
Shiloh (Black/Grey), Nico (Black/Seafoam Green), Noelle (Black/Pink)
Fit-to-Vehicle: