Deals Tracker: We find the lowest prices in December 2017 on car seats, strollers and baby gear plus Cyber Monday and Holiday shopping deals.  Bookmark this deals page and check back frequently for the latest bargains and promo code offers, so you find them here first before they sell out!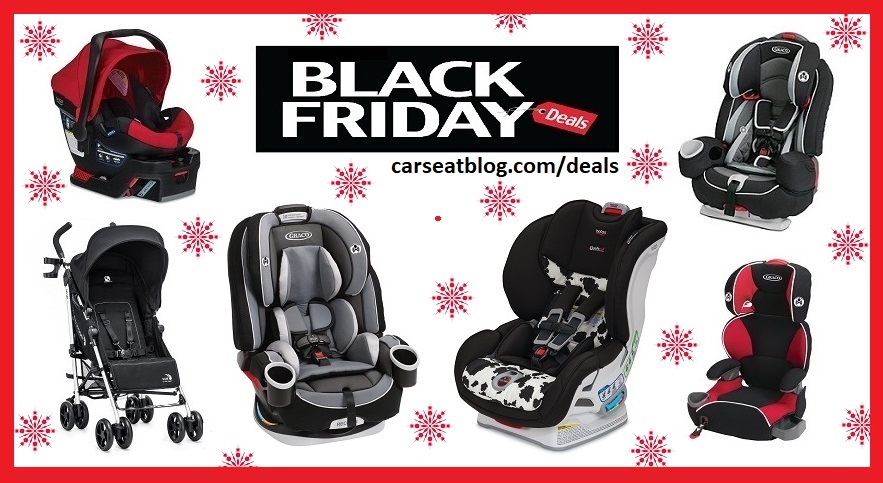 We're the baby gear deal experts so we know where the really good deals are, on the stuff consumers actually want to buy. We scour Amazon and other retailers daily to find the best bargains*. We don't just rely on automated tools and other deals pages, so we find the best deals for you first. This is the resource other deal pages use to find deals!
This list will be updated anytime we see a great deal or promotion code below recent average prices, so you don't have to wade through dozens of normally priced models to find the bargains. You can help us (and your fellow shoppers) by leaving us a comment if you find a deal on a carseat, booster or popular stroller that isn't posted yet. We recommend that you bookmark this post, as we will update it regularly throughout the holiday season! If we see a bargain price on a popular model from our Recommended Carseats List, like the Britax Frontier, Britax Boulevard ClickTight, Chicco NextFit, Graco 4Ever, Diono Radian, Maxi-Cosi Pria, Clek Foonf or Clek Fllo, we'll update as soon as possible!  This post and others at CarseatBlog contain affiliate links.  Please read About CarseatBlog for our affiliate policy and see our Marketing Disclosure.
What you need to know about Amazon pricing: it's FICKLE. When a product's price is reduced we rarely know how long it will remain at that price. Sometimes it's a few days, sometimes it's a few hours. The best advice we can offer you is to ACT QUICKLY if you see a great deal on something you really need or just seriously want. Just adding something to your cart does not guarantee you that item at that price – you must complete the checkout process to seal the deal. Most items on our list offer FREE SHIPPING & FREE RETURNS to Prime members but always double check this before you put the item in your cart and checkout. Not a Prime member? There's a 30-day FREE trial. It's a no-brainer! Try it out and score some great deals. You can always cancel before the 30 days is up if you're not sold on the many benefits of an Amazon Prime membership.
Looking for more info on a certain carseat or booster? Check out our REVIEWS page. We have in-depth reviews of over 100 carseats and boosters.
Prefer to shop at other stores? If you received great advice from us or discovered a good deal here and share it with friends, please mention us and share* our links to Amazon, Albee Baby, Diapers.com, Target.com, Walmart.com, Kohl's, BuyBuyBaby and BabiesRUs.
Select Editors' Picks:
These carseats may not be on sale right now, but are among our Editor's Picks and are reader favorites, too. For current deals, please scroll to the next section.
Infant Carseat Deals:
☆ Indicates a CarseatBlog Recommended Carseat 
Britax B-Safe 35 in "Black" or "Red" for $145.99 ☆ DEAL ENDED
Britax B-Safe 35 Elite Infant Seat in select fashions for $179.99 DEAL ENDED
Chicco Fit2 – buy seat and get a free extra base (select fashions) ☆ Free shipping but no free returns
Graco SnugRide 30 LX Click Connect in "Banner" for $84.99 (35% Off) PRIME ONLY
Graco SnugRide SnugLock 35 in "Chili Red" for $109.99 ☆ (31% Off) PRIME ONLY 
Graco SnugRide SnugLock *Extra Base* for $35.49 (41% Off) 
Safety 1st Onboard 35 Air in "Estate" for $110.91 ☆ LOW STOCK
 
Convertible & All-in-One Deals:
☆ Indicates a CarseatBlog Recommended Carseat
Britax Advocate ClickTight in "Trellis" from $269.00 ☆ (34% Off)
Britax Advocate ClickTight with ARB in select fashions for $307.99 ☆ (30% Off) 
Britax Boulevard ClickTight in most fashions for $265.99 ☆ (30% Off)
Britax Boulevard ClickTight ARB in select fashions for $286.99 ☆ (30% Off) 
Britax Marathon ClickTight in "Prescott" and "Nantuket" from $219.99 (36% Off)
Britax Marathon ClickTight with ARB in "Circa" for $258.39 
Britax Boulevard G4.1 in "Slate Strie" for $215.99 
Britax Marathon G4.1 in "Beckham" for $154.00 (41% Off) 
Britax Roundabout G4.1 in "Luna" or "Dash" for $129.00 (28% Off)
Britax ClickTight Anti-Rebound Bar Accessory for $32.00 (20% Off)
Clek Fllo in "Tank" for $303.99 ☆ (20% Off) 
Clek Fllo & Foonf in "Tank" or "Ink" Clearance
Clek Foonf in "Tokidoki Space" from $399.99 ☆ SOLD OUT
Cosco Scenera NEXT from $35.82 ☆
Evenflo SureRide DLX in "Paxton" for $69.00 ☆ (27% Off)
Evenflo SureRide in "Sugar Plum" for $72.00 ☆ (20% Off) 
Evenflo Sonus in select fashions for $55.00 ☆ (31% Off)
Graco 4Ever All-in-One from $202.95 ☆ (32% Off)
Graco Contender 65 in "Glacier" for $104.99 ☆ (25% Off)
Graco Extend2Fit in "Gotham" for $129.99 ☆ DEAL ENDED
Graco Milestone 3-in-1 in "Gotham" or "Ayla" for $172.49 ☆ (25% Off) PRIME ONLY
Graco SlimFit 3-in-1 in "Darcie" for $158.10 ☆ (31% Off)
Graco MySize 65 in "Matrix" for $108.39 SOLD OUT
Maxi-Cosi Pria 85 Special Edition in "Black Crystal" for $173.59 ☆ (40% Off) 
Peg Perego Primo Viaggio Convertible in "Atmosphere" for $270.65
Safety 1st Continuum in "Wind Chime" for $83.29 (44% Off) PRIME ONLY
Safety 1st Grow and Go 3-in-1 in Gray for $109.99
Safety 1st Guide 65 in select fashions from $73.88 (27% Off) 
Combination Seat Deals:
(Forward-Facing with Harness + Booster) 
☆ Indicates a CarseatBlog Recommended Carseat
Britax Frontier ClickTight Harness-2-Booster in most fashions for $237.99 ☆ (30% Off) 
Britax Pinnacle ClickTight Harness-2-Booster in "Mosaic" or "Venti" for $272.99 ☆ (30% Off)
Evenflo Maestro in "Thunder" for $59.00 ☆ (25% Off) PRIME ONLY
Evenflo SecureKid LX in "Raven" for $99.99 ☆ SOLD OUT
Graco Atlas in "Glacier" for $97.99 ☆ (25% Off) PRIME ONLY
Graco Nautilus 65 LX in "Matrix" for $118.14 ☆ (31% Off) 
Graco Nautilus 80 Elite in "Chili Red" or "Go Green" from $134.99 ☆ (33% Off)
Harmony Defender for $80.25 SOLD OUT
 
Booster Deals: