2019-2020 Britax Grow With You ClickTight Harness-2-Booster Car Seat Review
Britax undeniably has one of the strongest reputations in the car seat world and it's one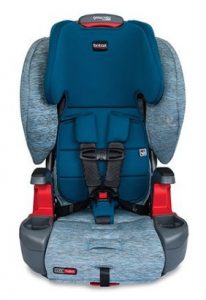 they've earned with dozens of outstanding seats. Britax is constantly pushing the boundaries of technology, with a keen eye on making their seats easier to use correctly than others in their field. And easier installation is the fastest way to a safer child when it comes to car seats. With this in mind, I was excited to get the opportunity to try out something new from Britax, the Grow With You ClickTight. It's a bit of a reincarnation of the Frontier, it still has the patented ClickTight Installation that makes getting a good, snug install an absolute dream, but a little pared down, which necessarily isn't a bad thing. With the Frontier no longer being made, the Grow With You stands to fill a pretty big void within the car seat world.
Grow With You Seat Limits
Harness mode: 25-65 pounds AND 34-49", minimum of 2 years of age
Booster mode: 40-120 pounds AND 44-63"
Specifications
Patented ClickTight Installation
2 layers of side impact protection around the head and upper spine
SafeCell Impact Technology provides a crumple zone within the seat for crash energy absorption
Industrial-strength steel frame
9-position one hand no-rethread harness/headrest adjustment
2 cup and snack holders
Patented V-shaped tether with "staged-release stitches" to help slow forward motion during a crash
The grey Asher fashion doesn't appear to be available yet.
Britax is also introducing the Grow With You ClickTight Plus, which replaces the Pinnacle. Besides having the same features as the GWY CT, it adds a third layer of side impact protection in the form of side impact cushions at the torso. MSRP is $319.99 for the Safewash Fabric.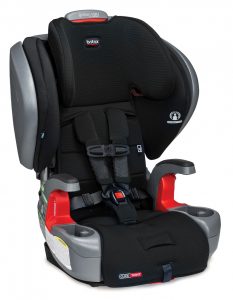 Measurements
Seat Width: 19.5" at the outside of the torso wings
Seat Height: 36" at highest headrest position
Seat Depth: 21"
Internal width at hips: 11.5"
Harness heights: 12" – 20" at 1 inch intervals*
Crotch buckle positions: 7" and 9"
Booster height positions: 13" – 21"
Seat weight: 26.5 lbs.
*On Britax's website, they list the heights as a half inch higher, both the lowest and the highest height. I measured and remeasured and just did not come up with those values. It may have to do with and measuring the heights with the cover off, but I opted to measure in the way that one would use a seat—with the padding and cover present. I did remove the torso padding to expose where the harness emerges from the shell.