Putting a newborn baby in a car seat is daunting even in the best of circumstances. They are just so tiny and fragile, the buckles on the seat seem so huge and it often feels like you're just going to smush (technical term) their insides when you tighten the harness. As they grow, they feel less breakable, but it seems there's always something new to worry about when it comes to car seats.
One of the most common questions I see on parenting and car seat groups is regarding head slump, typically in forward-facing kids or in older rear-facing children. There are new aftermarket products coming out each day to address this issue, but as a Pediatric Physical Therapist and a CPS Technician, I have some grave concerns that these "solutions" to head slump might be much worse than the problem itself.
What is head slump?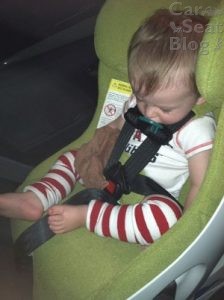 You know when your husband sits next to you on an airplane and immediately falls asleep while you are stuck alone, anxious and bored out of your mind for the next 3 hours? (No? Just me?) Well, that moment when they're so deeply enjoying their abandonment nap that their head falls forward is "head slump".
Head slump is when the chin moves towards the chest in a moment of forward flexion of the cervical (upper) spine. It is most common when a person is sleeping upright, and to an adult, it's pretty uncomfortable. Adults are not terribly flexible and some of us carry a tiny little bit (okay, a ton) of tension in our necks. But thankfully, our kids don't. Their necks are more mobile than ours and much less prone to tightness from tension, so the forward flexed head isn't usually painful for them. The person sleeping on the airplane isn't in any danger from their head slump position and likewise, for most kids, it's really a non-issue.
When is head slump something to worry about?
The first and most common scenario where head slump is a real problem is in a newborn. The airway in a newborn baby is tiny, about the diameter of a drinking straw, and often it's a little more flexible than an adult's, meaning it's easier to partially block or collapse. Another reason head slump can be concerning for a newborn is that they may not have the neurological drive to reopen their airway. That is, their brain may not be developed enough to realize that it's being deprived of oxygen or to tell the muscles to do something about it. Finally, because newborns have proportionally large heads on tiny neck muscles, even if they have the drive to lift their heads, they often lack the strength to make that lift against gravity.
The other situation where head slump is a concern is in older children who do not have adequate head control. These are typically children with medical diagnoses of some sort and the problem is essentially the same as in a newborn – if a child cannot lift and maintain their head upright against gravity, then they need to be positioned to make sure that head slump does not occur. The same goes for babies with tracheomalacia, where the trachea is not as rigid and may be more prone to collapse.
These two groups aside, head slump is not a problematic position for typically developing children and older babies. These children have wider airways, the ability and awareness to lift their heads if they're not getting adequate air, and the position itself isn't inherently dangerous for the neck. There's not a universal age where this happens, but once baby can fully lift their head and hold it up to look around for a few minutes during tummy time, they're likely in the clear.
What should you do about head slump?