WAYB Pico Folding Travel Carseat Review
Anyone who has ever flown with kids knows the struggle. You have to carry your suitcases, the kids' carry ons, car seats, whatever random snacks you acquired while trying to keep the kids from ruining everyone's airport experience, and then you somehow have to get your kids onto the plane, without any free hands to physically wrangle them. Then the car seat needs a seatbelt extender or the buckle is right in the small of the kid's back and the end result is just that everyone is miserable.
Or you don't bring a seat and you rent one at your destination and it's a) not the right seat, b) it's disgusting, c) you don't know its history or whether it's safe, but mostly likely d) all of these horror-scapes above.
Or maybe you're traveling in a different city and you need to take an Uber or Lyft or a cab with kids. You can pay extra in some cities for a ride share with seats installed, but it's more expensive and harder to come by and you weren't the one installing those seats, so it's still a risk. You can legally choose not to use a carseat in some places but then you have to restrain your kids in a moving car and unfortunately all the crash probabilities and risks don't go away on vacation. In short, traveling with kids is a mess.
Have I convinced you never to travel? Just hold on for a moment, because the solution to this stress may have just landed on the car seat market.
Several months ago, a new company made waves when they announced a travel car seat. WAYB (pronounced way-bee) claimed to have the solution with a new seat, the WAYB Pico. I was one of many parents and CPS technicians who was very intrigued and as time as passed, I've kept my eyes and ears open for more news. A few months ago, I finally got to see it live and in person. My first impression was how small it was, because it is really, seriously small. And yet somehow, abundant enough to live up to its limits. Before I spoil the whole review, let's dive into the details.
Pico Highlights
Forward facing only
For children 1 and older (WAYB recommends you wait until age 2), 22-50 pounds, 30-45 inches, and shoulders below the top of the seat back
Whole seat weighs 8 (!) pounds and folds very compactly
One shoulder harness position, one crotch buckle position
Body is made of aerospace-grade aluminum
Seat is made with ASTROKNIT™ mesh, which takes the place of foams
Pico is eco-friendly, with the majority of the seat being recyclable
4 fashion options
MSRP $320, with a fabulous travel bag for $50
Specifications
Width of seat: 14.75 inches at the widest point (middle of the torso)
Height of seat with headrest in lowest position: 22.75 inches
Height of seat headrest fully extended: 27.75 inches
Depth of seat: 15.25 inches
Harness (torso) height: 16.5 inches
Weight of seat: 8 pound
Official Website:  WAYB.com
Fit to Child
The first time I saw the Pico, I was skeptical. It is SO small. I worried that it wouldn't fit longer torsoed kids or would be outgrown too quickly, especially with a 45" height limit. And part of that was just seeing it in a room without a kid to compare it to, but rest easy, my eyes deceived me.
I put all 3 of my kids, ages 7, 4 and 1 into this seat and somehow they all fit. It might be magic because it's seriously the smallest seat I've ever seen.
I'm going to start with the littlest, who is 22 months, 25 pounds and 33 inches. I was easily able to adjust the seat to hold him totally securely, despite being on the smaller end of the limits of the seat. Now, the tricky part is that he can't legally ride in this seat in California, despite being within the stated limits of the seat, because he's not yet 2 years old. If you choose to use this seat for travel, you'll need to research the rear facing laws at your destination, because you may not be able to use this seat for your younger toddlers everywhere.
My middle kid is 4.5 years old, 41.5 inches and 32 pounds. He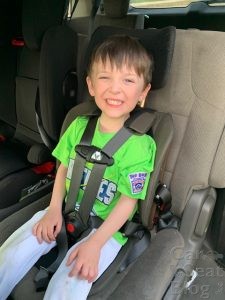 also has the longest torso of any child I have ever met. And even with that, he still has a solid 2-3 inches of torso growth left in the Pico. I was absolutely shocked. He fit well and said the seat was so comfortable that he wanted to keep it in the car. That's a ringing endorsement if there ever was one.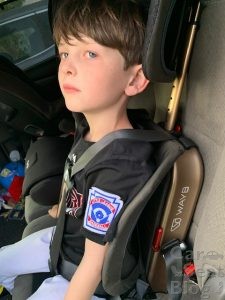 My oldest kid is 7 years old, 47.5 inches and 49 pounds. He has outgrown this seat per the stated limits and I would not use it for him and am not recommending you do so either, just to be clear. I just put him in it because I wanted to get a sense of whether the harness would truly accommodate a 45" inch child and I feel pretty confident in saying that it really will. The shape of the seat definitely gives more room than the written measurements would suggest. My oldest had outgrown it by a sneeze, even though he was almost 3 inches taller than the limit.
The adjustment process is a little tricky at first because the harness adjusters aren't what you're used to. There's one on each hip strap and they resemble a lower anchor adjustment mechanism. You have to tighten each side independent of the other, which is a little tricky at first, but it gets easier with practice and it's not hard to do. There's no moving the shoulder straps or the crotch buckle because there's only one slot, which is kind of great, actually. I do think that chest clip is oddly hard to place on some kids because the straps go so high that your perspective is skewed. So if you decide to get the Pico, stand back and look at the child, not the seat as a whole, to make sure things are in the right spot.
Fit to Vehicle