I'm going to let you in on a secret. I've had this booster for a year.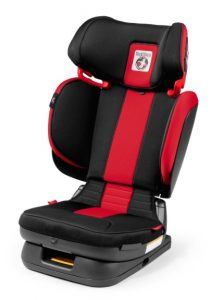 I've taken so long to review it for a few reasons. Mainly, I'm going to blame the new baby but a big part of it was that I wasn't ready to admit that my first baby, who is 6.5 and not even remotely a baby, was big enough for a booster. And over the course of this review I came to the conclusion that he really isn't ready to ride in a booster yet (another story for another time), but at least in the year-long process of discovering that, we got a good feel for this unique and eye-catching booster seat.
The Peg Perego Viaggio Flex 120 booster first caught my attention when I saw how narrow it was. I have a very tricky 3-across situation and I was hopeful that it would fit because of its narrow size and the lack of armrests (it did!). Once I got my hands on it, I was impressed with the narrow footprint, but I was more taken by other qualities. This booster is portable and easy to use and the quality is nothing short of outstanding, as you would expect from Peg Perego.
Flex 120 Overview:
For kids 40-120 pounds, 39-63″ tall
4D Total Adjust Technology- adjusts in 4 ways: headrest, upper backrest, side wings and the recline of the seat
Rigid LATCH attachments which stow when not in use
Comfort Recline- 5 different recline positions that are not dependent upon the vehicle backrest position
8 height positions, increasing by 1 inch per adjustment
Easy folding with carrying handle – folds with one quick motion
All Side Impact Protection- protects child's head, neck, and spine
Aluminum reinforced backrest
2 integrated cup holders that can stow completely into the base
Energy-absorbing EPS foam in headrest and side wings
Made in Italy
MSRP $279 – $299
Measurements:
Width: 14"
Depth: 12"
External width of headrest: 15.5"
Width of side wings 17.5" – 20.5"
Shoulder belt guide heights 14" – 22"
Flex 120 Fashions:
Crystal Black, Monza (Black/Red), Licorice
Fit to Child: