2019 Safety 1st onBoard 35 LT Infant Carseat Review
If you've driven around for any period of time, you have probably seen a sign on a car signaling that a baby is in the back seat. The most iconic of these, which also happens to be the original, is the yellow diamond Baby On Board sign by Safety 1st. Not only did this sign give birth to the rest of Safety 1st line, which has such a wide array of products that it can be found in the home of almost every family with an infant, but it's also given its name to a new high quality, affordable infant seat- the Safety 1st onBoard 35 LT. Do not confuse this seat with the other Safety 1st onBoard infant seats on the market. The "LT" model is an entirely different seat with its own base – it is NOT compatible with the original onBoard or onBoard Air model bases.
OnBoard 35 LT Height & Weight Limits:
Rear-facing only 4-35 pounds, 19-32 inches and child's head is at least 1 inch below the top of the seat
OnBoard 35 LT Overview:
The onBoard 35 LT is one of the lightest rear-facing-only infant car seats with a smooth and comfortable carry handle
4 harness heights to provide an excellent fit for a variety of different sized babies
3 crotch strap/buckle positions with newborn routing to fit even small newborns
Newborn support inserts with separate head and body cushions
Cover is machine washable AND dryer safe!
FAA approved for use in aircraft
On CarseatBlog's Recommended Infant Carseats for Preemies & Multiples
8 year lifespan from date of manufacture before expiration

The first thing I noticed when I unboxed the seat were the labels. Safety 1st has clearly spent a lot of time thinking about and designing their labels and the outcome is great. Their labels are clear, concise and well placed and I could install and use the seat without ever cracking open the manual because of these labels (I'm not recommending this, but for those people who won't read a manual regardless, this is great!). There's even a label with a QR code so you can get information instantly on your phone. The onBoard 35 LT base has labels for where the belts go, as well as labels for baseless installation. I was generally impressed with the thoughtfulness Safety 1st clearly had when designing this component of their seat.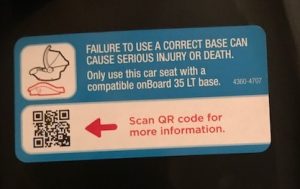 OnBoard 35 LT Measurements:
Harness slot heights: 5.5"-11.5"
Crotch strap/buckle positions: 3", 4.5", 6"
Internal shell height: 19.5"
Width of base: 15.5"
Length of base: 23.5"
Width of carrier at widest point: 17.25"
Carrier weight: 7.9 pounds