We were skeptical when we first heard about the hiccapop UberBoost inflatable booster seat. We typically hear about new seats long before they're released, and since we'd heard nothing about this one, we suspected it might not be legitimate. It's not uncommon to go on Amazon and find similar but dangerous, imported "seats" that don't meet federal safety standards, such as this inflatable booster seat we "reviewed" a couple years ago. To be honest, I ordered this seat fully expecting to write another one of those "reviews." Imagine my surprise, then, when I opened up the box to find what appears to be a totally legitimate product.
There's a registration card attached to the product.
There's a manual.
There's what appears to be complete federally required labeling.
Then there's the seat itself. Unlike the knockoff seat linked up above, the UberBoost feels firm and sturdy, not like a beachball.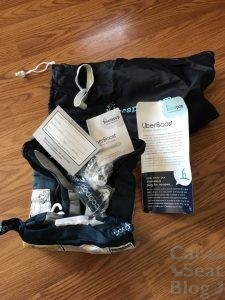 Some quick stats on the seat:
Weight range: 40-110 lbs
Height range: 38-62 inches
No minimum age listed
Seat width: approximately 14.5 inches
Depth: 14″
Height (of seating area): 4.5″
What we like
The air bladder is made of a very strong, heavy-duty vinyl. Fully inflated, the seat has barely any give when I push down on it. It feels more like a padded, conventional seat than something inflatable.
It's a nice size–not too big that it'll take up a lot of room, but large enough that it seems like it would be stable and supportive.
Grippy material on the bottom should help keep the seat from sliding around and should help keep it stable. I gave it a few nudges while it was sitting on the leather seat of my Odyssey, and I was impressed at how it didn't move.