2019 Graco SlimFit All-in-One Quick Review
A common carseat conundrum that caregivers encounter is the issue of space in the backseat. Whether it is due to a small vehicle, a growing family, or vehicle limitations on where carseats can be installed, space can be an issue. With this in mind, Graco introduced the SlimFit All-in-One that is intended to solve some or all of your carseat space woes, especially compared to the similar Graco Milestone. Let's take a look!
Specs:
Rear-facing: 5-40 lbs. and top of head is 1″ below red adjuster handle
Forward-facing (with harness): 22-65 lbs and 49″ or less
High-back booster: 30-100 lbs. and 38-57″ and at least 4 years old
No-rethread harness with 10 position headrest
Adjustable base with 4 recline positions (2 for rear-facing, 2 for forward-facing)
Steel reinforced frame
Energy-absorbing EPS foam
Premium push-on lower LATCH connectors (LATCH limit: child weight of 45 lbs.)
Dual cupholders which can be rotated away to save space
IIHS Best Bet Booster rating
Ten-year expiration date
Measurements:
Lowest harness height (with infant insert): 7″
Highest harness height: 18"
Tallest booster height: 18.75″
Internal rear-facing height: 27.5" (that's one inch below the headrest adjustment lever of 28.5" )
Crotch buckle positions: 5″, 6.25″, 7.5″
Seating depth (interior): 12″
Deepest point on base: 15″
Internal seat width: 12″
Widest external seat width: 18.5″ (at wings, although if you use both cupholders it is wider at the armrest area)
Widest point across armrest area: 17″ (both cupholders retracted) or 19.75″ (both cupholders extended)
Widest point on base: 13.75" (at the middle)
Narrowest point on base: 13.25" at back and 13.25″ at front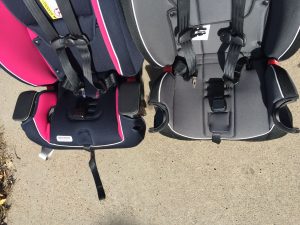 Overall, the SlimFit is very similar to what we found in the Carseatblog review of the Milestone with some minor differences noted here. This is because the SlimFit and the Milestone are nearly identical in terms of their features and are essentially the same product with the exception of fashions and a minor change or two. Above, you can see the Milestone without its optional single cupholder (left) and the Slimfit with its two cupholders retracted (right). They are so similar, in fact, that I was skeptical about whether the SlimFit really offered any additional advantages over my beloved Milestone. Could I really fit a SlimFit anywhere that I couldn't fit my Milestone with its cupholder removed? Because I love the Milestone so much, I was more than willing to try the SlimFit and see if I could find a seat I loved even more. I am happy to say that I think I have!
Installation
First of all, the installation of the SlimFit is very easy, just like my beloved Milestone.