Safe Traffic System RideSafer Delight Travel Vest Review with Delighter Booster
The RideSafer Delight Vest and Delighter Booster are the two newest products from Safe Traffic System, Inc. The Delight Vest is the latest in the line that previously included the RideSafer Travel Vest, and is an alternative to a traditional harness or booster car seat that's excellent for travel, carpool, and other situations where a traditional car seat might be difficult or impossible to use. The Delighter booster is a lightweight backless booster designed with travel in mind that can be used with or without the Delight or previous versions of the RideSafer Travel Vest. They can be purchased at Amazon or Safe Ride 4 Kids.
Sizes and Specs:
Delight Vest size Small is for children who are
At least 3 years of age
30-60 lbs.
34"-52" tall
Chest diameter 21.2"-28.3"
Able to sit with the bottom of the vest touching the thighs
Delight Vest size Large if for children who are
At least 3 years of age
50-80 lbs.
45"-57" tall
Chest diameter 23.2"-38.4"
Able to sit with the bottom of the vest touching the thighs
Delighter Booster is for children
At least 4 years old*
40-100 lbs.*
40"-57" tall*
*Note: If used with the Delight Vest or other Ride Safer Travel Vest, the Delighter Booster may be used below these minimums, starting at the minimums of the vest instead.
RideSafer Delight Vest Features:
FMVSS 213 certified
Lightweight and highly portable
Comes with travel and storage backpack bag for vest and removeable headrest, and additional small bag for tether and included crotch strap
Adjustable back allows about 3" of height adjustments
Can be used with 3-point lap and shoulder seatbelt with or without tether
Can be used with lap-only belt with tether strap (sold with vest as option or available separately)
New, multi-step buckle for lightweight security and ease of caregiver use
Lifespan of 10 years from date of manufacture
MSRP $145.00 without tether strap, $159.00 with tether strap
When might you use the Delight Vest?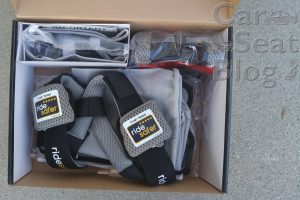 This vest is ideal for travel—it even comes with its own backpack style bag so your child can carry it herself!