Myth: Infant carseats placed on a shopping cart – so many parents do this so it must be safe, right?
Next time you're standing on that wiggly kitchen stool, changing yet another lightbulb…don't forget what Sir Isaac taught us. So what do you think—does gravity find babies attractive, too? Ten pounds of feathers, ten pounds of bricks, or ten pounds of baby—gravity doesn't discriminate.
Last year, a Home Depot employee was launched to notoriety when his quick actions saved an infant from a three-foot tumble off of the top of a shopping cart. Unfortunately, not all babies have a guardian angel looking out for them. The Internet is full of stories from parents and on-lookers about children falling from carts. In 2011, a three month old infant died after falling from a shopping cart. Since we know that carseats save lives, it's easy to understand why some parents believe that their children are also protected when their infant seats are place on the top of a shopping cart. And while videos of people pouring ice water over their heads to avoid donating to charity explode on the Internet, stories like Kristin Auger's barely garner public attention.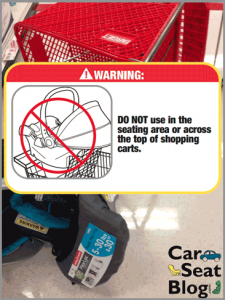 According to the AAP (American Academy of Pediatrics):
It is more common than most people think for children to be hurt in shopping carts. These injuries can be severe or even deadly. Each year approximately 23,000 children are treated in hospital emergency departments for injuries from shopping carts. Most injuries are caused by falls from the cart or by the cart tipping over. Many injuries are to the head and neck.
Additionally, researchers in British Columbia collected 5 years of child restraint-related injury data, published in this 2008 Pediatrics International article. While this article was intended to address carseat misuse, it does so in the context of out-of-vehicle use. The authors concluded that "among all infants, falls were a common mechanism of injury resulting from CRS misuse" and urged for preventative efforts to help educate parents and caregivers on out-of-vehicle child restraint injuries. In this study, 6% of subjects had been injured in falls from shopping carts…all of which were completely preventable.
This Myth is …BUSTED!
Watch the shocking Home Depot video where not only does the carseat tip from the cart, but the infant wasn't buckled in the carseat: