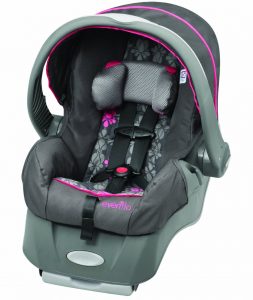 Evenflo's latest addition to their infant carseat lineup is the budget-friendly Embrace 35. I can't tell you how thrilled I am to have another good infant seat option in the under $100 category. The fact that this is a 4-35 lbs. seat makes this even more of an impressive accomplishment in my book. Still, every carseat has pros and cons and only you can decide if the Embrace 35 is right for you, your baby and your vehicle.
Extra Embrace 35 bases can be purchased for under $50.
Embrace 35 Specs & Features:
Rear-facing only: 4-35 lbs, and up to 30″ tall. 1 inch rule also applies for determining when the seat is outgrown by height.
3 harness height positions
3 crotch strap/buckle slots (optional 4th adjustment position shortens the crotch strap length for newborns)
Newborn loops on webbing allow you to adjust harness length to properly fit small or larger babies
Energy-absorbing EPS foam lines entire upper portion of shell
Adjustable base has 3 positions
Can be installed without base
5 position handle
FAA approved for use in an airplane
6 year lifespan before expiration
In addition to everything mentioned above, The Embrace 35 has the following comfort & convenience features:
Unique handle can be rotated forward to provide additional clearance in tight spaces where there is not enough room for the handle to be placed in either of the two positions behind the shell. (Leaving the handle up in the "Carry" position is not allowed in the vehicle).
Carrier attaches and detaches from base easily
Well-padded cover
Cover is very easy to remove and machine washable (cold water, delicate cycle, mild detergent – tumble dry on low heat for 10-15 min)
Compatible with Evenflo Featherlite strollers to create a "Travel System"
Smooth front harness adjuster makes it easy to tighten and loosen harness straps
Embrace Deluxe model has premium push-on LATCH connectors which Evenflo calls "Quick Connectors"
Measurements:
Harness slot heights (slot openings are wide and slanted): Approx 6″, 8 1/2″, 11″
Internal shell height:  20″
Crotch strap positions:  4″, 5″, 6 1/2″
Width of base at beltpath (how much space you need in your seating position to install base):  8 1/2″
Width of base at widest point:  15″
Carrier Weight:  7.8 lbs (according to my digital bathroom scale)
Fit-to-Child Comments:
The 3 harness slots combined with the 4 possible crotch strap/buckle positions help this new Embrace 35 model fit a vast majority of babies, from preemies to smaller toddlers, very well.  To shorten the crotch strap length for a newborn – take the metal anchor and double it back into the middle slot (pic below of how it should look when doubled-back). The only odd discovery was that there are only 2 openings in the cover for the crotch strap but 3 slots in the shell. I asked for clarification and was told that you can use whichever slots in the cover line up best with the crotch strap depending on where it is routed in the shell. The inner-most slit in the cover should work fine for either the closest or the middle crotch strap positions.
If you're having trouble getting the harness snug enough on a smaller baby, double check to make sure that the harness is secured on its smallest settings. It should be set up so the upper loops are attached to the splitter plate. This is the out-of-the-box setting. When baby is bigger and you need more harness strap length, reattach using the loops at the very end of the straps.
Pictured below is the 4 lbs, 17″ preemie doll from Huggable Images. Note: Never use aftermarket inserts or head/body supports not made by Evenflo specifically for this carseat. This is especially important when it comes to preemies who may already be at increased risk for breathing difficulties. Avoid any type of head support that pushes the baby's head forward. The head support that came with the review model is not padded in the middle so it doesn't create this problem but I've been told that some of the initial head support inserts that shipped with this seat had a problem with being too thick behind the head. If you encounter any of these head supports, my suggestion would be to remove it and just use rolled-up receiving blankets instead.  Never use a Bundle-Me type product with this or any other infant carseat unless specifically approved by the carseat manufacturer. For more info on preemies and carseats please see our blog HERE.
This is how my 20″ newborn doll (which is roughly the size of an 8-9 lbs baby) fits using the bottom harness slots with and without the optional newborn routing of the crotch strap. I prefer the fit with the newborn routing but it's not bad at full length either .
On the opposite end of the size range, the 30″ height max on the Embrace 35 should accommodate most babies up until their first birthday although obviously there are no guarantees. I think it's important to point out that almost every child will outgrow this seat by height before hitting 35 lbs. And tall babies with long torsos will always outgrow their carseat more quickly than babies with short or average torso lengths. Always use the harness slots that are even with or slightly below the child's shoulders.
Smaller toddlers may fit in this seat well beyond their 1st birthday. Pictured below is a petite 24-month-old who is 23 lbs and 31.5″. She is too tall for this seat because she has less than 1″ of shell above her head and she is also over the stated 30″ tall height limit. I honestly don't think many parents or caregivers are interested in keeping their children in an infant seat much beyond 12 months but as you can see, this seat is certainly capable of accommodating a smaller toddler beyond his or her first birthday. For the record – this child rides in a rear-facing convertible because her mom understands the importance of keeping children rear-facing in the vehicle for as long as they are under the rear-facing weight and height limits of their convertible seat. Even though she was too tall for this seat, she was very happy with it and climbed right in without even being bribed!
Installation Comments:
The Embrace 35 is relatively easy to install properly regardless of whether you are using your vehicle's lower LATCH anchors or the seatbelt. I say "relatively" because this seat lacks a lock-off device for seatbelt installations which means you may have to use a locking clip to achieve a proper installation with a lap/shoulder belt. FYI – only use one method of attachment. Do not install the base using both LATCH & seatbelt.
I installed this seat in several different vehicles including a 2004 Hyundai Accent, 2005 Ford Freestar, 2006 Honda Pilot & 2013 Ford Explorer. The only issue I had was outboard in the 2004 Accent. The contoured seat bight in that position didn't play nicely with the shape of the recline foot on the base and I wound up with a base that tipped forward significantly (pic right). However, I was able to work around the issue by not using the recline feature on the base and using a rolled-up towel in the bight instead to achieve the appropriate recline for a newborn. If I didn't need the full recline for a newborn then it would have been fine just using the base without engaging the foot.
Since the base on the Embrace 35 lacks a lock-off device for lap/shoulder belt installations, I suggest using the lower LATCH anchors in your vehicle (if your vehicle has LATCH). Using LATCH is especially important if you're not sure how the seatbelts in your vehicle lock.  If you use a lap/shoulder seatbelt with a switchable retractor, you may need to use a locking clip to keep the base from tilting sideways during normal daily usage.  If you have no idea what I'm talking about please feel free to ask questions on our forum at www.Car-Seat.org. We'll gladly help you determine if this is a potential issue in your vehicle. Also, a visit to a certified Child Passenger Safety Technician in your area is always a good idea. You can find a local CPS Tech by searching the database on the Safe Kids website or check out our list of super-savvy CPS Techs affiliated with Car-Seat.org HERE.
Installed in center of 2004 Hyundai Accent with lap-only belt (handle placed in forward position):
Center LATCH installations with Non-Standard Spacing:  It isn't mentioned anywhere in the manual but all Evenflo child restraints allow usage of the lower LATCH anchors in the center seating position with non-standard spacing (more than 11″ apart) if this is specifically allowed in your vehicle owner's manual.
Recline Angle Range: The Embrace 35 recline angle indicator allows for a range of installation angles.  You want to see only green in the indicator window but it's important that you try to achieve the max recline allowed (without going into over-reclined territory) when installing the seat for a newborn.  I always start by installing the base in its most reclined setting (with the foot on the base fully extended) and then lessen the amount of recline, if necessary, until you see only green in the window. Older babies and toddlers who are able to sit upright unassisted can be positioned more upright in the carseat, consistent with their overall comfort. Just make sure you're still seeing only green on the recline indicator.
1.5″ Clearance Rule: Evenflo mandates that there be 1.5″ of clearance space between any part of the carrier and the driver or front passenger's seat directly in front of it. This mandate helps to ensure that the infant seat has enough time and enough room to get out of the way in a moderate to severe rear-impact crash where there is a potential for the front seat to collapse backwards and crush the child in the carseat.  However, the 1.5″ clearance rule applies only to installations in the outboard seating positions of a vehicle. If you are able to install the Embrace 35 in the rear center seating position, you do NOT need to have 1.5″ of clearance space. This info is stated on pg 5 of the owners manual (in a less direct way). I have confirmed with Evenflo that this information is accurate.
The Embrace 35 can also be installed safely without the base. The carrier is secured directly to the vehicle with the seatbelt. This is very handy if you're traveling by taxi or airplane. No need to lug the base around with you! However, once again, you have to know how to lock the seatbelt in the vehicle that you're going to be in. On an airplane it's easy because you have a lap-only belt with a nice locking latchplate. All you do is thread the seatbelt through the guides and pull it tight. It's that simple!  In a vehicle with lap/shoulder belts – the proper belt routing will look like this:
Embrace 35 Advantages:
Fits a wide range of baby sizes well (including preemies)
Generally easy to install properly with base (especially if using lower LATCH anchors)
Easy to use correctly
Energy-absorbing EPS foam lines entire upper portion of shell
Forward handle position doesn't take up any extra room in vehicle and may reduce rebound in a crash
Well-padded cover
Cover is easy to remove and machine washable
Budget-friendly price point
Sturdy but lightweight carrier (under 8 lbs)
Disadvantages:  (In all fairness, these aren't necessarily problems but I list them here to inform potential consumers of specific Embrace 35 issues)
Continuous harness
Harness straps have potential to twist easily if you're not careful to keep them straight
Base lacks lock-off device for seatbelt installations. This means you may need to use a locking clip to keep the lap/shoulder belt tight in an old vehicle without pre-crash locking seatbelts, or to keep the base from tipping when installed with a lap/shoulder belt that has a switchable retractor.
Only "Embrace Deluxe" model has the preferred push-on LATCH connectors
2 of 5 handle positions are not allowed to be used in the vehicle (which creates potential for misuse)
Requires 1.5″ of clearance space between carrier and back of vehicle front seat if installed in an outboard seating position
Flimsy canopy
Made in China (but to be fair, so are most other infant carseats)
Conclusion:
The Evenflo Embrace 35 is definitely a welcome addition to the infant carseat market and a winner for the price. Let's be honest, there are plenty of nice infant seat choices in the $150-$300 price range but very few worthy contenders in the under $100 category.  I'm a passionate believer that all parents and caregivers, regardless of their budget or financial limitations, deserve child restraint options that are safe, convenient and easy-to-use properly. The Embrace 35 takes us one step closer to that ideal. Also, kudos to Evenflo for not offering a rear-adjust version of this seat just to shave a few dollars off the price-point. Infant carseats with rear harness adjusters are considerably more difficult to use properly than seats with a front "one-pull" harness adjuster so it's commendable that this model is only available with a central front adjuster. The expanded weight range, addition of the forward handle position and clarification on the 1.5″ clearance rule make the Embrace 35 a solid contender in a very competitive infant seat market!
As always, the best advice for any carseat is to try before you buy, whenever this is possible.  If that's just not an option, Amazon's Free Super Saver Shipping & Free Returns offer is hard to beat!
Thank you Evenflo for providing the Embrace 35 used in this review.