This summer marks eight full years of CarseatBlog.com! We can hardly believe it. It seems like the years are just Fllo-ing by! 😉
Along the way we've shared a lot of laughs, made some amazing friends, written about 1,400 blog posts and oh, yeah – reviewed over 100 carseats and boosters!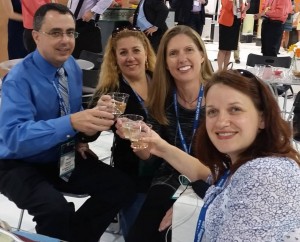 Whether you're new to CarseatBlog.com or have been with us since the start in 2008 – we'd like to share our celebration with you. You are the reason we're still here 8 years later, still blogging away, always looking for ways to improve our content and better serve our readers. The field of Child Passenger Safety is just starting to heat up and we can't wait to see all the awesome advances in safety, technology and innovation that the next 8 years is going to bring. We hope you stick around and enjoy the ride with us!
This week the Blogiversary Celebration continues with a Fllo Convertible, courtesy of our generous sponsor, Clek! The giveaway is open to residents of both USA and Canada! 🙂
Winner will have their choice of Noire, Shadow, Ink, Tank, Capri or Flamingo fashions.
Check out our full review of the Clek Fllo.
This promotion is now closed. Congratulations to our winner – Leah B. from Alberta!
Clek Fllo Specs:
Rear-facing: 14-50 lbs., 25-43" tall and able to sit upright alone
Forward-facing: 22-65 lbs., 30-49"; age 2+ recommended
Fllo Features:
Designed to international best practices for extended rear-facing use up to 50 pounds, and comes standard with a steel anti-rebound for enhanced safety performance

Advanced side-impact protection protects the child in a side-impact collision with its adjustable structural headrest with deep side wings, energy absorbing foam layers and metal reinforced substructure

Automotive inspired EACT (Energy-Absorbing Crumple Technology) safety technology reduces the forces transmitted to a child in a collision using aluminum honeycomb deformable cores integrated into the seat base

Compact design makes for easy installation, and the best-in-class width at 17 inches, Fllo provides space that makes 3-across seating possible

Tailored in GREENGUARD Select Certified Crypton Super Fabrics, which provide permanent protection against stains, moisture and odor-causing bacteria; and are free of brominated and chlorinated flame retardants
How to Enter Clek Fllo Giveaway – USA & Canada
Leave us a comment below (required to be eligible to win), then click on Rafflecopter to qualify yourself.
Now for the fine print – winner must have a USA or Canadian shipping address to claim the prize. Only one prize will be awarded. Only one entry per household/family, please. If you leave more than one comment, only the first one will count. We reserve the right to deem any entry as ineligible for any reason, though this would normally only be done in the case of a violation of the spirit of the rules above. We also reserve the right to edit/update the rules for any reason. The contest will close on September 11, 2016, and one random winner will be chosen shortly thereafter. If a winner is deemed ineligible based on shipping restrictions or other issues or does not respond to accept the prize within 7 days, a new winner will be selected. Good luck!