This is the booster that makes big kids want to sit in a booster. Really.  Maybe it's the bright, high gloss colors, or the dual integrated cup holders, or the armrests that kids can actually rest their arms on. Maybe it's the low profle of a backless booster or the cool graphics available on certain AMP models.  Whatever it is – this seat appeals to older, school-age kids and that is really, really good news. Great news, in fact, because this same age group (generally 6-10 year olds) are considered the "forgotten children" because way too often they have been prematurely "graduated" to the adult seatbelt even though they don't pass the 5-Step Test.  Who knows, maybe if every second through fifth grader in America had a seat with cool factor like this one, they wouldn't be so quick to want to ditch their booster seats.  Okay, so maybe that's a bit of a stretch even for me to imagine but regardless, I'm happy when a CR really appeals to kids (especially older kids) and the Amp does just that.  *Update: The newest Amp models are called "Amp Performance" & "Amp Grahphics".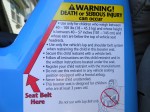 Specs & Features:
Weight range: 40 – 100 lbs
Height range: 40 – 57″
Age requirements: At least 3 yrs old
Child's ears must be below top of vehicle seat headrest
Product weight: 4.6 lbs (according to my digital bathroom scale)
Inside width at hip area: 11″
Depth: 14-15″
Overall width measured across bottom (15″, flares slightly to 16″ at widest point)
Smooth bottom won't scratch or dent vehicle upholstery
Shoulder belt positioning strap (if needed) is attached at the bottom center of the seat and can be used for  either side without detaching and reattaching
Belt Fit:
The Amp is rated a "Best Bet" by the IIHS and did an excellent job positioning the seatbelts properly on the various children I tried in the seat.  It fits my 7 year old, 56 lbs, 49″ son really well.  Seat depth is perfect for his legs and the width is neither too wide nor too narrow.
Comments:
The Evenflo Amp is on our Recommended Seats list for a reason!  It's cool, it's comfortable and it does a great job positioning the seatbelt properly.  While it isn't the cheapest backless on the market, it's a good value for what you get.  The only potential downside is that it's wide. The Amp isn't going to be a good choice if you're looking to squeeze 3 CRs next to each other in a small or midsize backseat.  And it probably won't fit in the narrow center seating position of many vehicles.  But if have the space and don't want or need a highback booster – the Evenflo Amp definitely deserves your consideration.
The Amp used in this review was purchased by yours truly!