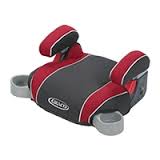 Graco is recalling over 20,000 TurboBooster seats due to the printed instuctions missing information required by federal standards.  This is NOT a safety defect and according to Graco, "does not affect the overall dynamic performance of the TurboBooster car seat."  Parents should continue to use an affected TurboBooster as they normally would until Graco sends them the additional instructions.  The concern is that an unoccupied and unsecured booster could be a flying hazard in a crash and strike another occupant.  Simply buckle the booster with the seatbelt when it is not in use to resolve this concern.
According to Graco, models affected were manufactured between December 22, 2015 and April 5, 2016 with the following Model Numbers:
| TurboBooster Model Numbers | Date of Manufacture Range |
| --- | --- |
| 1963973 | 3/8/2016 to 4/2/2016 |
| 1963974 | 12/22/2015 to 3/30/2016 |
| 1963975 | 12/22/2015 to 3/17/2016 |
| 1963976 | 2/17/2016 to 3/24/2016 |
| 1967886 | 1/13/2016 to 4/5/2016 |
| 1975173 | 3/29/2016 |
Where is the model number?  Look at the bottom of the car seat and locate the white label and note the MODEL NUMBER and DATE OF MANUFACTURE.
Graco Children's Products Inc. (Graco) is recalling certain Graco TurboBooster booster seats, models 1967886, 1963973, 1963974, 1963975, 1963976, and 1975173, manufactured between December 22, 2015, and April 5, 2016. The instructions for the booster seats are missing the information that the seats should be securely belted to the vehicle at all times, even if the seat is unoccupied. As such, these seats fail to comply with the requirements of Federal Motor Vehicle Safety Standard (FMVSS) number 213, "Child Restraint Systems."

CONSEQUENCE:

In the event of a vehicle crash, an unoccupied and unsecured child restraint may strike other occupants and cause injury.

REMEDY:

Graco will notify registered owners and provide the missing printed instructions, free of charge. Non-registered owners can obtain the missing printed instructions by contacting Graco customer service at 1-800-345-4109. The recall is expected to begin on, or about, June 10, 2016.

NOTES:

Owners may also contact the National Highway Traffic Safety Administration Vehicle Safety Hotline at 1-888-327-4236 (TTY 1-800-424-9153), or go to www.safercar.gov.