It's finally here! Not only the highly anticipated Britax Frontier ClickTight, but also our review of the all-new and improved Harness-2-Booster combination child safety seat. We also have a full review of the very similar Britax Pinnacle ClickTight (with Side Impact Cushion Technology) HERE!
What's the big deal? The frustrations of having to use a seatbelt to install a carseat are now a thing of the past, as you will see in our video demonstrations. Without further ado, here is a recap of the features: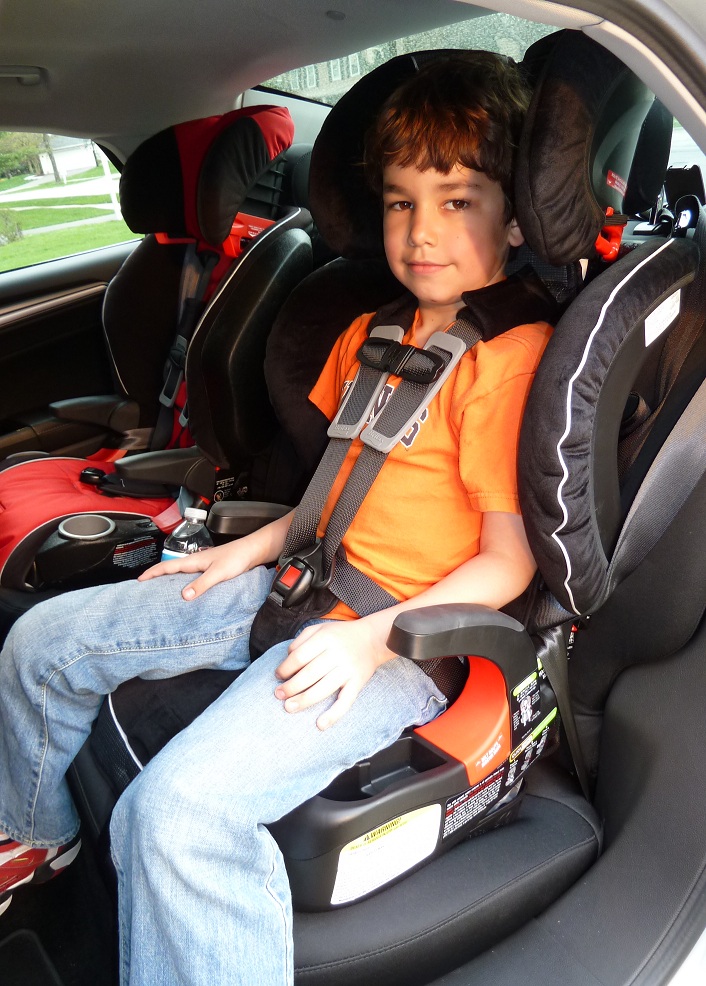 25-90 lbs., 30″-58″ tall (and over 2 years of age) with 5-pt harness
40-120 lbs., 45″-62″ tall as belt-positioning booster
Industry-leading 20.5″ top harness height
Shoulder belt guide at highest position: 23″
ClickTight installation system for easy and secure installations using the seatbelt
EZ buckle system holds belly pad out of the way when loading and unloading child
9 harness height adjustments
2 buckle positions
SafeCell technology in base
Integrated steel bars reinforce the shell
Quick adjust no-rethread harness
Front adjust recline feature
Easy remove cover
9-year lifespan
MSRP $329.99, currently around $265 at Amazon.com.
Of all these features, the one that really sets the Frontier 90 apart from its competition is the new ClickTight seatbelt installation system.  It's basically an automatic seatbelt tensioning system that does the work of tightening the seatbelt for you.
You simply lift up the cover to open up the ClickTight panel (photo, left), route the seatbelt through the appropriate green routing path, buckle it, then close the ClickTight cover and presto!  In most vehicles, the installation should be secure in just a few minutes and the only other task is to attach the top tether strap to the tether anchor for that seating position.  No worries about locking a retractor, using a locking clip, complex vehicle seat belt routing paths or LATCH anchor weight limits.  All those things that most parents never even realized might be a potential problem!  With a few exceptions, it really should be that easy to install in most vehicles.
The Britax Frontier ClickTight MSRP is $329.99.
Main Features and Advantages:
5-point Harness to 90 pounds and 20.5″ tall: A great improvement is the slight increase in both seated shoulder height and weight limit, extending what is already the industry-leading top harness height setting to a whopping 20.5″!  Many combination seats are outgrown by height well before weight because their top harness height limit is only 18″ to 19″ tall.  So, the Frontier 90 and Pinnacle 90 will outlast the competition in harness mode, even though kids in the tallest percentiles will outgrow it before they reach 90 lbs.  It's also easy to use, so older kids can do it themselves, with adult supervision, of course!

ClickTight Seatbelt Installation System: With LATCH becoming nearly useless for extended-weight seats beyond 40 pounds, many 5-point harness models will be using seatbelts again for installation.  Fortunately, the era of locking clips and putting your entire body in the carseat to tighten it are over.  The ClickTight system is as simple as it sounds, as you will see in the video:

Inflatable Seat Belts: Not a problem with the Frontier 90! Follow Britax's installation instructions if you have Ford or Lincoln inflatable seat belts in your car.
Multiple Harness Height Settings with Front Adjust: The other great improvement is

the front adjustable harness height system, making it much easier to adjust as your child grows, even with the carseat installed in your vehicle.  There are 9 height adjustments, from 20.5″ down to about 12.5″.  Unlike the previous model, you no longer have to uninstall the seat to adjust the harness height!
Crotch Strap Adjustment: 2 settings for crotch strap depth, adjustable even while installed.  Plus, the EZ-Buckle system flips the crotch strap buckle forward when not in use.  That means it's always easy to find and you are never digging around under your child to find it.  It's also easier for older kids to buckle themselves.  In booster mode,  you may still replace the harness buckle with the optional SecureGuard lap belt clip.

Other changes:  Along with steel reinforcement, the patented SafeCell system is present in the base to improve crash performance.
 There are new fabrics, of course.  The head restraints on the Frontier/Pinnacle models are slightly deeper than the previous models for improved side impact protection.  There is also improved labeling to help parents find the right belt path, green for harness mode and red for booster mode (photo, right).  The cover is somewhat easier to remove and this can now be done without removing the harness or uninstalling the carseat!   The armrests and cupholders are redesigned, also.
Booster Use: It's one of the tallest boosters among combination seats. I measure almost 23 inches to the shoulder belt guide at the top setting. Plenty of room for my almost-8-year old son on the second highest setting and also a good fit on the highest setting, one that will barely fit in some vehicles!
Measurements:
The maximum booster height is still among the industry's tallest models. Britax claims seated shoulder height in booster mode is 23″, plenty tall for an 8-year old (photo, right).  The Frontier ClickTight weighs roughly 25 pounds, with the Pinnacle weighing slightly more.  Below you can see the top harness height, booster shoulder height and shoulder width measurements, roughly 20.5″, 22.5″ and 19″, respectively.
There are 2 buckle strap positions, one about 7″ depth, the outer setting is almost 9″ depth. Here is the seat width and depth below, along with inner crotch buckle position.
Below are some comparison photos with the Britax Frontier 85, which is now discontinued.
With the new changes from NHTSA in regard to LATCH, Britax will indicate a 40 lb. weight limit for the lower anchor system, as ClickTight will be the preferred method of installation.  LATCH storage is hidden under the ClickTight compartment cover, in order to encourage seatbelt installations.  The top tether will be strongly recommended to the upper harness weight limit and required for kids above 65 lbs.
Installation and Fit:
We have already tried it in a few vehicles for this review. These include a 2010 Toyota Prius, a 2011 Toyota Highlander, a 2003 Chevrolet Trailblazer and a 2013 Ford Fusion. In every seating position tested so far, the install was rock solid within a few minutes, regardless of the experience level of the installer!  How about a center seat in a compact car? No problem, as you will see in the Toyota Prius:
I can definitely recommend the Frontier ClickTight based on what I have seen so far.  It has a lot of great advantages and really only a handful of minor issues that we mention for sake of completeness.
Advantages:
Generous 20.5″ harness height, best in class!
Front height adjustment usable even when installed
ClickTight system seatbelt installations easier than LATCH!
Deep side impact wings for head and torso (photo, right)
Reasonably tall booster mode provides good fit
EZ-Buckle keeps the harness buckle easy to find
Made in USA with IMMI harness components
Two position recline in harness mode
9-year Lifespan
Disadvantages:
Harness adjuster hard to find at first for short fingers, but this makes it hard for kids to inadvertently loosen themselves
LATCH limited to 40 lbs., but who needs LATCH with ClickTight?
Relatively large and heavy, as are most combination seats
Relatively expensive
Not suitable for pet use (photo, right)
Kudos to Britax for requiring top tether use for kids above 65 pounds.  This instruction may conflict with some vehicle owner's manuals, though we recognize that relatively few children use a 5-point harness system beyond 65 pounds.  At that weight, many kids will be nearing 8 years of age or above and most are likely using the Frontier 90 in booster mode.  We would still like to applaud Britax for taking this stance on using an important safety feature for the biggest kids who need it the most!
Conclusion:
With a return to seatbelt installations inevitable for high weight harness combination carseats, the ClickTight system on the Britax Frontier is just plain awesome. The trickiest part of using it the first time is simply locating it behind the cover! Combined with the best-in-class weight and height limits, the front harness adjustments and all the other improvements, the ClickTight system makes this harness/booster carseat an excellent choice for children over the minimum requirements of 2 years old and 25 pounds! The Frontier CT is our Recommended Seats list and I believe it will be a very safe and easy to use option that will also be the last carseat most kids will ever need until they can safely transition to using just the adult seatbelt.
Thank you to Britax for providing the Frontier 90 ClickTight used in this review.  No other compensation was provided and all opinions are my own!  Please visit them at the Britax USA website!