Trivia question: Without Googling it, who knows what "CR-V" stands for?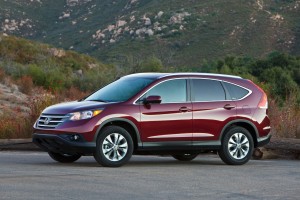 All-new fourth generation Honda CR-V is an impressive ride. It's an ideal vehicle for those who want the function and flexibility of an SUV but without the size or the price. In fact, if I didn't have three children, I'd strongly consider one as my next vehicle purchase. The peppy 2012 CR-V is a five-passenger vehicle that starts at under $25,000. And one of the nice things about Honda is that they believe that you shouldn't have to buy the luxury model to get the options that make a vehicle functional – many of the items that people really want are standard on all trim levels, such as a multi-angle rearview camera and hands-free Bluetooth. Notable exceptions are the navigation system, leather seats, DVD entertainment system for the rear seat, and driver's seat with 10-way power adjustment, all of which are available only on the EX-L model.
I rode in a 2011 CR-V right after my extended test drive of the 2012 model, and here are some of the things that I noticed right away: The seats in the 2012 are noticeably more comfortable, the center console is greatly improved, and steering and brakes in the 2012 are more responsive. I'm not sure what trim level the 2011 was, but the 2012 just felt more luxurious.
Technology and Safety
Why technology and safety in the same section, you may ask? I actually started out with two separate sections, but there is so much overlap that it really made more sense to cover these features together.

The CR-V's multi-angle rearview camera is standard on all trims. The display for the rearview camera is nicely sized, but somewhat awkwardly placed far back in the dashboard. (Other vehicles place their rearview camera displays near the rearview mirror, which I thinks seems more intuitive.)
Hands-free Bluetooth with steering wheel mounted controls is standard on all models. This system allows drivers to connect a compatible smartphone and have incoming text messages read aloud over the vehicle's audio system. (The text of an incoming message is also shown on the display screen, but only if the vehicle is in park.) The driver can then use the steering wheel controls to respond with any of six preset text messages, including "Talk to you later, I'm driving" and "I'm running late." 
Honda did not tout the texting feature as a safety feature, but my driving partner and I definitely considered it one. Despite the fact that most states ban texting while driving, people still do it. It seems logical that allowing people to send a brief reply – "running late," "be there soon," etc. – at a stoplight while using steering wheel controls would reduce the hazards of texting. (Not that I particularly condone this – I've never texted while driving and in fact never even talk on my phone while driving, so I doubt that I'd ever use this feature.)
A USB connection is located in the center console of all models and can be used with compatible devices such as iPods, smart phones, and flash drives. The sound system was terrific, and I fully enjoyed listening to the new Duran Duran album loudly. (It was #1 on my personal rotation list at the time but because I only have it on my iPhone, I hadn't had a chance to listen to it while driving yet.) Fans of Pandora Internet Radio will also be pleased with their new Pandora interface, which allows you to connect a compatible device (which must have a Pandora app) and change the song or station via controls on the steering wheel.
In addition to the standard safety features one would expect from Honda (including side-curtain airbags that now wrap all the way around the windows), the 2012 CR-V includes two new safety features.
The first is a front seat design that can help reduce whiplash in the event of a rear-end crash (the passenger or driver basically sinks into the seat a bit during a crash). I was very interested in this feature, and I feel that Honda's wording best explains it:
"In general terms, the new seat incorporates a 'softer' design compared to the 2007–2011 seats by using greater spring range settings in both the seatback and bottom cushions. In the event of a rear crash, this allows the seat to more evenly disperse rear impact forces against the occupant as the seatback cushion compresses relative to the occupant's head. The seatback springs are optimized so that in a rear crash, when the seatback is pushed forward into the occupant, the seat will more equally absorb the occupant's mass in manner that can minimize the severity of a whiplash injury. For greater comfort, the head restraints have been pushed back 9 mm compared to previous model."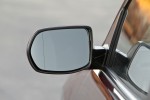 The second new safety feature is a significantly larger driver side mirror which improves visibility and shrinks blind spots. This will be especially useful for people who have boostered kids, which often makes it harder to use the rear view mirror and forces the driver to rely more heavily on the side-view mirrors. I use my side mirrors a lot (I have a boostered 10-year-old in the center of my car) and really noticed a difference.
NHTSA and IIHS have not yet completed testing of the 2012 model, though Honda says it fully expects top ratings from both. 
Improved Fuel Economy

Honda says its customer base wants better fuel economy, not more power (though they did add 5HP for this model), and they have improved the CR-V's fuel economy over the previous model. EPA-estimated fuel economy is rated at 23/31/26 mpg city/highway/combined for the 4WD models (an increase of 2/3/2 mpg compared to the 2011 CR-V), and 22/30/25 mpg city/highway/combined for the AWD models  (an increase of 1/3/2 mpg compared to the 2011 CR-V).
Eco Assist, new on the 2012 CR-V, indicates that the driver is operating the vehicle efficiently via a green circle that surrounds the speedometer. Honda touts this as a training tool to teach people to drive in the most fuel efficient manner. I was not surprised to learn that I am not a "friendly" accelerator, but quickly improved during just 90 minutes that I was behind the wheel. Using the ECON mode while driving changes some of the controls to make the vehicle more fuel efficient. I used the ECON mode almost the entire time I drove the CR-V and didn't notice a decrease in driving experience at all.
Updated Styling

The 2012 CR-V has attractive updated styling, and Honda managed to make it 1" shorter (height) and 1" shorter (length) while actually expanding the interior room, which they accomplished by moving the windshield forward 2". Cargo room increased by 1.5 cubic feet. (We were able to get four travel bags and a stroller in the rear cargo area without folding the seat down.) During our test drive, the 2012 CR-V in front of us actually pulled up next to a previous generation CR-V, and the difference was noticeable.
Speaking of folding the seat, the new CR-V has a nifty new one-hand release system – simply pull one of the release levers near the tailgate or a pull-strap near the side of the vehicle seat, and the seat folds forward for a nearly-flat floor. The 60/40 split seat offers plenty of flexibility.
The cargo area has a nice-sized elastic storage net that can be used for holding small items in place, and the cargo cover can be repositioned to form a smaller cargo area. This would be great for those quick shopping trips when you only have a few bags to take home. Not a big deal, perhaps, but thoughtful features like this really make Honda stand out.
Cupholders are plentiful – the 2012 CR-V has 8.
A Smooth Ride
The steering and braking are both very responsive. The car felt very zippy and had plenty of passing power (yes, I used it). It really drives more like a sedan than an SUV. I definitely enjoyed driving this vehicle and was disappointed when our extended test drive was over. (I drove the CR-V for a total of about 90 minutes, and was a passenger for another 90 or so minutes.)
(Mostly) Made in the USA
I was surprised to learn that 90% of the vehicles that Honda sells in the United States are made in North America, with nearly all of them being made in the United States. As someone who lives in the Detroit area, this really muddies the whole "don't buy foreign" issue, to say the least. 😉
CR-V as Kid Hauler

Unfortunately, I really didn't get much of a chance to check out the CR-V as a kid hauler. The only child restraint I had access to was an Evenflo Titan. It installed fairly easily, though I did notice that when I did a seatbelt install in the center, the seatbelt looked as though it might interfere with the driver side headrest. (There was no owner manual available, and unfortunately none of the Honda representatives could really answer the question I had about this situation.)
There are three sets of LATCH, though the center position borrows one anchor from an outer position, so you cannot use LATCH in all positions at the same time (again, no manual, so I'm not sure what the configuration was). The outboard tether anchors are located on the back of the vehicle seat, while the center tether anchor is located on the ceiling of the cargo area.
The rear seat seemed roomy (and as an adult, I was comfortable back there) but I don't know how easy it would be to fit three car seats. The rear hip room is 2.4" wider than in my own vehicle (53.1 vs. 50.7) and I can get three seats in my car – if it's the right combination of seats – but we all know that it can be affected by the shape of the vehicle seat, seat bolsters, car seat puzzling, etc.
I do expect to have the opportunity to do a more complete review of the CR-V as kid hauler in the first part of 2012, so watch for more details.
Top likes:
Drives like a car but has cargo room and versatility of an SUV.
New anti-whiplash safety feature.
Very quiet – when I got into the vehicle, it was so quiet that I literally asked whether it was running yet (it was).
Many of the options that people want are standard on all trim levels – you don't have to buy the luxury trim to get them.
Low loading gate makes it very easy to load/unload cargo.
One-pull seat fold.
Roomy front console – large enough for a purse (or even a "murse").
Attractive updated styling – it's 1" shorter and 1" shorter while actually expanding the interior room.
Top dislikes:
Incomplete IIHS/NHTSA crash testing (Honda says it fully expects top ratings from both).
Not sure it will easily accommodate three car seats.
Back-up camera could be better positioned.
Installing child restraint with center seatbelt may be problematic if there is a passenger in the rear driver's side seating position.
When installing a car seat, I found it hard to tell when I'd engaged the switchable retractor (and in fact thought I'd locked it when I hadn't).
Trivia answer: CR-V stands for "comfortable runabout vehicle." That's what Honda intended for the vehicle to be when it was introduced in 1995 (in Japan), and I'd say that's definitely what it is.
Our test drive was provided courtesy of Honda Motor Corporation at a press launch event in October. Please note, the opinions given are strictly those of CarseatBlog and were not submitted to us by Honda or any other entity; some photo content and spec information was provided by Honda. No compensation was accepted, beyond travel expenses to attend the media event. Always read and follow manufacturer's directions that come with your product(s).