Pumpkin Spice lattes, falling leaves, Christmas decorations showing up on store shelves even though it isn't even Halloween… it can only mean one thing: It's getting cold, and your kids are going to need winter clothes.
Michelin-man-style snowsuits might be fine for sledding, but in the car they can be dangerous. Too much bulk means that the harness won't tighten properly against the child. In a crash, that extra bulk can compress, leaving a too-loose harness, and leaving the child inadequately protected.
So what can you do?
One option is to have your child take her coat off before she gets in the car. Then after she's buckled, she can slip her arms into the backwards coat.
But what if your kids don't want to take off their jackets? No problem–just look for something car-seat-friendly.
What constitutes a good coat for the car seat? Anything that doesn't add extra bulk to the child will do. That might be a sweater, thin fleece, or a packable down jacket.
To see if your child's outerwear is ok for the car, put it on your child, put him in his seat, and tighten the harness. Then, WITHOUT LOOSENING THE HARNESS, unbuckle your child and take him out. Take off the jacket, then put him back in the seat and re-buckle. If there's no extra slack (or just a teeny bit), the jacket is good! If there's a significant amount of slack, consider another option.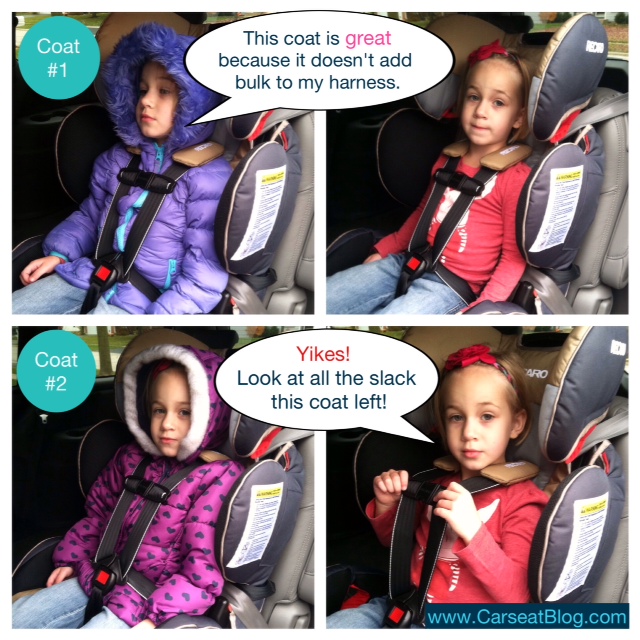 Those two jackets look pretty similar, but you can see how different they really are. In the first photo, my daughter is wearing a Snozu jacket. Without the jacket, the harness had no slack. (In fact, before I took the picture my daughter had been in the seat with no jacket. I didn't need to loosen the harness at all to buckle her with the jacket on.) The second coat is another story. It's your typical winter coat, and honestly, it didn't seem that bulky to me…until I took it off and re-buckled. Wow! There was a lot of slack in that harness!
Here are some good jackets to try:
Last year I got my daughter a Snozu jacket from Costco, pictured above. (There are also some available on Amazon.) They squish down into almost nothing, so they're perfect for the car. This year's version has a thin layer of fleece inside, but still works well in the car. They aren't expensive either, which is a definite bonus!
People at car-seat.org also love the Patagonia Puffball.
Many have also said good things about the North Face Moondoggy.
LL Bean and The Gap both have PrimaLoft jackets that look very squishable.
These Lightweight Packable Jackets from Lands' End also looks like it would work very well.
Besides working well in car seats, these options will also pack well in a backpack or diaper bag when you don't need them. Safe AND convenient!
A new option on the market is the Road Coat made by Onekid which looks promising. Its unique construction was designed specifically to be used in a carseat. We haven't seen one in real life yet but the concept is a good one.
What great car seat coats have you found?