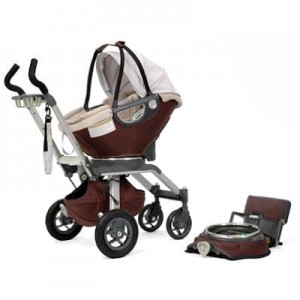 The Orbit Baby Infant Seat (and the
updated Orbit G3 system)  is a unique infant seat that's less an individual seat than a system.  When you buy the infant seat you are also buying the stroller, starting you on the path toward stylish products with a green twist.  This is a rear-facing only child restraint for kids birth-22 lbs. who are less than 29" tall.
The Orbit Infant comes with an infant insert and harness strap covers.  The stroller comes with 2 built-in cup holders and a storage basket (called a Cargo Pod).