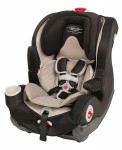 The Graco Smart Seat is a unique All-In-One (Rear-facing, forward-facing, booster) seat that takes the stay-in-car base concept, typically only found on infant seats, to the next level.
MSRP is $299 but it frequently goes on sale for considerably less.
Smart Seat Features:
Stay-In-Car Smart Base –  Similar to an infant carseat design, the Smart Seat utilizes a unique, heavy-duty base that installs with either lower LATCH anchors or seatbelt.  An extra base can also be purchased separately.  The sturdy, built-in lockoff device is only used for seatbelt installations.  The lower LATCH connectors are the hook-style but these aren't the standard hook connectors that you normally see.  These are clearly heavy-duty connectors.  The seat is locked onto the base in either the rear or forward-facing position.  If the seat is going to be used in the forward-facing position – you need to attach the top tether strap (which is on the back of the seat – not on the base), to the appropriate top tether anchor in your vehicle.  You do not need to uninstall the base when switching from rear-facing to forward-facing or vice versa.  You only need to unlock the seat from its base, switch the orientation, and lock it in again.  Just don't forget the tether if you are using the seat forward-facing!