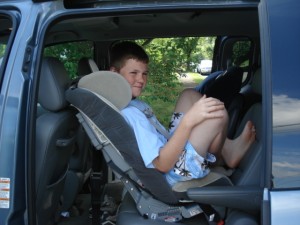 I understand that we're all passionate about safety.  And at some point or another, most of us have had to deal with criticism from friends or family members who think we've  taken this whole safety thing too far and just gone right off the deep end.  Usually, we just brush off these ignorant remarks because deep in our hearts we know that we're right and obviously they just can't stand to admit it.  We're aware of the fact that MVC's are the leading cause of death to children in the US and we're all determined to protect our children to the best of our abilities. That's our job as parents and caregivers and we all take that responsibility very seriously.    
 
But how are we to know if we've really gone too far?  Certainly our safety-addicted friends at car-seat.org would never stage an intervention on our behalf.  Our spouses would rather walk across hot coals than incur our wrath by suggesting that maybe, just maybe, we're being a bit too extreme.
So, who's gonna give it to ya straight and tell you when it's time to chillax?  Who's gonna remind you that you can't save the world and completely eradicate all injuries to children in MVCs – no matter how desperately you want to?  Who's gonna tell you when it's time to step away from that vehicle in the Walmart parking lot because clearly you're not dealing with an appreciative and open-mined victim?