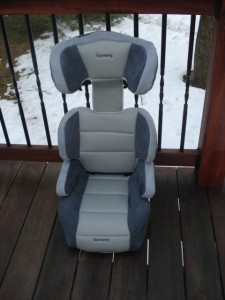 This is a quick review of the Dreamtime Deluxe highback booster from Harmony Juvenile Products.  This particular model has a grey mesh and soft microfiber suede cover.  
The Harmony Dreamtime Deluxe booster is rated for children who weigh between 30-110 lbs and who are 34-57″ tall.  It's currently the only designated IIHS "Best Bet" Booster in both highback and backless modes according to the latest round of booster fit testing.  
I think it's important to point out that according to the AAP (American Academy of Pediatrics) children under 40 lbs are best protected by a child restraint with a 5-point harness.  Highback boosters, in general, are most appropriate for children over 4 years old, who weigh more than 40 lbs and are mature enough to sit properly in a booster for the entire ride, every ride.  With that said, there are some children who are both old enough and mature enough to use a booster but who are very thin.  The lower weight minimum on this seat may be a benefit for those children.  The perfect example of this would be my oldest son who didn't hit 40 lbs until he was 5.5 years old but was capable of sitting properly in a booster (at least for short trips or when carpooling) before then.  I just don't want anyone reading this review to consider putting their 2 year old, 34″, 30 lb child in this, or any other, booster seat.
First impressions…