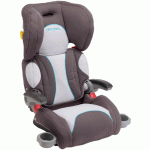 This is a review of the 
B540 Compass Ultra Adjustable Folding Booster made by First Years/Learning Curve.
The B540 model is very similar to the B530 (they actually share the same instruction manual) but there are a few notable differences.
B540 has more padding built into the cover
B540 headwings are 2″ deeper for better SIP and sleep support
B540 has EPP foam lining the headrest (B530 has EPS).  Both EPP and EPS foam are energy absorbing materials but EPP is more durable and is less likely to crack under normal wear and tear conditions.
Since they do share the same instruction manual I can tell you that both the B540 and B530 models are rated for children 30 – 100 lbs, from 38 – 57 " tall and who are 3 years or over. This doesn't mean that it would be an ideal choice for a 30 lb, 3 year old child but for a booster here in the US these minimums are fairly common. Still, best practice is to keep children in a 5-pt harness until they reach 40 lbs – assuming they can still fit height-wise. With that "best practice disclaimer" out of the way, let's look at what the B540 has to offer: