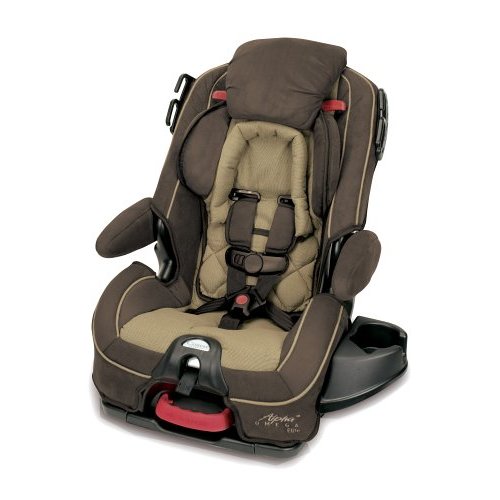 I've decided to document how various combination (harness/booster) seats fit my   4-year-old, 41 lb, 43″ tall son in booster mode.  He's at the size where most parents would be switching from the 5-pt harness to  the vehicle's lap/shoulder belt in booster mode if they had a combination seat with a 40 lb limit on the harness.  In each case I'll use the same seating position in my van – driver's side captain's chair in a 2005 Ford Freestar.
The IIHS booster study compared the fit of various boosters using the 6-year-old Hybrid lll dummy who weighs 51.6 lbs (23.41 kg) and has a standing height of almost 45″.  I thought it would be even better to show belt fit on a child who was just over the 40 lb weight limit for the 5-pt harness.  I've decided to focus exclusively on combination seats because of their popularity with parents of children in the 2-5 age group.
This week we'll be looking at the
Alpha Omega Elite (aka Eddie Bauer Deluxe 3-in-1) as a booster.  This is the older and most popular model with the 40 lb limit for the harness.  There is a new version of this seat that goes to 50 lbs with the harness.  I have no idea if that model has been modified in any way that would improve belt fit in booster mode.