Has the time come to reverse our stance on extended rear-facing and turn children forward-facing at age 1 like we used to in the olden days?
The simple answer, for the moment is, NO.
What's going on?
Dorel Juvenile Group, the parent company of Safety 1st, Maxi-Cosi, Cosco and other juvenile brands recently issued a position statement on their website explaining why they've stepped away from their recent age 2 minimum mandate for forward-facing in their convertible carseats. The short story is that they hired a statistician, Jeya Padmanaban, to replicate the original 2007 study upon which all our assumptions of rear-facing (RF) safety statistics in the USA are based. Not only was Padmanaban unable to replicate the results using the same data set as the original authors of the study, her conclusions actually led to opposite findings. She presented her findings to NHTSA and to the journal Injury Prevention. This prompted some of the original authors of the 2007 study to re-examine their analyses. When their attempts to replicate the analysis also fell short, it became apparent that there were real flaws in the study. Recently, the journal Injury Prevention issued an "Expression of Concern" regarding the original study. From the statement: "Specifically, they believe that survey weights were improperly handled in the initial analysis, which caused the apparent sample size to be larger than the actual sample size. This resulted in inflated statistical significance." We are currently waiting for the revised study analysis and results to be reviewed and released. We will update this article when that information becomes available.
What do we know at this point?
The anatomy of the developing pediatric cervical spine predisposes children to injury of the upper cervical spine. In general, the younger the child, the more likely an upper cervical spine injury will occur. The neural arches in the pediatric cervical spine fuse posteriorly by 2–3 years of age. Until that time, the vertebrae are made of cartilage and bone and held in place by ligaments; it's all very pliable and elastic. Traveling in the rear-facing position is inherently safe and is critical for babies less than 1 year old. (Please also read Why Rear-Facing Is Better: Your RF Link Guide, an evidence-based justification for rear-facing.)
Even though the statistics from the 2007 study are being disputed, there is agreement that rear-facing carseats cradle the head, neck, and spine to protect them in frontal and side impact crashes. We know it's safe from basic physics, an understanding of crash dynamics and results from other countries, like Sweden.
What's in question?
Since 2007 when the Henary, Sherwood, Crandall, et. al. study was first published, child passenger safety advocates have been told that rear-facing is 500% (or 5 times) safer than forward-facing for children under age 2. Now that statistic appears not to be true, at least not based on the data used in this one study which analyzed injuries to fewer than 300 kids between 1988-2003. Having such a small sample size makes drawing broad conclusions very difficult. Large sample sizes generally result in more accurate and reliable conclusions. We have had our own concerns about the original study and how the "5x safer" figure is presented to parents. We still don't know exactly how rear-facing compares quantitatively to forward-facing in most situations.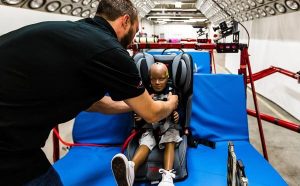 There are other methods, but it can also be difficult to draw broad conclusions from specific case studies or proprietary crash testing done by manufacturers. All of this underscores the need for a more modern crash test sled and better studies on the subject. Modern vehicles simply don't have a back seat that's a flat bench seat of a '70s Chevy Impala with lap-only seat belts and no floor like the standard crash test bench does. Modern vehicles have very different back seat cushions, front seats that crowd the back seat, lap/shoulder seatbelts, and they all have floors too!
What are the risks to a rear-facing child?