Flying with Children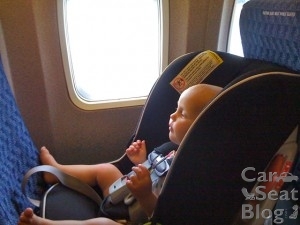 It's a lucky parent who hasn't had to travel by plane with a young child. Some minimalist parents have it down, but the rest of us use up every last cubic inch of space we're allotted, stuffing it with things we might possibly need like hair ties, mismatched infant socks, carabiners, and Ziploc bags that get thrown out eventually. Think back to your last trip on a plane alone when there was a small child—what was that child doing? Standing on the parent's lap screaming? Waving at uncomfortable adults who waved once but then wanted to disengage from the outgoing child? Were you trying to eke out that last bit of nap before descent when that screech jolted you out of slumberland? Did that parent look happy or like she was going to cry herself?
Kids have that natural tendency to want to move and explore their environments when they're in their parents' arms. Parents naturally provide a safe place for a child . . . everywhere except in a moving vehicle, which is what an airplane is. Most of us who have traveled with children and carseats can attest that our kids have been better behaved in their carseats and have found their carseats to be safe pods for them. When was the last time *you* were comfortable in an airplane seat, after all? Kids in harnessed carseats are protected against turbulence and against runway incidents, such as aborted takeoffs and landings, and overshots. And think about it: coffee pots and Coke cans are required to be secured during flight. Don't our kids deserve the same respect?
Can I take any harnessed carseat on the plane?
Maybe. It must have a sticker on it that says the carseat is certified for use in motor vehicles and aircraft. That part will be written in red ink so it's easy to find. Your owner's manual will also have this wording. Be prepared to show the sticker to a gate agent and/or flight attendant because they may ask to see it as you board the plane.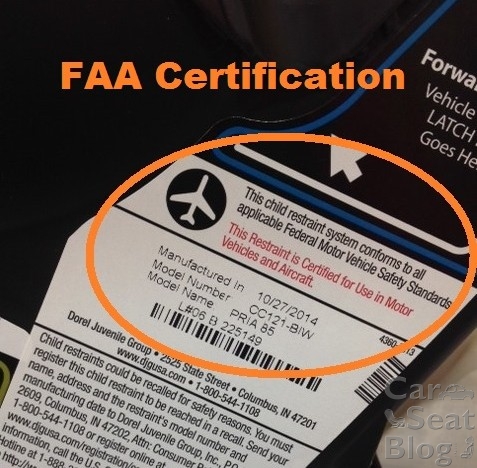 Can I use a booster seat on the plane?
Let's get our terminology down first. A booster seat is a belt-positioning booster used by older kids. It's used only with a lap/shoulder vehicle seat belt. Since a commercial airplane doesn't have a lap/shoulder seat belt, no, you cannot use a booster seat on the plane. A harnessed seat isn't called a booster seat. If your seat has a harness that also can be used as a booster later on, we call that a "combination seat." Most combination seats are approved for use on airplanes only when used with the harness; that's because you can install it with the plane's seat belt. You can, however, take your booster seat on the plane with you as carry-on luggage for your child to use in the car when you get to your destination. If you have a backless booster, it fits perfectly under the seat in front or in the overhead bin. If you have a folding booster, it fits in the overhead bin. If you have a booster where the back comes off, you can pack the back in your suitcase and carry the bottom on with you.
What are my rights regarding carseat use onboard an airplane?
We have an article that explains what you need to know. Also, know where the certification sticker is on your carseat and bring a healthy dose of patience. Between oddly intimate security searches, our knees being jammed into the seats in front of us, and man spread by guys in the center seat, flying saps the last bit of patience of everyone. Flight attendants receive very little to no training on carseats on aircraft, so the best tactic is one of "you catch more flies with honey than with vinegar." If there's confusion, it's OK to show them the carseat owner's manual and smile. Remember that they can (and have in the past) remove ticketed passengers from flights.
How far should I push the rear-facing issue?
If you've been online at all, you've heard of travelers who have had problems rear-facing their kiddos: the flight attendant misinterpreted the flight attendant handbook, which requires carseats to be installed on forward-facing passenger seats, and they had to turn their 3 mo. old forward-facing. At some point you pick your battle with the flight attendant (with a smile–remember, he or she is just doing their job) and the likelihood that something catastrophic will happen is slim. Turning an 18 mo old forward-facing on a plane probably isn't going to end the world. If you're still unsure, I suppose you could whip this regulatory requirement out.
What are the best travel carseats?