2013 & 2014 Ford C-Max Hybrid Video Review: Kids, Carseats & Safety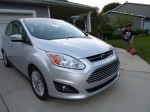 Looking for a smart, economical vehicle that doesn't say "Prius" on it?  Something that has a reasonably well-designed back seat for kids and carseats?  If so, the Ford C-Max should definitely be on your short list!  For 2014, you can expect slightly better fuel economy, thanks to improvements in the powertrain and aerodynamics.  Even so, because of some issues with the EPA ratings, the new labels will indicate a decrease to 45 mpg city, 40 mpg highway and 43 mpg overall.  For those familiar with driving a Prius or other hybrid, this drop may not be a disappointment in real world driving.  For example, I achieved just over the EPA ratings of 47 mpg around town for a 2013 model with some basic hybrid driving techniques; slightly better than the Prius V I tested in similar conditions.
The 2nd row of the C-Max is one of the better setups I've seen in a compact vehicle.  The lower LATCH anchors are easy to find.  The seatbelts and LATCH anchors don't overlap.  The buckles are not too short, such that they are difficult for kids in boosters to buckle themselves like in a Prius.  All head restraints can be removed if necessary to fit a taller carseat.  The middle seat, while narrow, can still manage a 3-across with careful selection.  Overall, it's slightly wider and much nicer than the standard Prius in terms of fitting kids and carseats.
Perhaps the only major downside is that there is not a lot of legroom back there, like any compact car.  It's about the same as the standard Prius, but the seat cushions seem lower to the floor.  So, adults may find it a bit cramped in back.  If that's an issue, the roomier Toyota Prius V does offer adjustable 2nd row seats that are more comfortable for older passengers in terms of legroom and also space for a rear-facing carseat.
The C-Max comes only in a 5-door hatchback, which is great if you want to fit a stroller and some groceries.  The only oddity is that the top tether anchors are fabric loops on the back of the seat, NOT to be confused with the sturdy-looking metal cargo hooks on the floor!  Fabric loops are perfectly fine, just something to note when you are looking for metal anchors.  As for the hatch, the optional power assist feature is great.  My son liked being able to open the lift gate. 🙂
Carseats:
As mentioned, the 2nd row setup of seatbelts and LATCH is very intuitive.  Ford is also to be commended for allowing the top tether system to be used up to the maximum limit indicated by the child safety seat manufacturer.
Below, left, I tested a Britax Advocate convertible carseat.  Installed rear-facing, it left adequate legroom for a 5'10" driver in front.  With a Recaro ProSport combination seat on the other side, a small adult or narrow booster would still have room in the center seat.  The same applies to the Cosco Scenera and Graco Nautilus I tested, below, right.  Finally, at the bottom, you can see the locations for attaching a front-facing (left) and rear-facing (right) tether system.