The Honda Insight: King of Small Car Safety and Hybrid Fuel Economy too?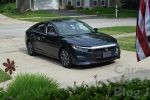 Quite simply, the 2019 Honda Insight is an amazing value for safety.  Starting at a street price of around $22K ($23,725 MSRP in LX trim), Consumer Reports said that the all-new Insight is their fuel-economy champ for vehicles that don't have a plug.  We find it equally impressive that the Insight earns a Top Safety Pick "Plus" award from the IIHS AND a 5-star overall rating from the NHTSA.  More impressive is that it gets the top results of Good/Superior in ALL nine IIHS crash test and safety ratings and a 5-star result in ALL eight NHTSA safety evaluations as well.  That accomplishment is matched by only a handful of vehicles at any price.  Most impressive is that ALL these top ratings apply to ALL Insights in ALL trim levels.  That's a rarity among vehicles, I believe the only one for 2019 at the time of this publication including luxury models!  That's mainly because many other models with top crash test results only earn an IIHS award on top trim levels that have the best headlight system and/or a tech options package with automatic emergency braking.
For kids, the Insight is still a small vehicle and like all compact SUVs and sedans, it's relatively narrow and that compromises what you can put in the narrow middle seat.  While the outboard rear seats are fairly friendly to car seats in general, there will be challenges if you need to put two carseats next to each other or three-across.  The only unusual issue is the presence of fixed rear head restraints.  These protrude forward enough that they could be problematic for some taller forward-facing carseats and high back boosters, so you do need to check your carseat owner's manual if the head restraint pushes your carseat forward or prevents the carseat from being adjusted high enough.  Some models I installed like the Graco Nautilus SnugLock and Britax Frontier did not have this issue.  The Frontier, however, can be difficult to adjust to the tallest height setting due to the roof.  Also, with the raised seat hump and slightly lower head restraint, taller passengers may not get adequate protection from whiplash in the center seat.  Headroom is already limited, so taller people may not be comfortable in the middle anyway.  On the other hand, Insight has a few inches more rear legroom than its competitors, handy not only for adults but also for rear-facing carseats.