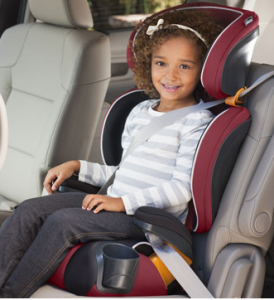 Here at CarseatBlog we know our demographic and they're mostly moms, moms-to-be, nannies & child care providers and the occasional Mr. Mom. We're cool with that because we're moms (and Mr. Moms) too! We know where you've been and where you're going. And we also know that EVERYONE can use a Chicco KidFit Booster. Even if your own kids are too young, too little or waaaaay too immature to ride in a booster right now – we trust that you can find a good home, or a good use, for a KidFit!
Therefore, in celebration of Mother's Day, we've partnered with our generous friends at Chicco USA to give away one Chicco KidFit Booster in the "Paprika" (red/black) fashion.
This promotion is now closed. Thank you for participating – a winner will be announced soon!
KidFit Specs & Features:
Highback Mode: 30-100 lbs.; 38-57" tall; at least 4 years old and can sit relatively still and properly in a seatbelt at all times
Backless Mode: 40-110 lbs. and all other requirements listed for highback mode
10 height positions
Lower LATCH anchor attachments
2-position backrest to match vehicle seat position/contour
Headrest fully lined with thick EPS foam
Dual cupholders made of flexible rubber material
Unique shoulder belt guide design
For all the KidFit details check out our complete review:
To enter, leave us a comment below and say something nice about yourself! Then click on Rafflecopter to qualify yourself. Yup, that's it. You don't need to be someone's mother and your comment doesn't have to be mom-related (although it can be if you want it to). Just say something nice about yourself. Hopefully that won't be too hard or require too much thought. Lol!