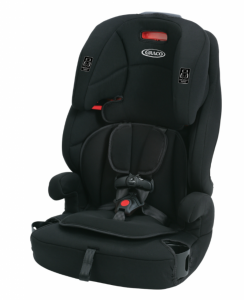 My son, like most four year olds, had a few specific items he wished for Christmas this past year.  But unlike most four-year olds, he was pleased with his gift of a new 3-in-1 combination carseat, the Graco Tranzitions!
Carseats are not a regular gift given in our home, but it seemed appropriate this year for a few reasons. For one, his convertible car seat was going to be passed down to his little sister. Secondly, he needed a very narrow seat when a new baby brother boots him to the 3rd row between his two older booster-using brothers. And so, on Christmas morning, my four year was correct when he guessed that the oddly wrapped, chair-shaped package with his name on it was, in fact, a new car seat! Luckily, upon opening this unconventional and totally practical gift, the sleek all-black design, TWO cupholders and extra padding did not disappoint him!
Tranzitions Weight & Height Limits:
Forward-facing with 5-pt harness: 22-65 lbs.

Highback Booster: 30-100 lbs.

Backless Booster: 40-100 lbs.
Features:
No-rethread harness with 8 height positions

Dual cup holders (outer plastic portion can be dismantled if space is more important than a functioning cupholder)

Machine washable cover

Optional body cushion and harness covers

Open loop shoulder belt guide for high-back booster mode

Lifespan is 7 years from date of manufacture