All Vivas/Viva Supremes have been recalled.  Please see their website for more information.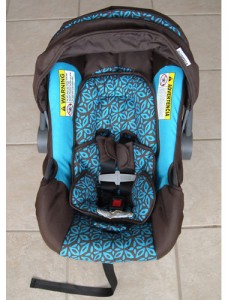 The Viva Supreme is the latest infant seat from Mia Moda. It is rated for infants who weigh between 4 and 22 pounds and are less than 29 inches. It replaced the now discontinued Viva (model 5070). Changes to the Viva Supreme (model 5080) include an additional lower set of harness slots, a full body insert, a larger sun canopy, a smaller chest clip and a different buckle.
The Viva Supreme is relatively tall, narrow, and light for an infant carrier with a base. The back of the shell measures 19.5″ and has four harness slots at 6.75″, 8.5″, 10.25″ and 12″. The crotch buckle is 4″ from the back of the shell. The overall width is just under 17″ and the seatpan depth is 11″. The carrier weighs 7.2 lbs.