Way back in 1996, when Unabomber Ted Kaczynski was arrested and Braveheart won the Academy Award, we bought our RAV4. We were so excited about the new model coming out that dh and I actually had to go to a city 9 hours away to get it and drive it home because it wasn't available yet in our city and surrounding area. When the opportunity came about for me to review a 2011 RAV4, I jumped on it. Even though I just bought another SUV in January, would I want to trade it in for a new RAV?
OK, I just can't wait to tell you about it. I had so much fun driving the RAV while I had it! It's small enough that you can park it in tight spots, yet has enough cargo space to really carry the stuff you need to haul. I had a V-6 and it had so much pickup at red lights that I was leaving others in the dust without realizing it (and yes, I did enjoy being the butthead who zoomed past you 😉 ). Hey, I had to test the engine!
How does the RAV4 come?
As with all other Toyotas, the RAV comes with lots of options and packages from which to choose based on which engine you put in the vehicle. For the RAV4, Toyota uses a 2.5 L 16-valve 4-Cyl. with 179 hp and a 3.5 L 24-valve V6 with 269 horses. For a quick comparison to the Venza I just tested, the Venza V6 had 268 hp and was 485 lbs. heavier. That's like having an extra 3 people in the back seat who weigh 160 lbs. each! Talk about making the RAV feel so much more vroomy!
Mileage depends upon which engine, of course, and if your vehicle is 2WD or 4WD:
| | | |
| --- | --- | --- |
|   | 2WD | 4WD |
| 2.5 L 4-Cyl | 22 city/28 highway | 21 city/27 highway |
| 3.5 L 6-Cyl | 19/27 | 19/26 |
I drove a Blizzard Pearl 2WD V6 with Premium Plus Value Package (leather seats, heated front seats, 8-way power adjusted driver's seat, Smart Key with push button start, backup camera, moonroof, JBL 6-disc CD changer with MP3/WMA playback capability, XM Radio, and 9 speakers), and tow package. Final sticker price was $30,179.
What does a base model give you? Cloth seats in a sporty pattern, 16" steel wheels, AM/FM CD player with MP3/WMA playback capability, 6 speakers, XM radio compatible, auxiliary audio jack, two front and one cargo area 12V power outlets, and dual glove compartments.  It comes well-equipped and runs on unleaded gas.
Safety Features
Star Safety System: Standard on every RAV4 is a combination of five features that help you control the car in difficult driving conditions.  1. Vehicle Stability Control counteracts wheelslip during turns, 2. Anti-lock Brake System avoids wheel lockup during hard braking or slippery conditions, 3. Electronic Brake-force Distribution optimizes the amount of braking force sent to each wheel during braking, 4. Brake Assist, which aids the driver in braking, and 5. Smart Stop Technology, which reduces engine power only when both the brake and gas pedals are applied at the same time.
Airbags: It has airbags everywhere.  There are roll-sensing curtain airbags all around, torso airbags for the front seats.
Seat belt pretensioners: The seat belt pretensioners are for the front seats only.
Backup camera: The backup camera is, well, I'm glad it's included, but, eh.  The screen is part of the rear-view mirror and it's not especially bright, so I found it difficult to see objects behind the car in the daytime. The camera also seemed to be aimed oddly low, so in parking lots where I was trying to see out and behind the vehicle as I backed up, I was seeing more ground than anything. It's great for seeing tots and their gear directly behind the car.
Active head restraints: The head restraints on the front seats are active, which means that in a crash, they will move forward and up to reduce your chance of whiplash.
NHTSA 5-Star crash test ratings
FWD and AWD: 3 frontal, 4 side, 4 rollover
The male driver scored a 4 star and the female passenger scored a 2 star, which is not the greatest, but not horrible. Toyota seems to have a problem getting the front passenger female dummy to pass with more than 2 stars on this test on several vehicles, such as the Venza, the Camry, and the Sienna. So, if you're around 108 lbs. and 59" tall, think about sitting in the back seat ;). For an explanation of the new 5-Star crash test rating system, see Kecia's excellent blog about it from October 2010.
G for frontal offset, side impact
A for rollover
Rear crash protection/head restraint: G for overall rating, dynamic rating, and seat/head restraint geometry
The Acceptable rating for rollover risk kept the RAV4 from earning the Institute's Top Safety Pick 2011 designation.
Niceties
Two 2 two glove compartments! One big one to store big things (or a lot of little things—whatever floats your boat) and a smaller one above that opens with the push of a button to store things like documents.
Keyless entry with push-button start: Simply have the key in your pocket and pull on the driver's door handle to unlock the car.  Push the start button and the car starts.  Nice!  Uh, don't forget to lock it when you get out.  I finally got the hang of locking the car this second time around. Heh. Yes, you only get it on the Limited trim line.
Large, easy-to-read gauges: I love Toyota gauges. They're easy-to-read and well laid out.
Heated seats: The optional heated front seats are controlled with a button—they're on or off, but your bum's warm and who doesn't like a warm bum?
Option for 7 seats: the RAV4 seats 5 standard, but it does have an optional 3rd row to seat 7. If you choose the 3rd row option, it looks like you lose all cargo space if the row is up (see pic; the RAV I drove had 5 seats). According to the brochure, you're left with 12.3" of room behind the 3rd row.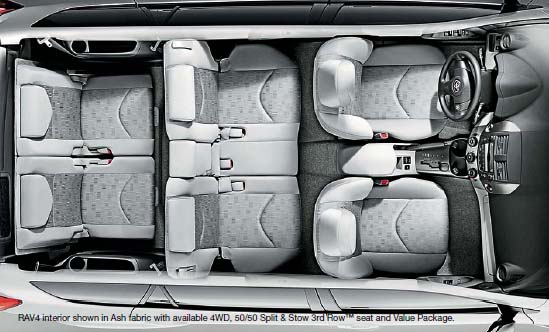 Ample cargo room: If you don't have the 3rd row! 37.2" of space behind the 2nd row, which equals out to be 36.4 cu. ft. if you're hauling kids. If you're not hauling the kiddos and have the 2nd row down, you've got 73" of space and 73 cu. ft. of cargo space. There's also a couple of cubbies under the main floor of the cargo area where the tonneau cover is stored (if you bought it) or other things. I used one for groceries one night. I can only tell you stories of what dh and I jammed in our 4-door '96 RAV4 and it was smaller than the new ones, lol. Aye yi yi!
Driving Experience
As I mentioned earlier, this was a very fun V6 to drive. It's a lighter SUV so that V6 takes you places fast. I found a little lag on the highway as I went to pass, but it wasn't exaggerated, probably because of the lightness of the RAV and the burliness of the engine. Now that I'm back in my big ol' mid-size SUV, I feel like I'm driving a tank, lol, even though I bought it specifically because it felt small as I drove it. Visibility is great and I didn't have a problem with blind spots.
The driver's seat was comfortable, but my poor 6'5" dh was more than cramped on the passenger side. He was downright uncomfortable and dare I say unsafe because he was too big (or the space was too small) for him. When I had him sit in the driver's seat, however, he said he had plenty of room and was comfortable. Interestingly, the passenger's seat moved back farther than the driver's seat. There's plenty of room for your feet in the back seat as well. I sat in the back and was quite comfortable and the kids had lots of push and shove room in the drop-off lane at school. The RAV is at the perfect height for getting out: turn and your feet are on the ground. Not so high that you slide down and not so low that you have to push yourself up.
The steering on the RAV4 is great—not too taut and not too loose. It has a tight turning circle and passed with flying colors when I put it to the test at my local Whole Foods parking lot. This lot has small parking spaces, but to make up for it, the aisles are narrow.
One thing I'm surprised Toyota has kept in the design of the RAV is the rear door. It swings open with the hinges on the right side. Huh? So if you're parallel parked on the right side of the road ('cause we drive on the right side of the road here in the U.S.), then your access to the sidewalk is completely blocked if you have the rear door open [scratches head]. I think they could have kept the cavernous, knee-level opening the same if they'd had a door that opened up with hydraulics like most SUVs. Things that make you go "hmmmmm."
Child Passenger Safety Techs Do Their Best Work in the Back Seat (Hey, I like this heading so I'm going to keep it!)
Where should I start? Yes, carseats do fit in the back of a RAV4! Yay! And it has LATCH in the 2 outboard positions plus an additional tether anchor in the center seating position. But you already knew that because that's a federal requirement ;).
I think you can do a 3-across in the RAV. There's nothing prohibiting it in the owner's manual, but I didn't have access to carseats this time that would allow me to try. I was working with a Clek Olli, Harmony Literider, Britax Advocate 70 CS, and Cosco Scenera.
Let's get down to business. What in the world were you thinking, Toyota, when you designed the center seatbelt geometry? It's enough to scare the uninitiated away! Seriously, go back to the drawing board and start over. I will give it the official CarseatBlog.com FAIL.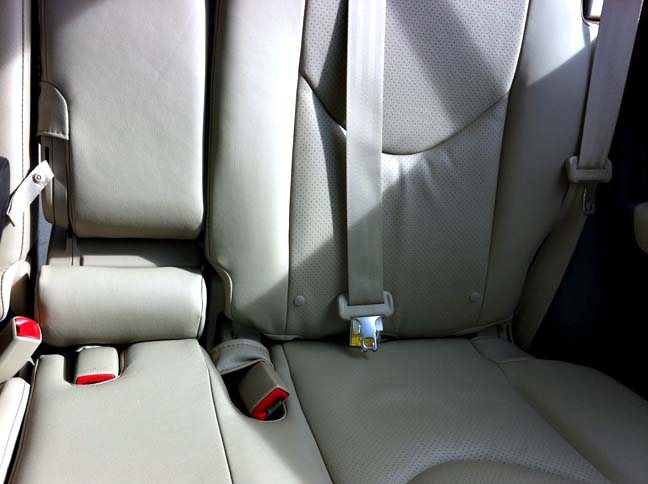 I was able to get 2 carseats installed side-by-side, center and driver's side, with that whacked-out center seatbelt anchor, so it didn't impede *my* installs. But, as I said, someone may look at it and automatically think it won't work because the belt overlaps with another seating position and they just need to try it out before dismissing it outright. I asked my ds how it felt comfort-wise having the seatbelt anchored behind him and he said he felt it, but it wasn't terribly uncomfortable. I didn't notice it when I sat in that position, but I was wearing jeans and the seam may have kept me from feeling it.
Center seat installs were no difficult than any other installs. Can't use LATCH in the center—Toyota doesn't allow borrowing of the inside lower LATCH anchors from the outside seating positions and the back seat isn't big enough to have 3 full sets of LATCH. One thing to note for the center seating position is that the tether anchor is in the ceiling near the rear door. The tether anchors for the outboard seating positions is on the back of the seats, down low—you'll need to feel for them, recline the seat forward, or move the seat forward on the track to see the tether anchors.
If you have a rear-facing seat that tethers, such as a Britax, Sunshine Kids, or Combi Coccoro convertible, you won't have any trouble finding a spot to wrap that tether connector strap (aka D-ring). If you have one of the new D-rings, it will be long enough to wrap around either of the front seat legs without having to remove the plastic. I tried to remove the plastic from the passenger side leg and it was on very snugly, so I gave up for fear of breaking it off—not my car, don't wanna break it! 😉
Entertain Them.  Not.
Unfortunately, the RAV4 does not come with a built-in DVD entertainment system. I know! Can you believe it? What will the children do in the absence of a DVD playing in their faces during trips to the grocery store? Well, they might learn the way to the grocery store . . .
Final Word
If I had been looking for a small SUV that only seated 5, the RAV4 would have been at the top of my list. Alas, the safety ratings are pretty dismal. Perhaps after the next redesign they'll be better? One can hope. But dang, it's a really fun SUV to drive and it still does have a lot of safety features including the STAR system and the airbags all around. One part of vehicle safety to consider is crash avoidance and with the STAR system plus the good visibility and easy driving the RAV has, I feel that has to be taken into consideration as well. Call me biased, but I do try to be fair and present the facts. It is a bummer that in order to have hands-free Bluetooth phone capability, you have to purchase a package that only comes on the Limited trim line. Considering that in some states, hands-free phone use in the vehicle is the law now, it'd be nice to have it available in all trim lines, especially since it's safer to have both hands on the wheel (actually, it's safer to not be on the phone at all!). Still, the RAV4 is one of the most popular small SUVs on the road, so Toyota must be doing something right. I think it all goes back to it being a blast to drive . . .
You can learn more about the RAV4 at the Toyota website and download brochures as well.
Our SUV was supplied to us by the Walker Agency, courtesy of  Toyota USA.