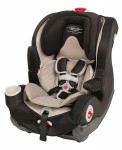 The Graco Smart Seat is a unique All-In-One (Rear-facing, forward-facing, booster) seat that takes the stay-in-car base concept, typically only found on infant seats, to the next level.
MSRP is $299 but it frequently goes on sale for considerably less.
Smart Seat Features:
Stay-In-Car Smart Base –  Similar to an infant carseat design, the Smart Seat utilizes a unique, heavy-duty base that installs with either lower LATCH anchors or seatbelt.  An extra base can also be purchased separately.  The sturdy, built-in lockoff device is only used for seatbelt installations.  The lower LATCH connectors are the hook-style but these aren't the standard hook connectors that you normally see.  These are clearly heavy-duty connectors.  The seat is locked onto the base in either the rear or forward-facing position.  If the seat is going to be used in the forward-facing position – you need to attach the top tether strap (which is on the back of the seat – not on the base), to the appropriate top tether anchor in your vehicle.  You do not need to uninstall the base when switching from rear-facing to forward-facing or vice versa.  You only need to unlock the seat from its base, switch the orientation, and lock it in again.  Just don't forget the tether if you are using the seat forward-facing!   
Indicators on the seat's base will turn from YELLOW – indicating that it is NOT locked – to GRAY when it is.  There is an additional fool-proof indicator on the seat itself that Graco appropriately calls "Red Flags".  The Red Flags are 2 plastic levers that pop up into the seating area when the seat isn't locked into the base.  This neat feature makes it nearly impossible to ignore the fact that it isn't locked.  Good thinking, Graco!
Though the base is wide overall, the beltpath is relatively narrow which should help compatibility in various vehicles and seating positions.
Additional Smart Seat Features:
Simple, easy, one-hand harness height adjustment
6 height positions (bottom 3 for rear-facing only, top 4 positions for forward-facing only, 3rd position from bottom can be used for rf or ff)
Rear-facing liquid bubble level indicator
5 recline positions (but there are specific positions that can or must be used depending on the circumstances)
Infant insert (optional, but only for rear-facing use)
Single, integrated cup holder on right side of seat
Smooth-bottom base shouldn't damage vehicle upholstery
Flip-up armrests
10 year lifespan from date of manufacture
Smart Seat Specs:
Rear-facing 5-40 lbs (use the appropriate recline position to achieve the recommended recline angle) *See notes on lower LATCH anchor weight limits
Forward-facing 20-65 lbs (20-39 lbs may use any recline position, 40-65 lbs seat must be fully upright)*See notes on lower LATCH anchor weight limits
Highback Booster 30-100 lbs (base must be removed, there are no recline options) 
Measurements:
Weight (according to my digital bathroom scale):  base 10.8 lbs, seat 23.2 lbs, combined weight 34 lbs
Harness Slot Heights (6 positions)
Rear-facing positions (with cushion insert):  8.5″, 10″, 11 1/2″
Forward facing positions (without insert):  14″, 16″, 18″
Crotch strap positions:  4 1/4″ and 5 1/2″
Crotch strap length:  6″ to top of buckle (same as MyRide with original Graco buckle)
Belt guide heights in booster mode:  lowest 14″, highest 19″
Usage Modes & Installation Comments: 
Rear Facing –  5 to 40 pounds.  Seat may be used rear-facing until the top of the child's head is 1″ below the top of the adjustable head support in the highest allowable height position (3rd from the bottom).  You can use any of the 3 lowest headrest positions when rear-facing, just make sure you use the appropriate position to situate the harness slightly below the child's shoulders.  The highest height position allowed for rear-facing use extends the headrest beyond the top of the shell by about 3 inches.  This additional height room will help to accommodate taller children (who are still under the 40 lb weight limit) in the rear-facing position but it's still likely that most kids will outgrow the rear-facing position by height before weight.  Harness pads are required for rear-facing usage.  The infant insert is optional but using it will help align the child's head and body better and should reduce or eliminate head slump.
Rear-facing lower LATCH anchor weight limits – Due to the weight of this product, all Smart Seat models made after February 27, 2014 have a 30 lbs. limit for installing the seat using the lower anchors in your vehicle. Once your child hits 30 lbs. you must switch to a seatbelt installation.
Here are some pics of Lilypadmom's DD2 (9 mos, 17 lbs, 26″ overall height, approximately 17.5″ total seated height) in the Smart Seat with the insert:
With Huggable Images newborn doll with (and without – just for reference) harness pads that are REQUIRED for rear-facing usage:
Rear-facing installation in a 2005 Ford Freestar:
Even though I have LATCH in the captain's chairs of my minivan, it was actually easier to install the Smart Seat base with seatbelt.  Due to the stiff leather upholstery in my vehicle (that also surrounds my lower anchors), it was difficult to attach and remove the heavy-duty, hook-style connectors.  By comparison, seatbelt install was quick and easy.  Just be aware that you may need to install the plastic LATCH storage compartment if it comes loose in the box like mine did.
As you can see in the pics, with the Smart Seat in the appropriate recline position (as per the bubble level indicator), it took up a considerable amount of room, even in my spacious minivan with the captain's chair pushed back as far as it would go.  For reference, I could not position my driver's seat all the way back (or even most of the way back) but I was able to get it back far enough to drive comfortably.  However, I'm only 5'4″ so take that for what it's worth.  Truthfully, it's unlikely that a tall person could drive comfortably with this seat placed in the rear-facing position directly behind them – even in a minivan or SUV.
Comparison photos showing both the Smart Seat and the Graco MyRide convertible installed in the rear-facing position.  The captain's chair and the front driver's seat were not moved so it should be a true comparison of how much space both seats take up in the same seating position.  Both seats were installed with the recline angle indicator showing a proper recline.  The MyRide was indicating a more slightly upright install but the ball in the indicator was still in the correct angle range.
Forward facing with harness – for kids over 1 year old, 20 to 65 pounds and up to 50″ tall.  While many kids will outgrow the harness by height before reaching the 65 lb weight limit, the 18″ top slots on this seat should get the vast majority of kids to the point to where they can be seated safely in booster mode.  Tethering the Smart Seat in the forward-facing position is highly recommend but it isn't mandatory if your vehicle (or seating position) doesn't have tether anchors.  However, if your vehicle has the lower LATCH anchors in the seating position you are using, then it will have a corresponding top tether anchor.  And if you have a tether anchor, you really want to find it and use it.  Look in your vehicle's owners manual if you're having trouble locating the top tether anchor.
Both kids pictured below are over 40 lbs so the seat has been placed in the fully upright position (recline #1) and the harness pads have been removed.  The insert cushion was also removed since it's only an option for rear-facing kids.
Forward-facing LATCH anchor weight limits – Due to the weight of this product, all Smart Seat models made after February 27, 2014 have a 30 lbs. limit for installing the seat using the lower anchors in your vehicle. Once your child hits 30 lbs. you must switch to a seatbelt installation and continue to use the tether for additional crash protection.
Lilypadmom's DD1:  5 years old, 41 lbs, 45″ tall:
My DS2:  6.5 years old, 52 lbs, 48″ tall (close to the stated height limit of 50″)
Forward-Facing Installation in 2005 Ford Freestar –As noted in the rear-facing install comments, I experienced some difficulty attaching and detaching the heavy-duty, hook-style lower LATCH connectors to the lower anchors in my vehicle. But hopefully this is more of a vehicle-specific problem. Another potential issue that I ran into when installing the Smart Seat in my Freestar was that the base would cease to be properly installed once the heavy seat was added.  This happened more than once so I know it wasn't a fluke.  I started out with a base that was properly installed, meaning that it was tight and did not move more than 1″ from side-to-side or front-to-back.  However, once the seat was placed on the base, I could move the entire system (seat + base) more than 1″ from side-to-side.  It appeared to me that the substantial weight of the seat compressed the base into the vehicle's seat cushion enough to loosen the base to the point where it did not meet the "1" rule" anymore.  This forced me to remove the seat from the base, reinstall the base to try to get it "old-school tight" (meaning get every last possible millimeter of slack out of the seatbelt by applying all your weight and using all your strength).  In this case, that did the trick but I hope this won't be a common issue.  Just keep this tidbit of info in mind when you're checking for proper installation with this seat.
Installation in 2000 Honda Accord – Just for fun, I did try to install the Smart Seat rear-facing in this vehicle but as anticipated, it didn't fit easily.  Technically it did fit RF but with the Smart Seat installed behind the driver, I had to squeeze myself into the driver's seat and I felt like my dearly-departed grandmother who always drove with her seat all the way forward and her face 6″ from the steering wheel.  Additionally, there wasn't enough room between the front seats for the Smart Seat to fit RF in the rear center seating position (you need about 17″ of space between the front seats and I didn't have anywhere near that), so putting it RF in the center of the backseat would have meant that BOTH front seats would have to be pushed most of the way forward and obviously that's not an ideal situation.  Really, it could work RF if placed in the rear outboard passenger's side – just be aware that the front passenger's seat would have to be moved most of the way forward which would render that position unusable (or at the very least uncomfortable), for most adults.  Making the seat more upright didn't help at all.  In this vehicle, having the Smart Seat positioned more upright than recommended in the RF position actually required even more space than when it was properly reclined as per the level indicator.  Hard to believe, I know – but it's true.
Forward-facing installation in this vehicle was much more realistic but I did observe that when the Smart Seat headrest was in its highest position –  it almost completely blocked the rear view on that side.  Here are pics showing how tall it is when on the base in the highest height setting compared with the original Frontier 80 that was already installed on the other side.
Highback Booster Mode – 30 to 100 lbs, 38-57″ tall, approximately 3-10 years of age (with a recommendation in the instruction manual encouraging the use of the 5-pt harness for children between 30-65 lbs for as long as possible).  In booster mode the base MUST be removed and the harness straps must be stored in the designated storage compartment under the cover.
5 years old, 41 lbs, 45″ tall:  Good belt fit in this seating position!
6.5 years old, 52 lbs, 48″ tall:  Again, good belt fit in this seating position!
Inflatable Seat Belts
Graco has determined that the Smart Seat CAN be installed with inflatable seat belts found in some Ford Motor Company vehicles. Other types of inflatable seat belts are still incompatible for use with the Smart Seat.
If you must install with an inflatable seat belt, do NOT use the built-in lockoff. There are no issues when using the seat as a belt-positioning booster.
Smart Seat Advantages:
Harness adjuster earns the official carseatblog "smooth like butter" designation (translation – it's super easy to tighten and loosen the harness straps).
Easy to move headrest to different height positions.
"Red Flag" levers that are impossible to ignore protrude into the child's seating area if the seat isn't locked into the base properly. This makes that particular misuse highly unlikely.
Easy seatbelt install with sturdy lock-off device.
Center LATCH installs with non-standard spacing are allowed if your vehicle specifically allows it.
Multiple recline positions can be used for forward-facing children who weigh between 20-39 lbs.  After 40 lbs, you must use the fully upright position (recline position #1).
When rear-facing any recline position (1-5) may be used although Graco states to only use the position(s) within the specified recline range as indicated on the bubble level indicator.  However, theoretically speaking, parents can always chose <cough> to make the parental decision to use the seat in a more upright rear-facing position for their older, rear-facing children <cough>.  Just don't expect to gain any additional front seat space by doing this.
Cover is machine washable (cold water, delicate cycle, air dry).
Smart Seat Disadvantages:
Heavy and bulky are understatements. Comparatively speaking – it's a Radian plus a Keyfit carrier.  Just the seat (without the base) is comparative to the weight of a Radian.
LATCH weight limit of 30 lbs. (once your child weighs more than 30 lbs. you must switch to seatbelt install)
Takes up a LOT of room when installed rear-facing.
Harness strap covers are unusually stiff and bulky. They are also required for rear-facing use which may be an issue if your rear-facing child is bothered by them.  Additionally, they are required to be removed once the child weighs more than 40 lbs.
Difficult to attach seat to base.  It's a combination of factors that includes the weight and mass of the seat, hoisting it onto the base, getting it lined up correctly on the base so it clicks in and then turning the stiff knobs to lock in it.  Even after multiple installs, I still can't seem to get it right on the first try. I dunno, maybe I'm just a spazz.  However, I did figure out that if you press down on the protruding red flags – that locks the seat into the base and it's easier to do it that way (at least for me).
Can be difficult to load and unload a rear-facing child due to the fixed armrests.
Headrest design may push a child's head forward when in the forward-facing position or in booster mode. Not a safety concern but it could be a comfort issue for some children (and for parents who hate to see head-slump when their kid falls asleep).
Cannot be used in aircraft in any mode (NOT FAA approved).
Larger-than-average, heavy-duty LATCH hooks may be difficult to attach and detach from the lower anchor bar (seatbelt installation might be easier in some vehicles).
Lock-off device may be difficult to open once it's been clamped shut.
The weight of the seat can affect how tightly the base is installed. A seemingly tight base may move more than 1″ once the seat is attached, which forces you to remove the seat and reinstall the base in an attempt to get it even tighter.
Summary:  The Graco Smart Seat retails for around $299 and is a great concept. As with any seat, the Smart Seat has pros and cons that should be considered before deciding if this CR will be right for your situation.  I love the 40 lb rear-facing weight limit and the ability to use the seat in the rear-facing position with the headrest extended slightly beyond the shell.  I also appreciate the 65 lb forward-facing weight limit and the tall top harness slots that should allow most children to use the harness until they are old enough and mature enough (generally over 5 years old) to use the seat in booster mode.  From my limited experience with 2 different kids, it appears that the Smart Seat in booster mode will provide good belt fit for many children.  The weight, mass and amount of room the Smart Seat requires in the rear-facing position are likely to be the big deterrents for parents but overall, I'm happy to welcome this new-comer to the market.
Thank you to Graco for providing the sample used in this review.