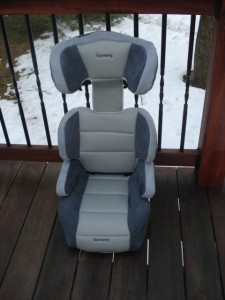 This is a quick review of the Dreamtime Deluxe highback booster from Harmony Juvenile Products.  This particular model has a grey mesh and soft microfiber suede cover.  
The Harmony Dreamtime Deluxe booster is rated for children who weigh between 30-110 lbs and who are 34-57″ tall.  It's currently the only designated IIHS "Best Bet" Booster in both highback and backless modes according to the latest round of booster fit testing.  
I think it's important to point out that according to the AAP (American Academy of Pediatrics) children under 40 lbs are best protected by a child restraint with a 5-point harness.  Highback boosters, in general, are most appropriate for children over 4 years old, who weigh more than 40 lbs and are mature enough to sit properly in a booster for the entire ride, every ride.  With that said, there are some children who are both old enough and mature enough to use a booster but who are very thin.  The lower weight minimum on this seat may be a benefit for those children.  The perfect example of this would be my oldest son who didn't hit 40 lbs until he was 5.5 years old but was capable of sitting properly in a booster (at least for short trips or when carpooling) before then.  I just don't want anyone reading this review to consider putting their 2 year old, 34″, 30 lb child in this, or any other, booster seat.
First impressions…
The Dreamtime looks cool and comfortable!  The padded cover on this particular model is a combination of breathable mesh fabric and a soft microfiber suede.  The two retractable cupholders immediately caught the attention of my 5 year old.  The headwings are deep enough to support a sleepy head well and the depth (for older kids with longer legs) is nothing short of amazing!  Actually, the depth might be too much for smaller kids which is something I'll address under potential disadvantages later in this review.
Advantages:
Good belt fit on my 5.5 year old DS who weighs 48 lbs and is 46″ tall
Adequate head support for sleeping 
7-position back height adjustment
Converts to backless booster (back portion removable)
Narrow – tends to fit well in narrow seating positions and next to other carseats 
Cover is comfortable & well padded
Cover has snaps and is easy to remove and reattach 
Retractable cupholders on each side
2 recline positions (upright & reclined), but only intended to match recline of the vehicle seat – back of booster must be flush against back of vehicle seat 
Dual English/Spanish manual is clear and well-written  
Rated up to 110 lbs
Deep enough to provide optimal leg support for tweens who don't yet pass the 5-Step Test  
Affordable 
Disadvantages:
No EPS/EPP foam
The back portion is narrow and may be too confining for older kids or kids with broad shoulders.  
Depth may be too great for younger/smaller children   
Overall, I'm pleased and impressed with the Harmony Dreamtime Deluxe Comfort booster.  For around $50, it's an excellent value and a welcome addition to a segment of the booster market that has been largely ignored lately.  When adjusted to the tallest position – it measures 19″ to the opening in shoulder belt guide.  This is similar to the top height of the Turbo booster.  Truthfully, some of the Dreamtime's advantages are also disadvantages.  The depth of this booster is absolutely fantastic for long-legged tweens but may actually promote slumping and sub-optimal belt fit with smaller children.  My 5.5 year old DS wears a size 6 pants but he still could not sit all the way back in this booster.  When seated (and encouraged to sit all the way back), there was a gap of several inches between his rear and the back of the booster.  To be fair, the lap portion of the lap/shoulder belt in my vehicle still fit him relatively well despite his inability to sit all the way back – however, I'm a little concerned that might not be the case with a smaller child with shorter legs.   On the flip side,  I tried my 5′ tall, 90 lb, almost 13 year old DS in the seat with the back portion removed and I was stunned at how well it supported his long legs.  He doesn't need a booster to fit well in the adult seatbelt in our vehicles now but he
humored me by sitting in the Dreamtime and giving me his opinion. I also had him try several other popular backless boosters that I had lying around at that moment.  For the record, he quickly declared the Dreamtime to be the "most comfortable" of them all.  
Stay tuned for more on the Harmony Dreamtime Deluxe Booster including comparisons to other similarly-priced highback boosters.