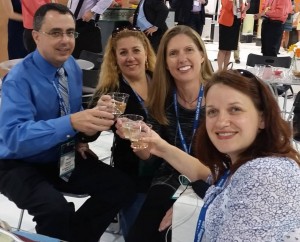 This summer marks a full decade of CarseatBlog.com! We can hardly believe it. In some ways, it seems like not so long ago that we began writing about carseats, child passenger safety, and vehicle safety. In other ways, it feels like we've been doing this for eternity. Lol. Along the way we've shared a lot of laughs, made amazing friends, written over 1,500 blog posts and reviewed over 120 carseats and boosters!
Whether you're new to CarseatBlog.com or have been with us since the start in 2008 – we'd like to share our celebration (and our cupcakes) with you! You are the reason we're still here 10 years later, still blogging away, always looking for ways to improve our content and better serve our readers.
The Child Passenger Safety field is evolving at warp speed and we can't wait to see all the incredible advances in safety, technology, and innovation that the next 10 years are going to bring. We hope you stick around and enjoy the ride with us!
During the next 10 weeks, we're celebrating by giving away some awesome carseats, so stay tuned! Each week will feature a new giveaway promotion and your odds of winning something are pretty darn good. Consider it a personal "thank you" from Darren, Heather, Kecia, Jennie, Alicia, Katie and all of our guest bloggers at CarseatBlog!
To launch our 10-Year Blogiversary Celebration, we've partnered with our generous sponsor, Evenflo, to give away their fabulous new All-in-One carseat, EveryStage DLX! Check out our EveryStage DLX Preview with videos from the JPMA show to better understand some of the innovative new features of this seat.
This promotion has ended. Congratulations to the winner, Lainie from AL!
Evenflo EveryStage DLX All-in-One Specs
Rear-facing: 4-50 lbs., 17-48″
Forward-facing: 22-65 lbs., 28-49″, at least 2 years old
Booster mode: 40-120 lbs; 44″-57″, at least 4 years old
EveryStage DLX Features
All-in-One seat provides a safe and secure ride for 10 years of use
Rear-facing to 50 lbs: adjusts to multiple positions, allowing your child to stay rear-facing beyond 2 years without extending the seat or taking up more space in the backseat
Optimized for newborn fit: innovative in-seat recline feature provides enhanced support and optimally reclines baby to minimize head slump and maintain an open airway
10-position headrest with no-rethread harness
5-position base to fit your vehicle and keep your growing child comfortable
EasyClick™ LATCH installation system easily ratchets to achieve a 3X tighter, rock-solid installation
Side-impact and rollover tested
Energy-absorbing base with steel-reinforced frame
Energy-absorbing EPS foam in the headrest
Integrated harness storage for storing straps in booster mode
Machine-washable cover
Dual dishwasher-safe cup holders
FAA-approved for use in airplanes (with harness)
Made in USA! (Piqua, OH)
How to Enter Evenflo EveryStage DLX Giveaway:
Leave us a comment below (required to be eligible to win), then click on Rafflecopter to qualify yourself. 
For extra entries, be sure to follow the Rafflecopter instructions to like and follow our Facebook page, like and follow Evenflo's Facebook page and tweet about the giveaway!
Now for the fine print –  winner must have a USA shipping address to claim the prizes. Only one prize in the Canyons fashion will be awarded to one winner. Only one entry per household/family, please. If you leave more than one comment, only the first one will count. We reserve the right to deem any entry as ineligible for any reason, though this would normally only be done in the case of a violation of the spirit of the rules above. We also reserve the right to edit/update the rules for any reason. The contest will close on Sunday, August 5, 2018, at 10 PM Eastern Time and one random winner will be chosen shortly thereafter. If a winner is deemed ineligible based on shipping restrictions or other issues or does not respond to accept the prize within 7 days, a new winner will be selected.
Please note: If this is your first comment at CarseatBlog, or if you are using a different computer/device or a new email address, your comment may not appear immediately. If you are in the US or Canada, your comment is not lost; it just goes into a moderated queue where it has to be manually approved by one of us. This may take a few hours depending on our availability. If you are outside of the US or Canada, your comment may be blocked by our system. Thank you for understanding, as this is the only way we have to manage spam comments.
Good luck!