In my last blog entry, I begged the CR manufacturers to design some new, slimmer  seats and to consider bringing back some of the older designs that worked so well for us in the past.  Many of you responded, supporting this request.  And quite a few people mentioned the old Fisher Price seats.  The "real" FP seats.    
I spent some time last night reminiscing about the old FP seats and how much I loved them.  I'm not talking about the old, OLD FP seats like the T-shield ones that we jokingly refer to as the "Felony Fisher-Price Seat" around here because of all the recalls on them.  I don't think anyone misses those seats.  LOL!  I'm talking about the ones made from about 1998 until the demise of the whole FP carseat line in 2002.  They obviously had some brilliant people working in that dept during those years because all the models they turned out during that time were truly innovative and  progressive.  These seats weren't perfect but they were head and shoulders above what most of the other manufacturers were producing in the late 90's.  
I remember how excited we all were for a brief moment when we heard that Britax was going to be making FP seats again!  Then the letdown when we discovered what that meant.  Don't get me wrong – I'm grateful for the FP/Britax product line even though it didn't last too long.  It just wasn't what we had hoped for.  
Unfortunately, the reason we won't be seeing any of those FP designs again anytime soon is that FP patented them.  I don't know how much longer the patent protection is going to last but until it expires – don't expect to see any infant seats with little shatter-proof mirrors built into the anti-rebound portion of the base.  Or any infant seat with a long, soft carry strap like the SIV had.    
I think it's a total waste, not to mention a crying shame for FP to hold onto those patents if they have no plans to re-enter the market.   Many of these designs could still be  popular today with a little tweaking.  Let's recap the whole product line from that time period: 
There was the entire Safe Embrace line (infant seat, convertible and booster), the fabulous you-can-install-it-anywhere HWH Futura 20/60, the awesome Stay-In-View infant seat and finally the Grow-With-Me combo seat which was only made for very short time.  I honestly believe that many of these seats could still be popular today if they were competatively priced and properly marketed.
I owned them all at one point or another (I think the only FP seat that I never owned was the LATCH version of the FPSE convertible) and therefore I have lots of FP stories that I can tell.  However, my favorite FP tale is how I bought a NIB 5-pt SIV infant seat after it was discontinued for like $30 or something crazy like that.  At the time I didn't need it and we're weren't even thinking about TTC another child.  But I knew that if we ever did have another baby – THAT was the infant seat that I wanted. 
More than 2 years later DS2 was born and the SIV paid for itself a thousand times over.  I swear, that was the most unique, most convenient infant seat ever made.  Everywhere I went, people stopped me to comment on that seat and I had to inform them sadly that it just wasn't available anymore.  To be honest, it wasn't perfect – it had a few downsides like no EPS foam, difficult to move the harness straps to different slots, a tendency to get caught on a little ridge in the back and snag the harness and a base that didn't have LATCH.  But the absolute worst thing about the SIV was that it was a small seat and my bubba baby outgrew it at 4 months old.  I was so sad.  I actually shed a few tears when I packed the seat up and sent it to someone else that I knew would love it as much as I did.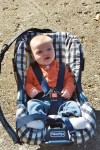 So, that's  my favorite FP seat story.  What's yours?