Safe Traffic System RideSafer Delight Travel Vest Review with Delighter Booster
The RideSafer Delight Vest and Delighter Booster are the two newest products from Safe Traffic System, Inc. The Delight Vest is the latest in the line that previously included the RideSafer Travel Vest, and is an alternative to a traditional harness or booster car seat that's excellent for travel, carpool, and other situations where a traditional car seat might be difficult or impossible to use. The Delighter booster is a lightweight backless booster designed with travel in mind that can be used with or without the Delight or previous versions of the RideSafer Travel Vest. They can be purchased at Amazon or Safe Ride 4 Kids.
Sizes and Specs:
Delight Vest size Small is for children who are
At least 3 years of age
30-60 lbs.
34"-52" tall
Chest diameter 21.2"-28.3"
Able to sit with the bottom of the vest touching the thighs
Delight Vest size Large if for children who are
At least 3 years of age
50-80 lbs.
45"-57" tall
Chest diameter 23.2"-38.4"
Able to sit with the bottom of the vest touching the thighs
Delighter Booster is for children
At least 4 years old*
40-100 lbs.*
40"-57" tall*
*Note: If used with the Delight Vest or other Ride Safer Travel Vest, the Delighter Booster may be used below these minimums, starting at the minimums of the vest instead.
RideSafer Delight Vest Features:
FMVSS 213 certified
Lightweight and highly portable
Comes with travel and storage backpack bag for vest and removeable headrest, and additional small bag for tether and included crotch strap
Adjustable back allows about 3" of height adjustments
Can be used with 3-point lap and shoulder seatbelt with or without tether
Can be used with lap-only belt with tether strap (sold with vest as option or available separately)
New, multi-step buckle for lightweight security and ease of caregiver use
Lifespan of 10 years from date of manufacture
MSRP $145.00 without tether strap, $159.00 with tether strap
When might you use the Delight Vest?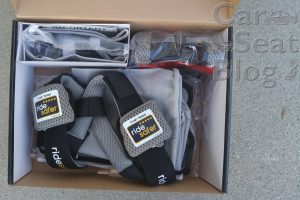 This vest is ideal for travel—it even comes with its own backpack style bag so your child can carry it herself! If you're using a CARES harness for frequent airplane travel, this can be the other part of your lightweight travel system- use it once you leave the airport and need something for the car. If you take a train, it is easy to carry with you to your destination. It can be used in taxis, rental cars, even charter or shuttle buses with modern seatbelts. It is also good for carpools or other situations when you might need to fit three children in a small back seat, for older children seated in a spot with a lap-only belt (as long as a tether anchor is available), for grandparents or other caregivers to keep in a trunk in case of an emergency pickup, or for children with certain special needs who might benefit either from the comforting pressure of a vest or the extra distribution of forces across the torso compared to a traditional car seat or booster.
Using the new buckle
The new buckle on the RideSafer Delight Vest is designed to make sure children aren't able to easily undo it themselves, while allowing parents to quickly put the vest on or take it off. To fasten, the two metal loops are pinched together while the metal hook is secured, then the strap is tightened and fastened in place with the hook and loop panel. To unfasten, undo the hook and loop fastening and loosen the strap, then pinch the metal loops together to allow the metal hook to be released. It seems complicated, but with a little practice, it's so easy that it can be done one-handed! Many caregivers with arthritis find the new buckle much easier than conventional buckles.
If you still have trouble fastening or unfastening the buckle, a larger set of rings is available; call the company to receive them for free if needed.
Do kids like wearing the vest?
Both our testers enjoy wearing the vest! Some kids may have an adjustment period but most eventually seem to "not mind" to actively enjoy wearing the vest. The adjustable straps help make sure kids have a comfortable fit. Our four-year-old tester was very proud to use the vest, both with and without the Delighter booster—she felt very grown up! She also refused to take the vest off when exiting the van and wore it around town while traveling cross-country (though she preferred the crotch strap be undone when out of the car.)
 
Our seven-year-old tester thinks it looks "cool" and finds it exciting! One added advantage of this vest is that children may sit cross-legged if that is more comfortable. Here's a Huggable Images doll demo-ing this position: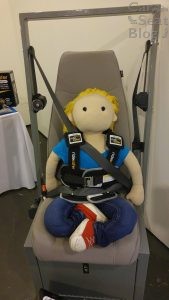 What about cleaning?
The RideSafer Delight Vest can be surface cleaned with warm water and mild soap, as detailed in the instructions. If further disinfection is needed, call the company to receive instructions for an approved disinfection method.
Comparing the RideSafer Travel Vest (Gen 3) with the new RideSafer Delight Vest (Gen 4)
What are the differences between the older RideSafer Travel Vest and the new Gen 4 RideSafer Delight? Safe Traffic Systems used to produce two different Generation 3 vests: Version 2, which was fairly non-adjustable but came with a neck pillow and a tether attachment, and Version 3, which was more adjustable but lacked the pillow and the ability to tether it for use with a lap-only belt (or for extra support). Now they produce one vest (the Delight Vest), combining the features of both styles—a neck pillow, adjustable straps, and the connections to attach a tether strap. The new RideSafer Delight Vest is sold either with or without a tether strap (a choice you make when ordering, though the tether strap can also be bought separately as an accessory later, if desired. As an accessory, you can choose a single version for children under 60 lbs. or dual-anchor version for children 60-80 lbs. The single version comes included if you select "includes tether" when ordering and is a slight savings over ordering it separately. If you intend to use the vest for a child over 60 lbs. in a lap-only belt position, you may wish to order "without tether" and buy the dual tether to save some money on the unneeded single tether.
Our models here are the Huggable Images doll representing a 57" tall 80 lb. 8 year old demonstrating a size large RideSafer Delight (Gen 4) vest in grey, and the Huggable Images doll representing a 45" tall 46 lb. 6 year old demonstrating a size small previous Generation 3 Version 2 vest in yellow.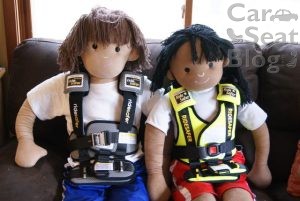 From the front of the vest, the two biggest changes are the front panel design and the buckle design. The energy-absorbing foam padding on the Gen 4 vest has been reduced to only the parts of the vest where the seat belt takes the impact in the event of a crash. This is designed to make the vest more comfortable, especially in warmer weather. For children living or traveling in hot climates, we expect this to be a very welcome change. While parents may not notice a difference in the look or feel of the foam padding itself, the old vests used expanded polyethylene foam and the new one uses expanded ABS foam. This foam is more energy absorbent, has many more energy-dissipating properties, and allows holes to be used in the foam (for breathability) while maintaining structural integrity.
The new buckle (detailed above) is another change. Our testers found it significantly easier to unfasten than the more traditional buckle on the older vest, with practice. This should be a positive change for caregivers with poor manual strength or dexterity. We've been told that the new buckle is supposed to be a better deterrent for escaping children, but that may not be the case. Our seven-year-old model figured out how to unfasten the buckle with zero instruction in about fifteen seconds. (Our four-year-old model didn't show any interest in undoing the vest, and could not when asked.) That said, this is not a vest we would normally recommend for escaping children in any case; even if they can't unfasten the vest itself, a child who wants to unbuckle has easy access to the seat belt and probably should not be using this style of restraint but rather a vest or harness specifically designed to foil escapists.
From the back of the vest, the difference in adjustability is the most notable change. The Delight has metal clips near the waistband which are used to adjust the length of the back straps for a better fit to the child. Hook-and-loop style tabs keep the loose ends of the straps from flopping around. Instead of the straps being sewn together where they cross the back of the vest, there is an adjustable loop which slides up and down to create a comfortable fit for the child.
The pillow has also been redesigned slightly. It still attaches to the back of the vest using hook-and-loop fasteners. The new pillow is smaller, and has the "loop" side of the fastener sewn on. Tabs on the back straps of the vest open up to reveal the "hook" portion of the fastener. By contrast, the old vest had the "hook" side sewn to the pillow and the "loop" fabric was attached, uncovered, to the back straps so no tabs were necessary.
We found the new design for the pillow attachment to be awkward to use, mainly because the small hook panels on the back straps didn't naturally fall close enough together to fasten to the very small attachment area on the pillow. Most children don't seem to like the pillow anyway; if your child prefers it we're sure you'll work around these problems, but neither of us regularly used the pillow on the old or new vest anyway. For those few kids who do prefer the pillow, the lower profile under-the-ear design looks like it would likely be more comfortable and probably makes up for the lost ground in the ease-of-use arena.
Overall, the new Gen 4 vest provides more flexibility with its design  and adjustability features. It's also easier to fold in a bag, and the open design leads to better airflow for the child.
Wearing the RideSafer Delight Vest, In and Out of the Car
The RideSafer Delight is a great product for travel—one of our testers traveled cross-country with it! Both users found that the vest took a little practice to get adjusted correctly, and that the crotch strap was definitely helpful in getting a correct fit. (Please note: if the crotch strap is too small for your child to comfortably use and you need or want to use it, call the manufacturer to get a longer crotch strap.) Buckling into the car was a little time-consuming at first, but with practice didn't take long. One real advantage of using this vest while traveling is that it can be worn around town, if the child likes, enabling children who normally still use a harnessed seat to hop in and out of vehicles with minimal fuss like their booster-rider siblings and friends! Our tester, age 4, 32 lbs., 39.5″, refused to take it off as she explored Southern Virginia with her family. Our 7 year-old-old in pink modeled the large Delight.
Our 7-year-old, 60 lbs., 53″ model demonstrates how handy the Delight vest in Large is in a 3-across between a Britax Boulevard ClickTight and a Britax Frontier 85 in a 2015 Ford Expedition.
RideSafer Delight Vest Pros:
Very lightweight and compact—carry easily in a bag or a child can carry it herself
Can be worn "around town" instead of carrying if desired
Breathable and not sweaty to wear
Adjustable in both height and width to fit a larger range of body types
Can be used with a lap and shoulder belt with or without optional tether strap
Can be used with lap-only seatbelt with optional tether strap
Good for kids who need torso support or sensory input
Can be used on a school bus with optional tether strap and Energy Absorbing Tether Anchor Loop (EATAL) accessory
10-year lifespan means multiple children in a family can use the vest before expiration
Fits in tight spaces, both for storage (on a cruise or in a car) and seating (fit three across with ease!)
RideSafer Delight Vest Cons:
(These aren't all drawbacks that apply to everyone, but may help you make a choice about whether this is the right product for you)
Some children may prefer a traditional harness over the feel of the vest
Not yet FAA approved for use on airplanes (though the approval is being sought—hopefully we will know more soon)
MSRP of $145-159 may be out of budget for some families seeking a travel product
May need to use crotch strap even on larger/older children in order to get the best fit
Requires optional tether strap to use with lap-only belt
Instruction manual is rather minimal in order to fit into vest
Delighter Booster
Delighter Booster Features:
FMCSS 213 Certified
Lightweight booster designed for easy portability
Weighs less than a pound
Fits under most airplane seats if carried on the plane
Bright, attractive design—easy to spot and appealing to kids
Side pocket "cup holders" for a small drink or snack
Machine washable padded cover (wash in cold water; if disinfection is needed call company for instructions)
Made of impact-dissipating EPP foam for comfort, sturdiness, and safety
Lifespan of 7 years from date of manufacture
Secure flap for under-seat manual storage
MSRP $69.00
Who will want to use the Delighter Booster?
Users of the RideSafer Delight Vest or earlier generations of the Ride Safer Travel Vest who wish to let their kids sit up higher to see out the window, we have your answer! The Delighter booster and Delight Vest are a truly delightful combination that our four year old tester really enjoyed. Parents looking for a travel or carpool booster that is lightweight so older kids can carry it themselves will enjoy the all-foam booster that weighs less than a pound. If packed in a suitcase in checked luggage, this booster is so light it won't risk putting you over a bag weight limit. And the all-foam construction with a very heavily padded cover is fantastic for older kids who just want some cush under the tush in a backless booster! Since this booster is backless, it is best used by kids who don't need additional support to sit properly in place if using without the vest.
Delighted to use this booster! 
Our testers' personal experience using this booster was very positive. We brought it along traveling cross-country with our four-year-old tester and tried it in conjunction with the RideSafer Delight Vest, and our nine-year-old tester has used it in Grandma's car and friends' cars with much success!
Belt fit on our nine-year-old, 82 lbs., 56″ tester has been excellent in every vehicle and seating position we've tried it in. The Delighter has become her go-to booster for carpools and Grandma's car, because it is so light and easy to carry by herself; it doesn't hurt if it bumps her leg. She also declares it comfortable, stating "I like the padding because it's soft." The tall armrests are a good height for her, and she enjoys using them.
Used with the Delight Vest, we found this booster the perfect height for our 4-year-old to use to see out the windows. She really enjoyed it and declared the booster was "super comfy." For the 32 lbs., 39.5″ 4-year-old to be safe, we used the vest with the tether along with the booster.
We can't get over the cleverness of the instruction manual storage. We've all had multiple instruction manuals get lost because under-seat storage tabs are not sufficient to hold it in; or had the experience of stuffing the manual in and not being able to get all four corners secured, or hurting fingers trying to get a tightly-fitting manual out. The hollow space under the dense, energy-absorbing EPP foam is used by extending the cover to go all the way over the bottom, closing with a hook and loop closure around the edges. The manual simply sits inside this "cubby" created by covering the hollow space with a cover panel! Stickers with FMVSS 213-required language and date of manufacture are also located under this panel (meaning they won't wear off with use.) The cover extending over the bottom serves another purpose: it keeps the booster from getting scratched or chipped, and the machine-washable cover can be removed and cleaned easily if the booster picks up grime, dirt or spilled food or drink during travel!
Delighter Booster Pros:
Can be used with RideSafer Delight Vest and Ride Safer Travel Vest models to let child see out of window
Very lightweight, so light even a small child can carry it around
Two pockets (one on each side) will hold a juice box or a bag of fruit snacks
Bright red cover is easy to spot and attractive
Very cushy, padded cover is very comfortable for children to ride on
Machine washable cover- spills happen!
Clear, easy-to understand instruction manual
GENIUS storage solution for instruction manual (under flap on bottom with hook and loop closure) guarantees the manual won't easily fall out and get lost
Excellent belt fit on the children we seated in this booster in multiple vehicles (IIHS has this booster for rating, but the rating has not yet been issued; we wouldn't be shocked if it got a Best Bet)
7-year lifespan from date of manufacture allows use slightly longer than many boosters
Delighter Booster Cons:
(These aren't all drawbacks that apply to everyone, but may help you make a choice about whether this is the right product for you)
External width of just over 15.25" at widest point may be too tight to work in a tight 3-across situation
Like all backless boosters, cannot be used on an airplane or any other seating position with a lap-only seatbelt (unless using with the Vest and a tether anchor)
High enough (4"-5" from base to seat) that children toward the upper end of the height range may be too tall for seating positions with minimal or no head restraints
Pockets instead of hard cupholders will not hold a fast food paper or plastic cup (smaller water bottles may work)
MSRP of $69 is toward the upper end of backless booster prices (though it is still only $10/year of useable lifespan)
11" interior width may be too narrow for some children near the top of the height or weight range to fit comfortably
Overall takeaway: a "Delightful" pair of products!
Both families who tested the new vest find the changes to be an overall improvement, and like the product. Using the RideSafer Delight Vest and Delighter Booster was very well-received by our four-year-old tester. The vest is comfortable and fairly easy to adjust to children of different builds. The Delighter Booster provides excellent belt fit in the vehicles we tried when used with the seatbelt alone, and is lightweight, easy to use and comfortable.
If you are looking for a travel solution for a child not quite ready to go without a harness, or a carpool situation or three-across in a tight space, the RideSafer Delight Vest may be what you're seeking! The Delighter booster is a valuable addition of functionality for children who like the vest but want to see out of the window, and also makes a great lightweight travel or take-along booster for older children when used alone.
We think these new products are truly as delightful as their names imply!
Special thanks to Elizabeth Price, who made significant contributions to this article, tested the vest with her lovely seven-year-old, and provided pictures.
Thanks also to Safe Traffic System, Inc. for providing one size Small RideSafer Delight Vest and one Delighter booster for review. No other compensation was provided by Safe Traffic System, Inc. in return for this review. All opinions and comments are those of the authors.