Most people can stay awake on car trips for more than 15 minutes; not me. I must have been a really easy baby to put to sleep on a bad night—I'm sure my parents threw me on the floorboard of the car and only had to drive around the block once before I was quickly in slumberland. I don't mind sleeping in the car as my husband drives, but the problem is that he and the kids derive great pleasure from my snorting myself awake as my head bobs to and fro. I just know one of these days there will be a video. Enter the Cardiff Travel Headrest.
Features
14 customizable positions
Removable sleeves are machine-washable
Universal mount for head restraint poles
The Cardiff Travel Headrest attaches to your vehicle head restraint poles, you know, those silver things that hold the head restraint onto your seat. Yes, you must have this type or the Travel Headrest won't work for you. It has adjustable wings that rotate up and down so you can place them where they are most comfortable for you.
Setup time will vary. On my '11 Acura MDX, the head restraint poles are kind of thick, so I had trouble with the length of the hook screws being *just* long enough to fit. I've learned to set up the Travel Headrest the night before and it takes only a couple of minutes, rather than feeling pressured while my husband stands there tapping his foot and sighing as I try to install it just before we leave. You do not need to remove your vehicle head restraint to install the Travel Headrest.
We talked to the designers at an ABC Show several years ago and they designed the Travel Headrest for kids using backless booster users. But hey, we can't have the little tikes having all the good stuff, now can we? I actually prefer that kids use a highback booster if they still need head support like this for sleeping, but this is a good travel option for larger kids who may have outgrown a highback in height, but still need a backless booster. It can also be a good option for tweens and teens who can pass the 5-Step Test and ride without a booster but miss having a place to rest their heads to sleep on a long drive.
Check your vehicle owner's manual, though, to see if you have active head restraints. You don't want to use the Travel Headrest in these seating positions since it will interfere with the active head restraint in a crash. Your vehicle manual will tell you which seating positions, if any, are equipped with the active head restraints. Active head restraints travel up and forward to reduce the distance between your head/neck and the vehicle seat when your body puts force on the vehicle seat back in a crash, so you can see how it isn't a good idea to put anything on those poles.
The Travel Headrest doesn't fold down nicely for storage, nor does it have a pouch to keep the hooks with it, so I shove them down inside one of the wings and cross my fingers they don't fall out. I wish the headrest folded laterally so it could be stored in a drawer or on a shelf; right now I have it on a hook way up high, out of the way.
The Cardiff guys have a Kickstarter that may work on vehicle head restraints that are incompatible with the Travel Headrest. Cardiff Wings is designed to be used on an airplane seat, but since it slips over the top of head restraint, it may work in some vehicles too. It's hard to say for sure until we have a chance to play with this product when it becomes available. Again, I would not put it on a vehicle seat with an active head restraint.
Cardiff Advantages
Comfortable car sleep, are you kidding me???
Adjustable wings
Fits vehicle head restraints as long as they have poles
Simple enough for kids to adjust
Machine-washable sleeves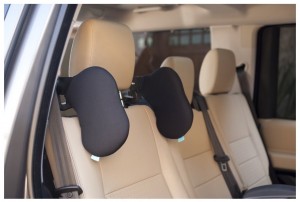 Disadvantages
Could interfere with active head restraints on vehicle seat
Wings flip up for storage on seat, but if you are using for yourself in the front passenger's seat – it could interfere with the driver's vision
Doesn't fold flat for storage
Hook screws could be ¼" longer for easier installation