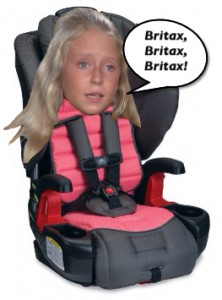 When the Britax Pioneer first came out, it was kind of the overlooked little sister of the Frontier ClickTight and Pinnacle ClickTight. It was the Jan Brady of combination seats: perfectly capable but not as talented or popular as Marsha. Not only did the Pioneer lack the ClickTight features, it also had harness and booster limits significantly lower than the other two seats.
Well, a lot has changed since the Pioneer first debuted.
It still doesn't have the ClickTight feature (which is okay–that's what makes it a more affordable option), but it now has a top harness height, standing height limit, and seated booster limit equal to the Frontier and Pinnacle, making it very attractive as a combination seat option.
Back in February 2014, Britax raised the Pioneer's harness limit from the original 18.5 to 19.5 inches. For 2016, the Pioneer's harness height is now raised to 20.5 inches, putting it on par with its big sisters that are the tallest 5-point harness seats on the market at this time. The seated booster height also increased from 22 to 23 inches to match the other seats.
Note: Although the changes to the harness height were effective as of October 2015, cartons and user guides might lag a bit behind. In the US, the white cartons were updated in January 2016. The kraft carton and user guides were updated in February. In Canada, the user guide and labels were updated in February. The cartons won't be changing until April.
With these updates, there are more similarities than differences between the Pioneer and Britax's other combination seats:
| | | | |
| --- | --- | --- | --- |
|   | | | |
| Height range: harness | 30-58" | 30-58" | 30-58" |
| Height range: booster | 45-62" | 45-62" | 45-62" |
| Weight range: harness | 25-70 lbs | 25-90 lbs | 25-90 lbs |
| Weight range: booster | 40-110 lbs | 40-120 lbs | 40-120 lbs |
| Age minimum | 2 | 2 | 2 |
| Top harness height | 20.5" | 20.5" | 20.5" |
| Top booster height | 23" | 23" | 23" |
| No-rethread harness | YES | YES | YES |
| Front-adjust recline | YES | YES | YES |
| Safe Cell base | YES | YES | YES |
| Steel reinforced shell | YES | YES | YES |
| ClickTight system | NO | YES | YES |
| HUGS | NO | YES | YES |
| Side Impact Cushions | NO | NO | YES |
The stats:
Age minimum, harness: 2 years
Harness limits: 25-70 lbs, 30-58″ (2016 Models)
Booster limits: 40-110 lbs, 45-62″ (2016 Models)
Lowest harness height: 12″
Highest harness height: 20.5″ (2016 Models)
Highest booster setting: 23″ (2016 Models)
Crotch strap positions: 6″ and 8″
LATCH limit: 40 lbs.
Top Tether use always recommended; required for children over 65 lbs
Features:
True Side Impact Protection: Deep sides and EPS foam.
SafeCell technology: The base is designed to compress and lower the center of gravity in a crash.
Front-adjustable harness height
Front-adjust recline
Cup holders! This isn't a new thing, but kids want 'em and the Pioneer has 'em.
Easy transition between harness and booster mode
Easy-off cover (one of the easiest I've encountered)
SecureGuard compatible (SecureGuard clip sold separately)
Fashions: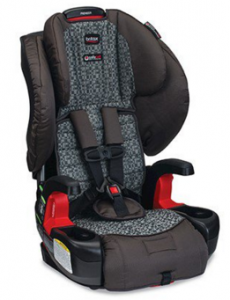 Top row fashions: Coral, Domino, Reflect, Silvercloud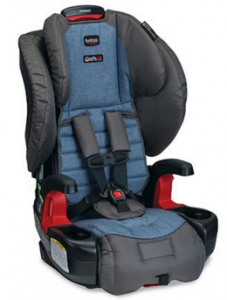 Bottom row fashions: Kiwi, Pacifica, Summit
Pros:
Price: Currently selling for around $180 on Amazon ($229 MSRP) the Britax Pioneer 70 is competitive to the prices of the Graco Nautilus, making it an attractive option for people who can't/don't want to shell out for the pricier Frontier 90 or Pinnacle 90.
Size maximums: 20.5″ slots are now among the highest on the market. The 70-lb weight limit is probably more than sufficient for what the vast majority of people will actually need/use.
Covers: Easy-on, easy-off, cute, plus with better placement of the harness-release slot.
Comfort: Well-padded and the design doesn't promote head slump.
SecureGuard is a clever, optional accessory adding a 4th point of restraint for booster mode
Made in the USA!
Cons:
Quirky belt path: The open belt path makes installation easy, but people could easily route the belt incorrectly. The way the seatbelt bunches isn't a safety issue, but is annoying.
Quality: Even at a more-budget price, parts of the Pioneer (especially the panel hiding the LATCH connectors) feel flimsy. Britax is known for quality, but the quality feels mixed on the Pioneer, especially in regard to the storage compartment. It's still a very sturdy seat where it counts, though.
Bottom line:
The Pioneer 70 may not be as flashy as the Frontier 90, but it shares enough of the same features to make it a worthwhile consideration if you're in the market for a high-weight, high-harness combination seat. Despite a few downfalls, the seat feels safe, sturdy, and comfortable when installed. The price makes it an attractive option for people considering mid-range combination seats.
For additional information on the Pioneer 70 please visit the Britax website: http://www.britaxusa.com/car-seats/pioneer-70
You can read our full review of the original Pioneer here. The Pioneer is available at Amazon and other stores for around $180.