Review of the Graco SnugRide Click Connect 30 LX  Rear-Facing Only Infant Seat
Graco's SnugRide has been around in one form or another since 1998. That's an honor only given to a very few carseats on the market and as the SnugRide has matured, it's gotten more safety items—EPS foam—and better design—easier-to-install bases. Let's see why this lightweight seat, the SnugRide 30 LX in particular, has remained a favorite of parents for so many years.
SnugRide Click Connect 30 LX Specs & Features:
Rear-facing only: 4-30 lbs.; 30″ or less and head must be 1" below top of seat
4 harness height positions
2 crotch strap/buckle positions
Thick energy-absorbing EPS foam
Easy to remove cover is machine washable
FAA-approved for use in an airplane
7 year lifespan before expiration
Extra SnugRide 30 ClickConnect bases are available for $49.99
SnugRides come in 2 flavors: Classic Connect and Click Connect. Unlike some ice creams, these 2 flavors don't mix well and a Classic Connect SnugRide carrier can't be paired with a Click Connect SnugRide base and vice versa. The "Classic" and "Click" describe the connections the carriers make to the carseat base and strollers. What's currently available in each line?
There are 2 versions of the SnugRide 30 Click Connect: the $99 version has a rear-adjust harness while the $129 LX version has a front harness adjuster. The LX version also has a larger infant insert and includes harness strap covers. Another difference that sets the LX version apart is that it has a removable flip piece for the base that helps adjust the recline angle in 4° increments. If more recline is required, noodles may be used. This flip piece can be easily lost because it's not connected to the base in any way, but when properly attached to the base, you will hear and feel a "click" as it snaps on. If you lose the flip piece, either order a new one from Graco or use a piece of noodle or tightly rolled towel.
SnugRide Click Connect 30 LX Measurements:
Harness slot heights: 6 ¾", 8 ¾", 10 ¾", 12 ¾"
Lowest harness slot height with body insert: 6 ¾"
Crotch strap/buckle positions (without insert): 4", 5 ½"
Internal shell height: 20"
Width of base footprint at beltpath: 13 ¾"
Length of base footprint: 17"
Width of base at widest point: 14"
Width of carrier at widest point: 17 ¼"(outside of handle)
Carrier weight: 7.4 lbs. with insert; 7.2 lbs. without insert
Fit-to-Vehicle
Recline angle indicator
There is a red level line indicator sticker on each side of the base. There is also a red level line indicator sticker on each side of the carrier. The recline indicators on the carrier are not visible when it's seated correctly on the base.
Installation with LATCH 
Graco shortened the LATCH strap a bit, which will be noticeable if you your lower anchors are buried in your seat bight (crack). It's always easier to install with LATCH if you loosen the LATCH strap all the way first, then pull the slack back through the belt path while pushing down on the base. SnugRides have always been easy to install rock solid with LATCH and that's my preferred method of installation if installing outboard.
Center LATCH installation with non-standard LATCH spacing: Only allowed if the vehicle manufacturer specifically allows it.
Installation with seatbelt 
The SnugRide 30 is relatively easy to install with a seat belt; however, this seat does NOT have a built-in lockoff so it's very important to understand how your seat belt locks if you're going to install with seat belt instead of with lower LATCH anchors. All vehicles made after 1996 have seat belts that can lock in some way to hold a carseat tightly in place during routine driving. Most vehicles have switchable retractors but some vehicles or specific seating positions have locking latchplates instead. It's important to know what your vehicle has and to understand how these features work before you install this carseat with a seat belt. See your vehicle's owner's manual for specific information on how to install a carseat in your vehicle using the seat belt. If you have questions, please visit our car-seat.org forum and we'll be happy to help answer them.
The biggest issue I've had installing this base is that sometimes the buckle stalk is too long and causes the latchplate to sneak up into the belt path. This can be a problem because it may interfere with the carrier sitting on the base properly. Twisting the buckle stalk up to 3 full twists, using as few full twists as possible, will usually solve this problem.
Inflatable Seat Belts
Graco has determined that none of their harnessed carseats can be installed with inflatable seat belts found in some Ford, Lincoln, and Mercedes vehicles. You must use LATCH to install a SnugRide base in these vehicles.
However, Graco DOES allow the carrier only to be installed without the base using Ford Motor Company inflatable seat belts. Follow your instruction manual and do not thread the shoulder belt through the belt path.
Installation without base 
The SnugRide 30 can be installed safely without the base using the typical American belt routing method (Euro belt routing is not currently allowed). The carrier is secured directly to the vehicle with the lap portion of the seatbelt (do NOT place the shoulder belt through the belt path). This is very handy if you're traveling by taxi or airplane. No need to lug the base around with you! However, you have to know how to lock the seatbelt in the vehicle that you're going to be riding in.
When the lap/shoulder belt is routed correctly, it will look like the pic below. If you'd like to see an installation in action, watch Kecia. She and I use the same technique and she already had an excellent video made for her SnugRide 40 review, so I swiped it 😉 .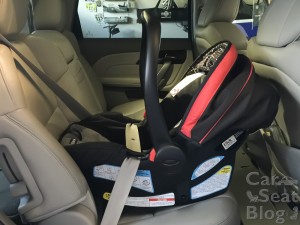 Fit-to-Child
The infant insert provides a little support, but isn't the most robust I've seen. Since the Click Connect SnugRides are rated from 4 lbs., having inserts available that boost the smaller babes up to the bottom slots, especially for the 30 LX model, makes parents feel more secure and less likely to add their own padding. As it stands, for the smallest babies, you'll likely want to add more support in the form of tightly rolled blankets on the outside of the harness (see pics). As you can see in the pics above, the SnugRide 30 fits the preemie doll well with the rolled washcloth in the crotch area to prevent sliding down. Blankets or other padding should NEVER be added behind a child, no matter what. It also fits average newborns well, like Romeo, my 20″ doll pictured above.
I also grabbed a pic of Sam, who was 11 months old and 18 lbs. at picture time. I didn't get a height on Sam, but as you can see, he's got loads of room above his head and his shoulders fit comfortably as well.
Cover/Maintenance:
The SnugRide 30 cover is shower cap-style, but you will have to slide the harness straps through the slots to remove it. I suggest taking a pic with your phone of the splitter plate on the back of the seat so you remember how to put the harness back on when it's time to rethread the harness. No need to remove the canopy—just shove it all the way back. Machine wash gentle cycle on cold and air dry. If you're in a hurry, roll it in a towel and place in front of a fan and it shouldn't take too long.
The cover harness slots don't line up with the harness slots in the shell, which can lead parents to route the harness through the wrong slots in the shell as they re-thread the harness. As long as parents are cautious when re-threading the harness, this shouldn't be a problem.
To clean the harness, wipe with a wet washcloth and lay flat to dry. DO NOT wash in the washing machine or use chemicals on it.
FAA-Approval/Lifespan/Crash Guidelines:
FAA certified for use on airplanes
7 year lifespan before expiration
Must be replaced after any crash
Stroller Compatibility
To find a stroller compatible with the SnugRide Click Connect 30 LX, head on over to the Graco website and follow the Products link to Strollers. You can specify "Accepts all Graco® Click Connect™ Infant Car Seats" as a feature filter. Graco does caution owners of the SnugRide to use their carseat only on Graco strollers, no doubt for safety and legal reasons.
Adapters for are available for use with certain strollers from Baby Jogger, phil&teds, Mountain Buggy, BOB, Joovy, Bumbleride, and Contours. Some parents prefer not to create a travel system from the start and use a stroller frame, putting off buying a bigger stroller until their child is older, which isn't such a bad idea. This allows you to spend more time researching your likes and dislikes and hear from parents who have spent the big bucks on their strollers already to realize that spending over $300 may not necessarily be such a bad idea (wish I had put more money into a stroller when my kids were young!). The Graco SnugRider Elite is a stroller frame that is compatible with all Graco infant seats – classic and click connect. The Baby Trend Snap-N-Go FX claims to be compatible with *all* infant seats but you have to secure the carseat with a strap each time. You can't just "click-and-go" with the Baby Trend, like you can with the SnugRider Elite frame. Both run about $100.
Graco SnugRide 30 LX Click Connect Advantages:
Very lightweight carrier – only 7 lbs!
Thick EPS foam
Fits preemies well
Well-padded
Large canopy
Easy to remove cover
Cover is machine washable
Compatible with many Graco Click Connect & premium brand strollers
Disadvantages: (In fairness, these aren't necessarily problems but I list them here to inform potential consumers of specific SnugRide 30 LX issues)
Lacks a no-rethread harness—which really isn't a big deal, it just means that you have to detach the harness from the splitter plate and route the straps through the next set of harness slots as baby grows. The trade-off is that the harness is very easy to tighten and loosen and it can be removed and replaced if necessary.
Infant inserts could be more substantial
Lacks lockoff device for super easy seatbelt installations
Single level line for correct recline angle
Harness slots in cover don't line up with harness slots in shell
Made in China
Basic Infant Seat Safety
Infant seats are so commonplace that parents often copy what other parents are doing with their seats. I know my husband and I did and that can be dangerous, especially when misuse rates top 90%. I've already covered some of the basics above regarding fit to your vehicle and child. So what do you see at the grocery store that you shouldn't copy yourself?
Don't put the carrier on top of a shopping cart

Think about how awkward and top-heavy it makes the shopping cart, then think about how easily that carrier will fall off with your baby hitting the floor when only slightly bumped by another cart or rough transition on the floor. The SnugRide manual even tells you not to do it.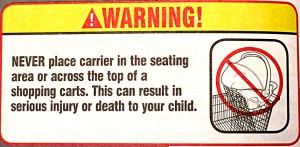 Whenever the child is in the carrier, always buckle the entire harness and tighten it

Some parents unbuckle the crotch buckles when in a store or will only buckle the chest clip when buckling in baby, but that piece of plastic is not designed to withstand crash forces. Babies, even newborns, can wiggle down in the seat and strangle on the chest clip.
Don't leave the child in the carrier to sleep

Studies have shown that babies desat, or have a reduction in oxygen when they sleep for too long in infant seats.
Conclusion:
Graco has been making the SnugRide for years and years now and has it down to an art with the Click Connects. The carriers are lightweight and the base has a belt path that's been designed so that even if you install it with a lap/shoulder belt, it's unlikely to have the dreaded tilt that used to plague the original SnugRide 22 Classic Connect. The harness adjuster is smooth and reliable and it's likely that you can find a stroller to meet your needs to use with your SnugRide 30 LX if you desire a travel system. The Graco SnugRide 30 LX Click Connect is a good rear-facing only infant seat that provides plenty of features for the price.
For more information on the Graco SnugRide 30 LX Click Connect, visit Graco's website: http://www.gracobaby.com/products/pages/infant-car-seats.aspx
Thank you to Graco for providing the SnugRide 30 LX Click Connect sample for this review. No other compensation was provided. All opinions expressed are those of CarseatBlog.