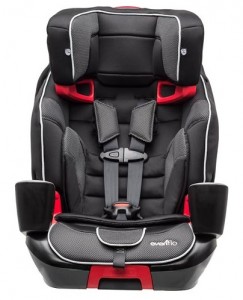 The Evenflo Transitions 3-in-1 (aka Evenflo Evolve 3-in-1)  is a "combination" seat that can be used forward-facing with the 5-point harness until the harness is outgrown by weight or height and then the seat can transition to a belt-positioning booster using the vehicle's lap/shoulder seatbelt. In booster mode you have the option to use the seat with the back (highback booster) or without the back (backless booster). I like to think of combination seats as "Stage 3″ seats that are most appropriate for kids over age 2 who have outgrown their convertible seats. Despite being labeled as a "3-in-1" carseat, the Transitions/Evolve cannot be used rear-facing which is confusing for many parents who have come to associate the term "3-in-1″ with a product that can be used rear-facing, forward-facing and as a booster. If you're looking for a rear-facing/forward-facing/booster seat, see our reviews of "All-in-One" carseats listed here: https://carseatblog.com/reviews/
Transitions/Evolve Specs:
5-point harness: Forward-facing only for kids 22-65 lbs., at least 2 years old, height 28- 50″ tall (shoulders must be at or below top harness slots).
Booster mode with vehicle lap/shoulder belt: 40-120 lbs., at least 4 years old, height 44 – 57″ (top of ears must be below the top of the head support).
Transitions/Evolve Features:
4 harness height positions
2 crotch strap/buckle positions
Push-on lower LATCH anchor "Quick Connectors" on Transitions model (LATCH limit is 45 lbs.)
Basic, hook-style lower LATCH connectors on Evolve model (LATCH limit is 45 lbs.)
Deep head wings for enhanced side-impact protection
Energy-absorbing EPS foam
Steel reinforced frame
Height-adjustable head support
Recline feature on base (reclined position required for kids under 40 lbs.)
Harness strap covers (required for kids under 40 lbs.)
Buckle Pockets
Dual integrated cup holders
FAA approved for use in aircraft (with 5-pt harness)
8 year lifespan before expiration
Outlast performance fabrics (on Platinum Evolve models)
Measurements:
4 Harness slot heights: 11.5″, 13.5″, 15.5″, 17.5″
2 Crotch strap/buckle positions: 6″, 8″
Booster height: 19.5″ to opening in shoulder belt guide with headrest in max height position
Widest point: 19.5″ (across cupholder area)
Width at beltpath: 9.5″
Weight: 19.6 lbs. (according to my digital bathroom scale)
The Transitions model comes with a lower body support insert and harness strap covers. The lower body insert is optional if the child weighs less than 40 lbs. Don't use the insert if the child weighs more than 40 lbs. The harness strap covers are REQUIRED if the child weighs less than 40 lbs.
Installation/Fit-to-Vehicle Comments:
Recline Positions – there are 2 recline settings on the base (slightly reclined and fully upright). You cannot switch back and forth between the different recline positions without uninstalling and reinstalling the seat. The seat MUST be installed using the reclined position if the child weighs less than 40 lbs.  If the child weighs between 40-65 lbs and is using the 5-point harness you can use either recline position. If using the seat in booster mode you must use the fully upright position.
Installation with LATCH:
The push-on lower anchor connectors (Evenflo refers to them as "Quick Connectors") are easy to work with. This connector style has a little loop of red webbing that you pull to release from the lower anchor bar in the vehicle.
LATCH Weight Limits: LATCH can be used to install this seat until the child weighs 45 lbs. Once your child exceeds 45 lbs. you need to discontinue using the lower anchor connectors and re-install the Transitions/Evolve using the seatbelt plus the tether strap.
Tether requirements: Tether usage is recommended at any weight regardless of the installation method. If the seating position in the vehicle has lower LATCH anchors there should be a corresponding tether anchor although its location might not be obvious. Check your vehicle owner's manual for the location of tether anchors. In a sedan they are easy to find but in a wagon, minivan, crossover or SUV – they could be anywhere.
Non-Standard LATCH Spacing: Evenflo allows installation in the center seating position with LATCH if the lower anchors bars are spaced 11 inches or wider AND if vehicle manufacturer permits a LATCH installation in that seating position.
Installation with Seatbelt:
You MUST use seatbelt to install this seat if the child weighs more than 45 lbs.
Seatbelt installation with top tether is generally quick and easy too but this seat does NOT have a built-in lockoff device so it's very important to understand how your seatbelt locks if you're going to install with seatbelt and not with LATCH connectors. All vehicles made after 1996 have seatbelts that can lock in some way to hold a carseat tightly in place during routine driving. Most vehicles have switchable retractors but some vehicles or specific seating positions have locking latchplates instead. It's important to know what your vehicle has and to understand how these features work before you install this carseat with a seatbelt. See your vehicle owner's manual for specific information on how to install a carseat in your vehicle using the seatbelt. If you have questions, please visit our car-seat.org forum and we'll be happy to help answer them.
Always remember to attach the top tether strap to the tether anchor in your vehicle even if you're installing with the seatbelt! As I stated above, the tether anchors in a minivan, wagon, crossover or SUV can be almost anywhere. If you're not sure where your tethers are – check the owner's manual for your vehicle.
Booster Mode:
When the Transitions/Evolve is used as a highback booster the harness is stored under the cover and secured via the chest clip behind the shell. The crotch strap is inverted and stored under the base so it's out of the way but doesn't get lost.
Using LATCH in highback booster mode is allowed. That's a major bonus since most parents (myself included) don't remember to buckle the booster when it's unoccupied to keep it from becoming a massive projectile in a crash. LATCHable boosters are very desirable for this reason! Unfortunately, you lose the LATCH ability once you remove the back and use the seat as a backless booster but that's to be expected. The beltpath is no longer present when you take the back off.
When using the seat in highback mode – adjust the headrest height so that the upper belt guide positions the shoulder belt midway between the child's neck and shoulder. The lap belt portion of the seatbelt needs to be routed under the lower red guides. The shoulder belt portion should also be routed under the red guide in the lap area. The belt will look like this when routed correctly.
Removing the back of the seat to use your Transitions/Evolve model as a backless booster is easy as pie. Lay the seat down on its back, pull up on the red release lever and pull the bottom portion of the seat straight up. It will slide right off.
Fit-to-Child Comments:
5-point Harness
This seat is appropriate for children who have outgrown their rear-facing convertible seats. The American Academy of Pediatrics (AAP) recommends that all children ride rear-facing until at least age 2. For this reason, we do not recommend this seat for children less than 2 years old even though Evenflo states that the minimum age requirement to use this seat is 1 year old and 22 lbs.
The 65 lbs. weight limit on the 5-point harness combined with 17.5″ top harness slots gives this seat good longevity. Most kids won't outgrow the 5-point harness until age 5-7 and by that time they should be mature enough to safely transition to using the seat in booster mode.
The child pictured is 4.5 years old, 40 lbs. and 43″ tall. She still has plenty of growing room left in the harness.
Belt-Positioning Booster
The Evenflo Transitions/Evolve will provide optimal belt fit for most older kids.
9 years old, 72 lbs. and 52″ tall. With and without the back. She was pretty close to the max height for highback mode but did still fit. She fit comfortably without the back on and the belt fit was excellent.
As I noted above, Evenflo allows you to secure the Transition/Evolve using the lower LATCH connectors and tether strap in highback booster mode while using the seatbelt to secure your child. There are no LATCH weight limits when using the seat as a booster because in this case the LATCH connectors are only securing the weight of the carseat while the seatbelt does the real work, restraining the child in a crash. When using LATCH in booster mode, verify that the LATCH connectors do not interfere with the seatbelt buckle and the lap/shoulder belt and lower LATCH anchors align side-to-side. You will not be able to LATCH the seat in booster mode if your LATCH anchors are offset (meaning they don't line up with the placement of your seatbelt).
The Transitions/Evolve is a fairly wide seat which is great for bigger, older kids. However, realistically – it is unlikely that this seat will comfortably fit a child weighing over 100 lbs. Most kids should fit comfortably until about 80 or 90 lbs.
Ease of Use:
The Transitions and Evolve models are easy to install properly and use properly. You do have to uninstall the seat to manually move the straps to higher slots as your child grows but that's not a big deal unless you are using the seat for different kids of different sizes. The harness is easy to tighten and loosen, the straps are thick and not prone to twisting and the buckle is easy to buckle and unbuckle.
The headrest has a total of 7 height settings and is adjusted up and down by squeezing the red button at the top of the head rest. When using the seat with the 5-point harness, use the harness slots that are "at or slightly above" your child's shoulders. Manually position the adjustable headrest so that it is above the harness slots you are using. It's easy to mess up and place the headrest in a position that interferes with the harness straps so be careful!
The easiest way I found to select the correct position for the headrest is to stick your finger in the harness slot opening and then lower the headrest slowly and gently until you feel it starting to press down on your finger – then back up slightly until it clicks into place. You don't want the white EPS foam behind the headrest cover to contact the harness and interfere with tightening and loosening the straps. The harness straps should be easy to tighten and loosen so if you're having a hard time with that – check the position of the headrest.
Comfort & Convenience:
Some Evolve models sold exclusively at Babies R Us have "Outlast" performance fabric which can absorb hot and cold temperature, releasing as needed. Outlast® technology, originally developed for NASA, utilizes phase change materials that absorb, store and release heat for optimal thermal comfort. If you live in a warm climate or just have a kid who is a sweatbox – this technology will help keep your kiddo feeling comfortable all year round.
OUTLAST® technology has the ability to:
Actively absorb and store excess heat, helping to reduce overheating
Allow the child to stay at a balanced temperature and prevent chilling during the cooler months; if the child's skin temperature drops, the stored heat is released
Reduce perspiration so the child stays drier and more comfortable in hot weather
Padding/Comfort – Regardless of whether you choose the Evolve or the Transitions model, you'll be very pleased with the overall "cushiness" of these seats. Both models have A LOT of padding in the cover. We know some kids can sit on a rock all day long and never complain but if your kid isn't one of them – they'll be comfortable in a Transitions or Evolve!
Buckle Pockets – are standard on both Evolve and Transitions models and are very convenient as they hold the harness out of the way while you are loading and unloading your child. If you've ever had to fish buckle tongues out from under your child every time you put him or her in the seat – you know that gets old quickly. The buckle pockets are also helpful in shielding the buckle tongues from direct sunlight in hot weather.
Harness strap covers – using the strap covers that came with the seat is required if your child weighs less than 40 lbs. This could be a problem if your kid hates them and rips them off constantly (something easily done because of the velcro). Honestly, the kids that tried this seat for me didn't care for the strap covers that came with the Transitions sample that I had. They liked everything else about the seat except the harness strap covers. The fabric is textured and it's a little rough. Not really a great choice for something that is going to touch the skin on your child's neck. The good news is that the harness strap covers that come on the Evolve model are softer and you can call Evenflo Customer Service (aka Parent Link) and purchase strap covers for the Evolve model to use on your Transitions model. For kids over 40 lbs. the strap covers aren't necessary so you can just ditch them if your kid doesn't like them.
Cover/Maintenance:
The cover can be machine washed which is always appreciated (wash separately – cold water – delicate cycle). You are even allowed to tumble dry the cover on low heat for 10 – 15 minutes to speed up the drying process before you hang it to dry completely. The cover is simple to remove and replace but it does require detaching the harness straps from the splitter plate and removing the buckle.
FAA-Approval/Lifespan/Crash Guidelines/Inflatable Belts:
FAA certified for use on airplanes with 5-point harness
8 year lifespan before expiration
Must be replaced after any crash
Installation with inflatable seat belts is NOT allowed
Evenflo Transitions/Evolve Advantages:
Generous height & weight limits
Easy to install properly with LATCH or seatbelt
Easy to tighten/loosen harness straps
Harness straps are thick and not likely to twist
Generous crotch strap/buckle positions
Buckle pockets hold harness out of the way while loading and unloading child
Deep headwings are good for sleeping and for enhanced side-impact protection
OUTLAST fabric on Platinum Evolve models reduces sweating in hot weather
Good belt fit when used in booster mode
Can be used as highback or backless booster
Can use LATCH in booster mode (highback only)
Easy to remove back portion to use seat as backless booster
Cover is relatively easy to remove and can be machine washed
Harness and crotch strap are replaceable if necessary
FAA approved for use in aircraft (with 5-pt harness)
8 year lifespan before expiration
Made in the USA!
Disadvantages:
(In fairness, these aren't necessarily problems but I list them here to inform potential consumers of specific Transitions/Evolve issues.)
Heavy and bulky
Lacks no-rethread harness
Continuous harness (all one piece of webbing)
No lockoff device to help with seatbelt installations
Basic, hook-style lower LATCH attachments on Evolve model
Harness strap covers required for kids under 40 lbs. (only an issue if your kid doesn't like them)
The Bottom Line:
The price is right and Evenflo has a winner with the Transitions and Evolve 3-in-1 combination seats! These seats are sturdy, stylish, and very well padded. The deep headwings are lined with thick, energy-absorbing EPS foam to provide enhanced side-impact protection. The buckle pockets are a nice touch and much appreciated. The forward-facing 5-point harness should accommodate most average-sized kids until they can safely use the seat in booster mode. As a highback booster, these seats aren't especially tall, however, by the time your child is too tall to use the back they will probably be big enough and mature enough to use the seat as a backless booster until they can pass The 5-Step Test. The fact that it has an 8 year lifespan and it's made in the USA is a huge bonus!
For more information on the Transitions and Evolve models please visit Evenflo's website:
http://www.evenflo.com/Products/Evenflo/Car_Seats/ADVANCED_Transitions_3-in-1_Combination_Seat/
http://www.evenflo.com/Products/Evenflo/Car_Seats/Platinum_Evolve_3-in-1_Combination_Seat/
Thank you Evenflo for supplying the Transitions 3-in-1 for this review. No other compensation was provided and the opinions expressed are entirely those of CarseatBlog.