2017 Maxi-Cosi Mico Max 30 Infant Carseat Review
Maxi-Cosi is Europe's most popular brand of premium carseats. Even though the Maxi-Cosi carseats sold here in the U.S. are not the same seats that are sold in Europe (due to different standards and regulations), American parents are embracing the brand and everything that it stands for – safety, comfort and style.
The Mico Max 30 is the newest infant carseat from Maxi-Cosi and it offers a few significant upgrades over the previous Mico AP and Mico NXT models. Namely a 30 pound weight maximum and the addition of an anti-rebound bar on the base. But they didn't stop there. The Maxi-Cosi team was ambitious and wanted to be the first carseat manufacturer to offer a completely customizable product!  Do you really want a white base and shell with a black cover and a pink canopy and inserts? No problem as long as you're willing to wait up to 3 weeks for shipping. And if you don't want a custom Mico Max 30 there are still plenty of amazing and fun fashion choices to choose from, plus the basics like Black and Grey.
2017 Mico Max 30 Specs & Features:
Rear-facing only: 4-30 lbs.; 19 – 32″ (1″ rule also applies)
4 harness height positions
2 crotch strap/buckle positions (plus adjustable crotch strap length for smaller babies)
Air Protect® technology for enhanced side-impact protection
Adjustable base with anti-rebound bar
Premium push-on lower LATCH connectors
Thick energy-absorbing EPP foam
Extra large canopy
Easy to remove cover is both machine washable & dryer safe
FAA approved for use in an airplane
8 year lifespan before expiration
Extra Mico Max 30 bases are available for $99.99
Each Mico Max 30 comes standard with a wedge cushion insert (mandatory for low-birthweight babies who weigh between 4-5 lbs.), a round head support insert, a buckle cover and harness strap covers.  All of these extras are entirely optional but the lower body wedge insert is required if you have a preemie who weighs between 4-5 lbs. The purpose of the wedge insert is to boost a small newborn a little higher if his or her shoulders are below the bottom harness slots without it. The wedge insert will probably be helpful for smaller newborns but may not be needed for many full-term newborns.
Mico Max Measurements:
Harness slot heights: 7.5″, 8.75″, 10″, 11.25″
Lowest harness slot height with wedge shaped lower body insert: about 6″
Crotch strap/buckle positions (without insert): 4″, 6″
Internal shell height:  21″
Width of base footprint at beltpath: 9″
Length of base footprint: 21″
Width of base at widest point: 16″
Width of carrier at widest point: 18″ (outside of handle)
Carrier weight: 9.2 lbs. with all inserts; 8.8 lbs. without inserts
Fit-to-Vehicle
Recline angle indicator – there is a level line indicator molded into the side of the carrier. There is no level indicator on the base itself.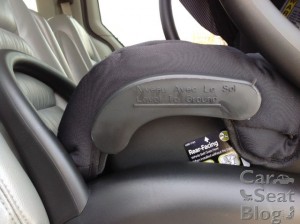 Installation with LATCH – The Mico Max 30 is very easy to install with the premium push-on lower LATCH connectors. The base has 3 recline positions. The lever to change the recline positions is on the back of the base. Choose the recline setting that allows you to achieve a level line on the carrier (and make sure you're parked on level ground to begin with).
Center LATCH installation with non-standard LATCH spacing is allowed if the vehicle manufacturer specifically allows it, the lower anchor bars are spaced at least 11″ apart and you can achieve a tight installation in that center position.
Installation with seatbelt – The Mico Max 30 is relatively easy to install with seatbelt, however, this seat does NOT have a built-in lockoff device so it's very important to understand how your seatbelt locks if you're going to install with seatbelt instead of with lower LATCH anchors. All vehicles made after 1996 have seatbelts that can lock in some way to hold a carseat tightly in place during routine driving. Most vehicles have switchable retractors but some vehicles or specific seating positions have locking latchplates instead. It's important to know what your vehicle has and to understand how these features work before you install this carseat with a seatbelt. See your vehicle's owners manual for specific information on how to install a carseat in your vehicle using the seatbelt. If you have questions, please visit our car-seat.org forum and we'll be happy to help answer them.
Installation without base – the Mico Max 30 can be installed safely without the base using the typical American belt routing method (Euro belt routing is not currently allowed). The carrier is secured directly to the vehicle with the seatbelt. This is very handy if you're traveling by taxi or airplane. No need to lug the base around with you! However, you have to know how to lock the seatbelt in the vehicle that you're going to be riding in.
When the lap/shoulder belt is routed correctly – it will look like this:
Fit-to-Child
As you can see in the pics above, Mico Max 30 will fit preemies well with the wedge insert. Some full term newborns, like my 20″ doll pictured above, won't need to use the insert but you might get a better fit if you shorten the crotch strap length by routing the anchor back through the 2nd slot. Start with the crotch strap in the inner-most position; take the metal anchor from the back of the shell and route it up into the opening for the 2nd buckle/crotch strap position (pics below). If you're using the wedge – don't also shorten the crotch strap. I tried that and it made the fit worse on the little preemie doll.
On the other end of the baby scale – the Mico Max 30 can accommodate big babies too. Lucas was a little snug in this seat but he still fit and he's a BIG 8-month-old who is definitely ready for a rear-facing convertible seat.
Cover/Maintenance:
The Mico Max 30 cover is made of self-wicking fabric and it's very easy to remove. You don't have to take the straps off the splitter plate or remove the buckle to get the cover off. One of the nicest features of this seat is that the cover is both machine washable and dryer safe! This is the first infant carseat that actually allows you to toss the cover in the dyer! Machine wash the cover and headrest pad on gentle cycle using cold water. Tumble dry on low heat for 10-12 minutes and remove immediately. Harness covers must be washed and dried separately to avoid damage from the velcro.
FAA-Approval/Lifespan/Crash Guidelines/Inflatable Belts:
FAA certified for use on airplanes
8 year lifespan before expiration
Must be replaced after any crash
Installation with inflatable seat belts is NOT allowed
Stroller Compatibility
Adapters to use Mico Max 30 as travel system are included with compatible Maxi-Cosi Kaia and Quinny strollers. The Maxi-Taxi is a new lightweight frame designed specifically for Maxi-Cosi infant seats.
Adapters for Maxi-Cosi infant carseats are also available for use with certain strollers from Baby Jogger, Bugaboo, Bumbleride, Countours, Jané, iCandy, Mamas & Papas, Micralite, Mountain Buggy, Phil & Teds, Quinny, Stokke, UPPAbaby, and Valco Baby
Mico Max 30 Advantages:
Very lightweight carrier
Air Protect® technology for enhanced side-impact protection
Thick EPP foam (durable and less likely to crack than EPS foam)
Anti-rebound bar on base
Premium push-on LATCH connectors
Fits preemies well with insert
Well-padded, moisture-wicking premium fabrics
Large canopy
Easy to remove cover
Cover is machine washable & dryer safe
Compatible with many premium brand strollers that offer a Maxi-Cosi adapter
Made in USA!
Disadvantages: (In fairness, these aren't necessarily problems but I list them here to inform potential consumers of specific Mico Max 30 issues)
Lacks a no-rethread harness – which really isn't a big deal, it just means that you have to detach the harness from the splitter plate and route the straps through the next set of harness slots as baby grows. The trade-off is that the harness is very easy to tighten and loosen and it can be removed and replaced if necessary.
Lacks a lockoff device for easier seatbelt installations
Single level line for correct recline angle
No recline angle indicator on base
Continuous harness
Harness strap covers too big and bulky for newborns – manual does states not to use them if they interfere with proper positioning of the chest clip but most parents won't notice that little blurb on pg. 30 of the instruction manual.
Conclusion:
The Maxi-Cosi Mico Max 30 offers some nice upgrades not available on the other Mico models (AP & NXT). The lightweight carrier (under 9 lbs!) and oversized canopy will be appreciated by many parents and the anti-rebound bar is a desirable feature to have on a premium product. The moisture-wicking fabrics will hopefully help to keep sweaty babies from overheating in the hot weather although I haven't been able to test that feature out to see if it makes a noticeable difference. For parents who are able to take advantage of a LATCH installation – the installation is a breeze. And even though the seat lacks a no-rethread harness and a lockoff for seatbelt installations, it's still relatively easy to install and use correctly. I love the bright, colorful fashions that are available and the fact that you can customize the Mico Max 30 to suit your personal tastes and style. Carseats are mandatory but bland and boring fashions don't have to be!
For more information on the Maxi-Cosi Mico Max 30 visit their website: http://www.maxi-cosi.com/us-en/products/car-seats/infant/mico-max-30-infant-car-seat.aspx
Thank you to Maxi-Cosi for generously supplying the Mico Max 30 sample for this review. No other compensation was provided. All opinions expressed are those of CarseatBlog.