Usually I jump at the chance to do car reviews. I hesitated about the Suburban, though. For one thing, it's so big. I'm already afraid of bumping into things with my minivan, and the Suburban is longer by almost two feet, not to mention generally more imposing. My real hesitation, though, was because of my husband. He wants a Suburban so badly, I worried that he'd fall in love with it and then sink into a depression once it was time to let it go.
But duty calls.
Our full review (including car seat compatibility!) follows, but if you want a quick video overview of some features, you can watch here:
Features
The 2015 Chevy Suburban is a behemoth—tons of room for passengers and cargo, tons of power for towing. But it has been redesigned to feel more like a luxury car, with a sleeker exterior and plush interior. It's also available with an astounding array of safety features, plus lots of convenience features, too.
The model I had was a fully loaded LTZ 4-wheel drive version. Mine was a 7-passenger model, with captain's chairs in the first and second rows, and a three-seat 60/40 bench in the third row. Depending on trim level, the Suburban is also available in an 8-passenger (two benches) and 9-passenger (bench in all three rows) version. We'll discuss what that means for car seats later.
For comfort and convenience, the LTZ comes standard with leather seats, power-adjustable front seats with two programmable memory settings, heated and cooled front-row seats, heated second-row seats, power-adjust pedals and steering wheel, automatic folding second- and third-row seats, a heated steering wheel, push-button ignition, keyless entry, and remote start. That was enough to make me want to kiss my current vehicles good-bye.
Additional options include automatic retractable running boards, sunroof, navigation, two rear-entertainment screens, and adaptive cruise control.
But it's the safety features that really win out. There are side-impact and head curtain airbags for all three rows, plus frontal airbags for the front seat AND an inboard seat-mounted airbag for the driver. That means that an airbag deploys in the center of the front seat to better protect in side-impacts. Other safety features standard on the LTZ model are:
Forward Collision Alert 

Lane Departure Warning 

Lane Change Alert
Backup camera with distance indicators and Parking Assist (Parking Assist is also available for the front of the car)
Rear Cross Traffic Alert
Mine also included Adaptive Cruise Control (more on this shortly), which meant it also had the Active Emergency Braking System and Automatic Collision Preparation System, meaning that the vehicle could brake automatically if it senses an imminent collision, to either avoid a crash or reduce the impact.
The IIHS has not crash tested the suburban but the 2015 model received average results in NHTSA crash testing.  It earned a 4-star rating overall.  While it earned 5-stars in the Driver and rear seat Passenger Side Barrier Ratings, it earned 4 out of 5 stars in both frontal brarrier crash ratings and also the Side Pole crash test rating.  It received only a 3-star rollover rating.  These safety ratings fall shy of minivan competition from the Honda Odyssey, Kia Sedona and Toyota Sienna.
Fuel economy isn't going to be great on the Suburban. It averages 18 mpg (15 city, 22 highway), with the 2-wheel drive version getting one additional MPG.
Driving
So how was driving it?
It was a dream. Like I said, I was worried at first because it's just so big, but it didn't feel big. For a truck-based vehicle, the ride was extremely smooth and luxurious. It was also remarkably quiet. In our everyday vehicle, we have to yell to our kid in the third row and can never hear his responses, but in the Suburban it sounded like he was right there with me.
Initial pick-up was a bit slow until I figured out that you really need to hit the gas to get it going. At first, there were a couple times we thought we had the parking brake on, but in reality it just won't go unless you want it to go. Once I got used to it, though, it was fine, with fast, steady acceleration. It also felt nice and limber for such a large vehicle. I didn't try any crazy maneuverability tricks or anything, but navigating through tight parking lots was a breeze.
I had a lot of fun trying out the different safety features. The Lane Departure Warning system was especially interesting. When the vehicle senses (through lane markings) that you're in a lane, a symbol will light up in green on the instrument panel. If it senses you're veering out of a lane without signaling, the symbol turns amber and the driver's seat will vibrate on the side of the departure! (You can set it to make a noise instead, but I preferred the vibration so my passengers wouldn't know I was making a mistake.)
Rear-view cameras are, in my opinion, an absolute necessity on any car, but especially on large SUVs. In addition to the camera, my vehicle also had rear cross-traffic alerts that would vibrate the seat if it sensed a car coming behind you while backing up. Too cool.
The parking sensors (front and rear) sense objects directly in front of/behind the car, and also slightly to the side. I'm a horrible parker—especially with super large vehicles—so I really need appreciated this. Parking next to or between other
objects was the one thing I avoided with the Subruban, even with the sensors. I was so proud of parking successfully next to another car at Trader Joe's that I needed to take a picture!
The blind-spot detection system was nice, although not as bold as it was on the Nissan Pathfinder. In the Suburban, an icon on either side-view mirror lights up yellow if it detects a vehicle in the blind spot, and the light will flash if your turn signal is on in the same direction to let you know it's not safe to change lanes yet. In the Pathfinder, a chime would sound if the turn signal was on while something was in the blind spot. I would have preferred a sound (or a seat rumble) for this feature in the Suburban.
There's also an icon that lets you know when there's a vehicle in front of you (duh, right?), but it changes from green to yellow if you're following it too closely, and you can change the sensitivity depending on how soon you want to be alerted. This is a nice idea, although when I tested it out, I had to get uncomfortably close to the car in front of me before the icon changed to yellow, and that was when I had it set to the most conservative mode.
The absolute coolest feature, though, was the Adaptive Cruise Control. I'm generally not a fan of cruise control and have only used it a handful of times in my life. I just don't like giving up that much control to the car. But the Adaptive Cruise Control is something I'd be likely to actually use.
What you do is set the speed you want—say 65 mph. Then you set how big a gap you want to keep between the car in front of you (large, medium, or small). Then, if you start approaching the next car too quickly, the vehicle will automatically slow down or apply the brakes to keep a safe distance. If the other vehicle moves or you change lanes, suddenly having no car in front of you, the Suburban automatically speeds up again. If a car changes lanes in front of you, it will slow back down, always keeping a safe distance. It was amazing!
Storage and Entertainment
The center console was ridiculously deep. I was able to fit a bunch of Starbucks pastries and a Venti cup of ice in there with room to spare. Separately, I also got three iPad Minis and a Harvey's medium tote with space left over. A light inside the console makes it easy to find stuff at night. There's also a separate console for cupholders, and another one for holding and charging your phone.
The radio/media/navigation/weather touch-screen was pretty intuitive. The navigation interface was one of the easier in-car systems I've used, although there were a couple things I needed to look up numerous times in different ways before I found what I wanted.
Unfortunately, we weren't able to try out the rear entertainment system (screens in the second and third row). We were on our way to Dubuque, Iowa, for the day (that's how we party), and I figured it would be a great time to throw in a DVD for the kids. The problem was we couldn't find anywhere to insert a disk. The radio console had an eject button, but no slot to insert a disc. We checked under all the seats, in the rear console, and in the cargo area, but there was nothing. The manuals gave no help. Ultimately, we determined that we needed to hook up some other type of media, but by then we needed to get going and decided not to bother. If I'd had the car for a few more days, we would have figured it out.
But even without DVDs, the kids could be well entertained. The Suburban comes with up to 6 USB ports and 6 power outlets, including a 3-prong 110-volt outlet, allowing up to 12 charging locations! Although my particular vehicle was manufactured before they started offering it, it's also possible for the Suburban to get its own wifi, available by one-time purchase or monthly subscription. What I wouldn't have given for that on some of our multi-day road trips!
The regular cargo area (even with the third row in use) provided more space than I needed during the week I had the car. If I needed more space, though, it would have been all too easy to accomplish. The Suburban now has fold-flat third-row seats (versus the previous version that required manual removal). In the LTZ, the third row seats fold flat and come back up at the touch of a button. The second-row seats also fold flat and tumble forward automatically. (See the video above for a demonstration.) The only problem I encountered was that on the way back up, the plastic around the tether anchors on the 60 portion of the 60/40 split got stuck on the fabric-covered panel that hides them, blocking its ability to come completely upright. I think that was a fluke, though, because the other side worked fine, and it's probably something that could be easily fixed.
Car seats
You can find car reviews in lots of places, but if you're reading here you probably want to know how the vehicle works for car seats and transporting kids in general.
First, let's go over a few idiosyncrasies with the different versions of the Suburban.
If you get the 9-passenger model, that means there's a three-seat bench in the first row. Chevy says that you cannot install a car seat in that front center position. You also can't install a rear-facing car seat in the passenger seat due to the airbag. So the front seat would be only for adults or kids large enough to no longer need a car seat.
If you have the 8-passenger model (captain's chairs in front, bench in the second and third rows), you can install car seats in any of the second- or third-row seating positions. This means that even if the driver's seat is equipped with interior airbag that deploys between the two front seats, you can still install a rear-facing seat in the center of the second row. It has LATCH in all three second-row positions, plus top tether anchors for the third row. That allows for a lot of versatility!
The 7-passenger version has full sets of LATCH (lower anchors and top tethers) in both second-row captain's chairs, plus top tether anchors for all three third-row seats. It's rare to find a 3-row vehicle with tethers available for all rear seating positions.
The headrests in the second row are fixed (cannot be adjusted or removed). Chevy says that if you have a v-shaped tether, you'd route it around the headrest. If you have a single strap, you route it to one side or the other, not over the top.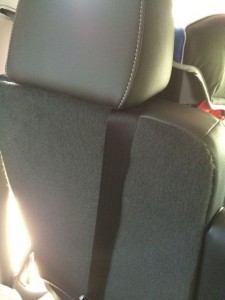 The third row outboard seats have removable and adjustable headrests, so the tether strap can be routed under the headrest there. (The center seat in the third row does not have a headrest, so no one should sit there unless it's a child in a high-back booster or harnessed seat that doesn't require head support behind the restraint.)
One unusual thing about the second-row tether anchors is that they're very thick and surrounded by a hard plastic panel. Because the panel is so close to the anchor, it was impossible for me to get my standard tether hooked to it. Finally I realized that I needed to fold down the seat so I could approach the anchor from a different angle. That meant that I needed to attach the tether before I installed the seat, which wouldn't be a big deal for an occasional installation, but isn't the kind of thing I'd want to do on a regular basis. Here's a video explaining:
Other than the weird tether issue, I didn't have trouble installing anything in the second row captain's chairs. The rear-facing seats I tried (Combi Coccoro, Graco Size4Me, Britax Boulevard CT) fit with room to spare. The headrests didn't give me any trouble with the forward-facing Size4Me or Recaro Performance Sport, or with the clek oobr. The lower LATCH anchors were easily accessible, as were the seatbelt buckles, and everything installed easily and securely.
Third rows can be tricky for car seats, but the Suburban's third row proved easier than I thought it would. The seat in the center and passenger side had thick plastic hinges that I knew for sure would interfere with my seats, but surprisingly they didn't. It did make a backless TurboBooster sit weird, so I'm not sure I would use that there, but all of the harnessed seats I tried installed so that they
naturally sat forward of the hinges. I can't guarantee every seat would work that way, but the fact that mine did make me hopeful that most will.
There's not a lot of room between the second and third row, and neither row is adjustable front-to-back, so rear-facing in the third row could be tough, especially outboard (or in all three seats if you have a second-row bench). I didn't have an infant seat to try, but I was able to get a rear-facing Coccoro—just barely—in both outboard positions. A rear-facing Britax Boulevard CT installed fine in the center seat, and I was able to fit a forward-facing Radian next to it on the passenger side.
Here's the thing, though. I'm not sure how practical it is to have rear-facing children in the third row of this vehicle anyway. Yes, you could tumble a second-row seat forward (as long as you don't have other seats installed on it) to put a rear-facer in the third row, but I wouldn't want to attempt those acrobatics with a baby. Some people are also fine with loading kids through the back hatch. I've never been a fan of that myself, and I'm not sure how it would even work in the Suburban when there's sooooooo much of a back hatch. I practically needed a step-stool to climb into it, then I had to literally crawl my way forward, and that was without a kid in my arms. But it probably does work for some people. I was able to have the 40 portion of the 60/40 split folded down when I installed the Boulevard CT, so that would be a relatively reasonable way to strap in a rear-facing kid if going through the hatch needs to be an option. (I couldn't lift/fold that portion with the seat already installed, but a narrower child restraint in the center seat would probably allow for that.)
Forward-facing installations in the third row were easy, despite the hinge I mentioned earlier. The Radian, Boulevard CT, Size4Me, and oobr all fit in various places without issue.
I was even able to get three seats across in the third row—relatively easily—which surprised me. I did all forward-facing seats since it seemed most practical: a Radian on the passenger side, Boulevard CT center, and a Safety 1st Incognito on the driver's side. (Before anyone points it out: the Radian had not been tethered, but would have been before any children rode in it.)
With a narrower seat in the middle, something larger probably could have gone outboard. But the point is: It would be possible and relatively easy to transport kids in
all rear seating positions, something that doesn't often happen in three-row vehicles.
The third-row headrests, even when raised, stick out a bit, but that didn't cause an issue with any of the seats I tried. Keep in mind that they could potentially interfere with other seats.
Even though the third row doesn't provide a ton of legroom, it was sufficient. I fit back there fine, but I'm only 5'3″. A taller adult might not be so comfortable. My harnessed 5-year-old and boostered 10-year-old had enough room that they didn't complain.
Conclusion
In many ways, the Suburban is a dream vehicle. Yes, the fuel economy is horrible, and it's still larger than what I would want to drive on a regular basis. But the comfort features, safety features, and ability to install a wide range of car seats in all positions makes it a winner. My husband was, indeed, devastated to have to give the vehicle back when our week was up. I was surprised to find that I was, too.
All these features come at a price, though: $72,835, to be exact. (The lowest priced model begins around $42,000.) So there's no long-term Suburban in our future, but it was fun while it lasted.
Thank you to Chevrolet for providing the 2015 Suburban for this review.  No other compensation was provided, all opinions are my own.