Evenflo Symphony 3-in-1 Carseat Review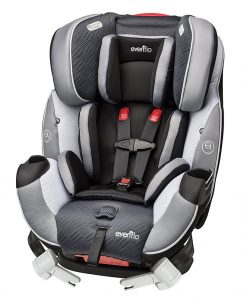 Here at CarseatBlog we're very familiar with the Evenflo Symphony which first debuted back in 2008. We've reviewed every generation of this popular All-in-One carseat and I'm happy to report that the latest DLX/Elite version continues to impress!
First, let's clarify that there are two different models of the Symphony that are currently available on store shelves. The Symphony DLX (aka Symphony Elite) is the premium model with SureLATCH connectors. The Symphony LX model has differently shaped headwings and standard push-on lower LATCH connectors instead of the patented, self-ratcheting "SureLATCH" connectors.
Both models are very nice but if you're drawn to the less expensive LX model because you prefer the regular push-on LATCH connectors, or you're just trying to stay within a more limited budget, the Symphony LX model still has a lot of great safety and convenience features to offer.
In this review we will focus on the premium DLX (aka Elite) Symphony model. There are different versions of the DLX model and some versions are exclusive to certain retailers like Target and Babies R Us. Here is a breakdown of the different DLX models, which stores carry them, and what's special about that particular version:
ProComfort Symphony DLX – Target exclusive. Cover has Buckle Pockets and "Gel-Matrix Technology"  inside to reduce pressure points and improve comfort.
Platinum Symphony DLX – Babies R Us exclusive. Rollover Tested. Cover has Buckle Pockets and OUTLAST® Performance Fabrics which absorb hot and cold temperature, releasing as needed. Outlast® technology, originally developed for NASA, utilizes phase change materials that absorb, store and release heat for optimal thermal comfort.
This technology has the ability to:
Actively absorb and store excess heat, helping to reduce overheating
Allow the child to stay at a balanced temperature and prevent chilling during the cooler months; if the child's skin temperature drops, the stored heat is released
Reduce perspiration so the child stays drier and more comfortable
The thermal image shows the difference in body temperature after 30 minutes of sitting in the same style carseat – one with OUTLAST®  fabric and one with regular fabric. If you live in a warm climate or just have a kid who is a sweatbox – this technology can help keep your kiddo feeling comfortable all year round.
Symphony Elite – Available at Amazon. Concord (Black/Silver), Modesto (Blue), Raspberry Sobet (Black/Pink) and Paramount (Black/Gray) fashions are the newest Symphony Elite fashions available on Amazon.com. These new fashions include the buckle pockets feature. Ocala (Red) & Porter (Green) are older models and do NOT have the buckle pockets feature.
Evenflo Symphony DLX/Elite Specs:
Rear-facing: 5-40 lbs, 19-40″ tall, top of the child's head is at least 1″ below the top of the headrest in either of its two lowest positions
Forward-facing with 5-point harness:  22-65 lbs, at least 1 year old, height of 50″ tall or less (shoulders must be at or below top harness position and top of ears must be below the top of CR headrest)
Booster mode: 40-110 lbs, at least 4 years old, height 44 – 57″ (top of ears must be below the top of CR headrest)
Features:
All-in-One (Rear-Facing/Forward-Facing/Booster)
Infinite Slide harness system easily adjusts to the perfect height for your child
5-position adjustable headrest (bottom 2 positions for rear-facing)
3 recline positions (1 position for RF, 2 for FF)
SureLATCH lower anchor connectors
"e3" Side-Impact Protection – thick, energy-absorbing EPP foam lines the deep headwings
Buckle Pockets (on some models)
Dual integrated cup holders
FAA approved for use in aircraft (with harness)
LATCH attachments can still be used in booster mode
8 year lifespan before expiration
Measurements:
Lowest harness height: 7.5″
Highest harness height: 17″
1 crotch strap buckle position: 6.5″
Booster Mode: 19″ to shoulder belt guide in highest headrest position
Rear-facing internal height measurement (with headrest in 2nd position): 23″
Widest measurement point (at cup holders): 20″
Weight: 19.8 lbs. (according to my digital bathroom scale)
Installation Comments:
With LATCH
Installation with the SureLATCH connectors, both rear-facing and forward-facing, was quick and easy in the several vehicles I tried. However, I know from prior Symphony experience that this isn't always the case. Evenflo provides a nice tip in the instruction manual if you're having trouble getting the LATCH belt to tighten sufficiently.
If you still can't get the seat tight enough (less than 1″ of movement from side-to-side and front-to-back when tugging at the beltpath), no matter what you try –  switch to a seatbelt installation instead.
LATCH weight limits –  you can install the Symphony using the lower LATCH anchors rear-facing up to the maximum weight limit of 40 lbs. Forward-facing, if the child weighs more than 40 lbs., use seatbelt plus tether to install the seat instead of using the lower LATCH anchors in your vehicle. Evenflo recommends using the top tether for all forward-facing installations regardless of the child's weight or the installation method.
Center installs with non-standard LATCH spacing – Evenflo allows all their seats to be installed in the center seating position with LATCH if the spacing between the lower anchors is 11″ or wider AND if the vehicle manufacturer permits it. Just make sure you're not blocking access to an outboard seatbelt buckle if you decide to use LATCH in the center seating position. You don't want to create an unsafe situation for another backseat occupant just to use LATCH.
Using the Tether – do not use the tether strap for rear-facing but always use the tether strap when forward-facing if a tether anchor is available for the seating position being used in the vehicle. Evenflo recommends using the top tether for all forward-facing installations regardless of the child's weight or the installation method.
With Seatbelt
Seatbelt installation is generally quick and easy too but this seat does NOT have a built-in lockoff device so it's very important to understand how your seatbelt locks if you're going to install with seatbelt and not with LATCH connectors. All vehicles made after 1996 have seatbelts that can lock in some way to hold a carseat tightly in place during routine driving. Most vehicles have switchable retractors but some vehicles or specific seating positions have locking latchplates instead. It's important to know what your vehicle has and to understand how these features work before you install this carseat with a seatbelt. See your vehicle's owners manual for specific information on how to install a carseat in your vehicle using the seatbelt. If you have questions, please visit our car-seat.org forum and we'll be happy to help answer them.
Recline Positions for Rear-Facing
Symphony has 3 recline positions on the base. Recline position #1 (fully reclined) MUST be used when installing the seat rear-facing. There is a level-to-ground arrow line molded into the side of the base below the sticker label.  If necessary,  you can use a piece of foam pool noodle (or a tightly rolled towel) to help achieve the appropriate recline angle in your vehicle. The pool noodle would need to be placed under the edge of the base as pictured below.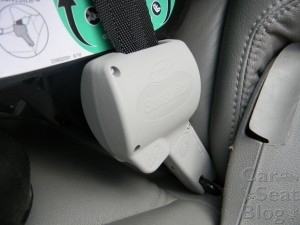 Switching the SureLATCH connectors from rear-facing to forward-facing beltpath (and vice versa) – The Symphony models with SureLATCH connectors have a unique method of switching the LATCH strap from the rear-facing beltpath to the forward-facing beltpath and vice versa. You will need to unhook the bottom of the cover and lift it up, to see what you're doing (otherwise you're going to tangle the straps) but it's a great feature. Follow the directions in the manual and you'll understand. The LX model does not utilize the same setup.
Recline Positions for Forward-Facing
For a child weighing between 22-40 lbs. you may install the seat forward-facing using either the semi-reclined (#2) position OR the fully upright (#3) position. For a child weighing over 40 lbs. you MUST use the fully upright (#3) position and you must install with seatbelt and top tether (if available).
Pictured below is installation with seatbelt and tether. The seat is in the fully upright (#3) position. The SureLATCH connectors are stored by clamping them onto the D-ring that is sewn onto the cover.
Belt-Positioning Booster Mode: Must use the fully upright (#3) position.  Harness isn't removable so there's a process involved to re-route and store all the components properly. Can continue to use LATCH attachments to secure the seat to the vehicle (seatbelt secures child) unless there is some obvious reason not to do that – like having offset lower anchors that don't line up with the position of the seatbelt.
Fit-to-Child Comments:

Rear-Facing
Newborns – this seat would likely fit an average-to-large newborn well but you would probably need a rolled up washcloth to fill the gap between the baby's body and the crotch strap because there is only one slot position for the buckle. The doll pictures is 20″ long. The infant lower body insert supports the small doll well and the harness straps are level with the shoulders in their lowest position. The little head support pillow that came with this particular Symphony model pushed the doll's head forward, which is exactly what you don't want to see, so I removed it. If you're planning to use this seat for an older baby, you definitely won't need any of the extra inserts.
Toddlers – for kids under 40 lbs. and less than 40″ tall, this seat offers decent rear-facing limits although it's far from best in class in the height dept. Currently, only the bottom two headrest height positions can be used in the rear-facing position. Gone is the old 37″ rear-facing stated height limit and it's tall enough to get most kids to 2-3 years old in the rear-facing positions. However, if you're looking for a seat to keep your child rear-facing forever, this probably won't fit the bill. On the plus side, it offers great leg room and doesn't take up as much room as some of the other, larger convertibles when rear-facing.
Pictured is a 40″ tall 4-year-old. I measured 23″ to the top of the headrest in this second position. For comparison, it's the same internal height as the Evenflo Triumph or a Cosco Scenera.
Forward-Facing
On the top end of the range most kids will outgrow the 5-point harness by height before reaching the 65 lbs. weight limit. Kids with long torsos will outgrow the harness more quickly than kids who carry their height more in their legs. The 17″ top harness height should get most kids to the age and size where they can safely transition to booster mode.
Belt-Positioning Booster
The Symphony has a "Best Bet" rating from the IIHS and does a very good job positioning the seatbelt properly on kids over 40 lbs. but it isn't very tall in booster mode. The 110 lbs. weight maximum is unrealistic and it definitely won't be the last seat your child needs before they can pass the 5-Step Test and ride safely in just the adult seatbelt. However, it will fit many kids in booster mode until they are big enough to ride in just a cheap backless booster. Just be prepared to help them buckle when using this seat in booster mode.
Comfort & Convenience:
Whether you chose the ProComfort model with Gel-Matrix Technology, or the Platinum model with OUTLAST Performance Fabrics, or just a "regular" Symphony DLX/Elite model you'll be pleased with the overall "cushiness" of these seats. We all know some kids can sit on a rock all day long and never complain but if your kid isn't one of them – they'll be comfortable in a Symphony. If you live someplace with ridiculously hot weather in the summer or if your kid is just a sweatbox – the Platinum model from BRU with OUTLAST might be a great choice. If you take frequent long distance road trips or just spend half your life in the car – the ProComfort model from Target might be worth considering.
The Buckle Pockets (available on certain models) are very convenient as they hold the harness out of the way while you are loading and unloading your child. If you've ever had to fish buckle tongues out from under your child every time you put him or her in the seat – you know that gets old quickly. The buckle pockets are also helpful in shielding the buckle tongues from direct sunlight in hot weather.
Cover/Maintenance:
The Symphony cover is relatively easy to remove and replace. It used to be easier but since they added the dual integrated cup holders it now takes a little bit more time and effort to get the cover off and back on again. The cover is machine washable which is nice. Machine wash separately – delicate cycle – cold water – mild detergent – tumble dry on low heat for 10-15 minutes and remove immediately.
FAA-Approval/Lifespan/Crash Guidelines/Inflatable Belts:
FAA certified for use on airplanes WITH the harness
8 year lifespan before expiration
Must be replaced after any crash
Installation with inflatable seat belts is NOT allowed
Evenflo Symphony DLX/Elite Advantages:
All-in-One: Can be used rear-facing, forward-facing with 5-pt harness and as a belt-positioning booster
Moving the harness height as your child grows is a cinch with the infinite slide harness
Easy to tighten and loosen harness straps
Relatively easy to install properly in most vehicles
Doesn't take up a lot of room front-to-back when installed rear-facing
Good leg room when rear-facing
Can use LATCH up to 40 lbs.
Can use LATCH in booster mode
Deep headwings are great for sleeping and enhanced side-impact protection (SIP)
Plenty of thick EPP foam in headwings
Fits most averaged-sized full term newborns well
Generous crotch strap/buckle position
Buckle pockets hold harness out of the way while loading and unloading child
Cover is machine washable
FAA approved for use in aircraft
Made in the USA!
Disadvantages:
In fairness, these aren't necessarily problems but I list them here to inform potential consumers of specific Symphony DLX issues.
No lockoff device to help with seatbelt installation
Lacks harness strap covers (and none can be added)
SureLATCH isn't a sure thing in all vehicles
Harness straps can twist somewhat easily if you're not careful
Not very tall in booster mode
Harness is not removable or replaceable
Seat is wide (may be an issue if you're trying to fit it next to another carseat)
Conclusion:
The Evenflo Symphony DLX is a good value for families looking for a safe, comfortable and easy-to-use convertible. Overall, it's a great product with many unique and innovative features. This seat is extremely easy to use correctly. The harness straps tighten and loosen easily with a central front adjuster mechanism. The only difference is that the straps tighten and loosen at the hips rather than at the shoulders. The infinite slide harness adjustment system allows you to set the harness height correctly, and quickly adjust it whenever the child has a growth spurt. The shell height (head support) can be increased or decreased with a simple, one-hand adjustment. There is nothing difficult or awkward about the buckle or the chest clip. Really, when it comes to ease of use – it doesn't get much easier than this. Just be attentive with the harness and fix it right away if you notice that it's starting to twist as it routes through the buckle tongues.
As a booster, it isn't very tall and kids will generally need help buckling themselves but it's nice to have the option to use it in booster mode, if needed. It is a wide seat so keep that in mind. It's not generally a good choice if you need it to fit it next to another CR or put 3-across in your backseat.
As far as I'm concerned, the positives far outweigh the negatives which is why the Evenflo Symphony DLX is on our list of Recommended Carseats. This seat offers great safety and convenience features that will appeal to many parents and caregivers. It's also a great choice for grandparents, child care providers and agencies who might use one carseat for different kids. The fact that it has an 8 year lifespan and it's made in the USA and not in China is a huge bonus too!
Just remember to "try before you buy" whenever possible and at the very least hold onto the box and the receipt until you're sure this seat works well for your child in your vehicle.
For more information on the Symphony DLX please visit Evenflo's website: http://www.evenflo.com/Products/Evenflo/Car_Seats/Symphony_DLX/
Thank you Evenflo for supplying the Symphony DLX used in this review. No other compensation was provided and all comments and opinions expressed in this review are those of CarseatBlog.
Updated June, 2017