Here's a quick run down of ABC updates from Baby Trend, Orbit Baby & TOMY/The First Years
Baby Trend:
Inertia infant seat
no longer BRU exclusive.
5-32 lbs; rigid latch attachments; anti-rebound bar; no-rethread harness
New 2014 fashions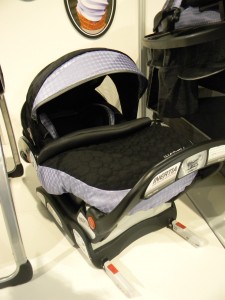 Hybrid combination seat
22-50 lbs. with harness; 17″ top harness slots
30-100 lbs highback booster; 40-100 backless booster
FastBack combination seat
Rigid latch attachments
Weight limit for 2014 models will be 22-65 lbs with harness
Due to weight of product 2014 models will only allow LATCH usage to 36 lbs
Orbit:
G3 infant seat update – primarily changes in soft goods
tight mesh cover
release levers now grey
paparazzi cover sewn into canopy
G3 Base
Latch belt routed behind lock-off
Single side adjuster
Toddler Seat (Convertible)
TOMY/The First Years:
The B830 combination seat that we've been seeing at ABC for the last few years will be released at some point in 2014 but it will be released under the JJ Cole brand name. We don't have any other details but will follow up with our contacts at TOMY and keep you posted.
 Contigo infant seat – currently available
must always be used with base (no guides for baseless install)
5-35 lbs; no re-thread harness; forward handle position for rebound management
No changes to current convertibles.